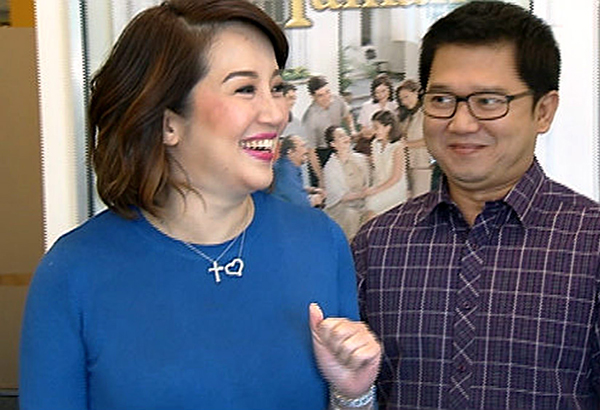 In this file photo, Kris Aquino and Quezon City Mayor Herbert 'Bistek' Bautista look like a happy couple even if they have yet to finish their 'work in progress.' Like everybody else, especially now that she is between TV shows, Kris deserves all the happiness in the world. If Bistek can help her on that score, by all means he should!
FUNFARE
-
Ricky Lo
(The Philippine Star) - February 8, 2017 - 4:51pm
When in Rome, do as the Romans do.
That's what they say, right? Romans so love holidays that, a kababayan living there jokingly told me when I was there in 19-forgotten as a travel grantee of Panam (courtesy of poet Charlie Angeles who was the PR executive of the now-defunct airline), they even had a holiday as a nod to holidays.
So when Kris Aquino and Quezon City Mayor Herbert "Bistek" Bautista were in Rome very recently, as recent as two weeks ago, they naturally did what the Romans do — savor their own Roman Holiday to the hilt! Remember how romantic Audrey Hepburn and Gregory Peck are in the movie? Yes, Kristek was alive and well in Rome which is, like Paris (The City of Lights), one of the most romantic cities in the world where, according to the classic Troy Donahue-Suzanne Pleshette starrer (originally titled Rome Adventure), "lovers must learn"... you know what. Remember that scene where Troy and Suzanne were feeling high in a cable car with the heart-tugging song Al Di La as soundtrack?
Three weeks ago, the currently "showless" ex-First Sister surfaced tickled pink on social media that a "mystery" (oops! that word again!) admirer sent her dozens of multi-colored balloons (why not roses?) probably to alert her that they could soar to the sky and look down at a wondering world. Ehem!!! Soon after, Dear Kris posted on her Instagram that, unlike in previous trips abroad (the latest having been to Japan, her favorite city, late last year) with sons Joshua and Bimby, she was for the first time traveling alone to rendezvous with her "mystery" admirer. Destination: Rome.
Was it, ehem, coincidence that Bistek happened to be in Rome at that time (Jan. 17 to 27), allegedly as a member of the Philippine panel for the peace talks with the NDF (National Democratic Front)? Bistek must have had ample spare time to talk "peace" with Kris. They have been trying to cement what Kris called "a work in progress" which has been dragging on and on and on for three years, just like the street diggings all over Metro Manila that are taking forever to complete by, check the alert signs, "slow men at work."
According to Funfare's VDPA (Very Deep Penetration Agent) embedded deeply, as the song Three Coins In The Fountain puts it, "in the heart of Rome," he has spotted Kristek in the same hotel where he was staying, "so sweet that they seem to be on honeymoon mode." No law violated in that situation because both Kris and Herbert are legally free (her marriage to James Yap was annulled while Bistek is unmarried although he has children with two different women) and, as the song Two For The Road (from the Audrey Hepburn-Albert Finney movie of the same title), says, if you're feeling fancy-free, come wander through the world with me/and any place we chance to be will be our rendezvous…as long as life still wears a smile, I know that we'll be two for the road and that's a long, long while. Added the VDPA, "They made me feel so romantic that, for a while, I had the urge to rush out and look for a nice Roman lady in the same state of longing." No way. Unfortunately, (or fortunately), the VDPA's eagle-eyed wife was with him. Sob and sigh!!!
Monday morning last week, Jan. 30 (Miss Universe day), Bistek graced his beloved city's flag ceremony — "Looking recharged," noted a councilor (name withheld upon insistent request). "Para siyang nagpa-stem-cell treatment, hehehe!!! Hayyyy, ang nagagawa nga naman ni Cupid. Inggit me, huhuhu!!!"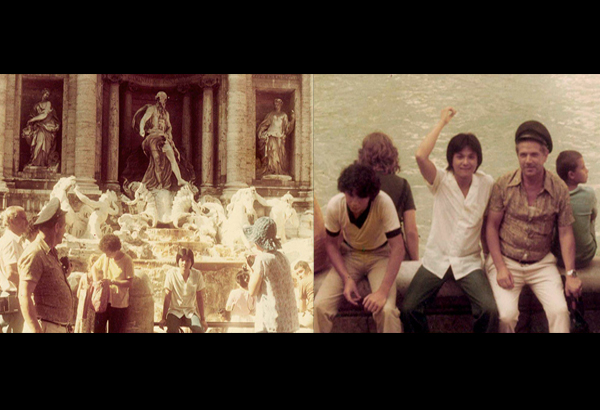 These photos of your Funfarer were taken in 19-forgotten during a visit to Rome as a travel grantee from Panam Airlines. Because they were avoiding gossipmongers, Kris and Bistek refrained from throwing coins into the Fountain of Trevi like what I did, with the help of the kind taxi-driver-cum-tour-guide.
Because they are known in every little corner of the world, the VDPA said that perhaps Kristek refrained from being seen in public...together…to stay away from the eyes (and ears) of international gossipmongers. Oh what a pity if they were not able to do what Troy and Suzanne did or, like what natives and tourists do — you know, throw coins into the Fontana di Trevi (Fountain of Trevi) and make a wish. Guess how many coins Kris would have thrown and how many wishes she could have made.
The "peace talks," er, "work in progress" might continue. The mayor has filed a request for leave between Feb. 13 and 17 presumably for an "urgent meeting" in Barcelona, Spain. Somebody is celebrating her 46th birthday on Valentine's Day and it's up to you to do mathematics, add two plus two equals...yon na yon!!!
Come to think of it, shouldn't Kris post their Rome adventure on her Facebook so that her growing number of viewers will increase and they can lap it up just like they did her hit posts with Maine Mendoza as special guests in the first few episodes? Good idea, why not?
According to a TV newscast, Bistek is trying to convince Kris to run for mayor of Quezon City in 2019 when he shall have finished his third (last) term as mayor, and he will run for vice mayor. Now, is their "work in progress," uhm, "politically motivated" (the most convenient "alibi" in topsy-turvy politics this side of the world).
Abangan ang mga kapana-panabik na kabanata!!!
(E-mail reactions at entphilstar@yahoo.com. You may also send your questions to askrickylo@gmail.com. For more updates, photos and videos visit www.philstar.com/funfare or follow me on www.twitter/therealrickylo.)