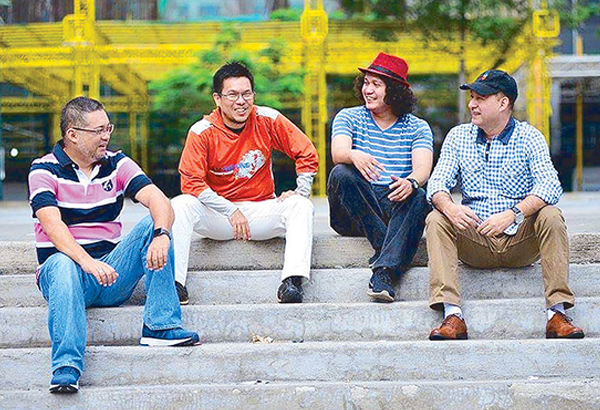 Aries Espinosa, Yugel Losorata, Vincent Borromeo and Kap Maceda Aguila all have bylines in daily broadsheets, but what bonds them really is their life-long passion for music.

The Pub Forties inks pact with Warner
Four seasoned journalists writing for different daily broadsheets recently went to the office of Warner Music Philippines not to gather information for a feature story but to somehow create news about themselves. They were there to sign a digital distribution contract with the record label, specifically for the release of their debut original song recording.
They're a band calling themselves The Pub Forties and their track is called Road Rage, a mid-tempo, melancholic rock song tackling a fiery lovers' quarrel and its ensuing drama. The song will be officially released in digital format this March.
Birds of the same feather flock together so it was naturally easy for the members of the group to jell. Aries Espinosa (lead vocals), Yugel Losorata (bass, back-up vocals), Kap Maceda Aguila (drums) and Vincent Borromeo (guitar) all have bylines in daily broadsheets being veteran writers for various beats like entertainment, motoring and lifestyle.
But what bonds them really is their life-long passion for music. Aries is a vocal coach, choir vet who already developed a good reputation among his peers for his high-octane singing. Yugel acted as a songwriting bassist of the Ivory Music-signed band Syato that the late Snaffu Rigor produced and which recorded two full-length albums. Kap used to be part of a punk rock band called Wagitay whose track Switik, penned by Kap himself, is given a new life by a veteran '90s act. And then Vincent was half of a duo likewise signed by a then major label.
"The Pub Forties represents not just the age of its members and career status, but also the collective wisdom and experience of living on this planet," Aries noted introspectively.
The gathering started a few years back when Aries and Yugel met in an out-of-town media coverage to interview Marian Rivera. They hit it off right away.
By the time Kap agreed to join, the idea of having an all-journalists line-up solidified. Vincent came on board somewhat at the last minute. But it was okay, his entry solved the puzzle.
Industry friends quickly supported their venture once they entered the recording studio late last year. Sonic State Studio owner and New York-trained record producer Jonathan Ong contributed a crucial guitar lick in Road Rage while record label marketing guy Punch Liwanag delivered his own strong riffs during the same "Pub" sessions.
The group is currently recording its next tracks for release within the year or two. And live gigs are expected to be set.
Yugel who is also a music writer for this paper's Entertainment Section, said of the band's name: "The Pub Forties has something to do with mid-life crisis and the age of wisdom. If you're in these life truths or at least you understand such, then we'd love that you hang out with us here."
But make no mistake, the group does connect with millennials. Road Rage is about two young souls who thought they could just elope with infatuation, only to end up warring. The girl decides to come home "to make it right."
Yugel wrote the song in 2010 or around the time an infamous case of road rage incident involving the son of a painting collector was raging in the headlines.
"Road Rage is about the never-ending struggle between our personal demons and angels, the push and pull of the forces of love, lust and hatred," shared Aries, adding, "When all of these are placed behind the wheel, fueled by combustible, impulsive youth, driving slow and straight becomes an exercise in futility."
Kap, who co-hosts this paper's motoring show Wheels on ABS-CBN, gave his thought on the logic and sense of doing the band routine even way past twenties. "We believe our band, by virtue of its members' ages, taps into a wider breadth of influences to create something organic and our own. We were weaned on a variety of musical influences, unlike younger talents who may have the musicality but have, though no fault of their own, solely shaped by more contemporary trends or music. In a way, The Pub Forties may not sound current, and that's actually how we like it. We want to be both timeless and timely."
In a current music industry banking on youth and what's trendy, The Pub Forties comes in by way of counter flow, not to cause traffic but to provide an alternative route for reaching destinations. —With reports from Almed Garcia and Julian Mauricio