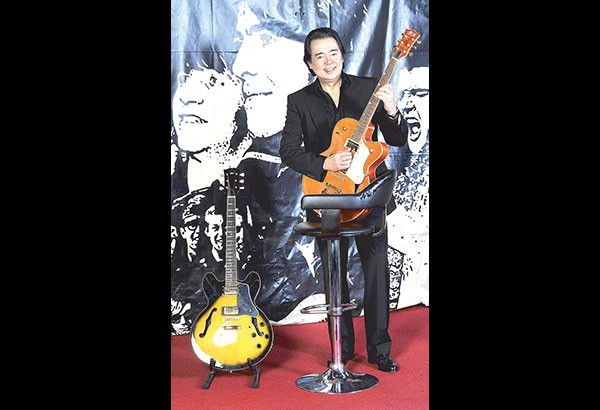 For the first time in his music career that has spanned over 50 years, Ramon 'RJ' Jacinto has recorded and released an album of romantic ballads
If the recent holiday binge has left you longing for a quiet, relaxing listening experience dosed with a massive nostalgia, kick, then I have just the album for you. Romancing by RJ. You all know RJ, who is really the ageless Ramon Jacinto, in real life, a business tycoon, but better known for the famous RJ guitars, for the iconic radio station, for the unending rock and roll sounds, etc.
For the first time in his music career that has spanned over 50 years, he has recorded and released an album of romantic ballads. Skeptics relax. RJ is still not going to pass the auditions for The Voice. But he has his own style, always sounds sincere and I must say, the line-up of songs included is absolutely to die for. Besides, although this is a vocal album, the famous RJ guitar licks are all there.
RJ has chosen memorable hits from the late '50s and early '60s. All of them are love songs arranged in a simple, easy style. Here are the tunes that mother and father and a lot of grandparents danced the slow drag to during those bygone times. Think of the music of Frank Sinatra, Elvis Presley, The Lettermen, Ricky Nelson, Cliff Richard and even Lucio Gatica, plus many more. I can just imagine how many romances were born because of these songs.
Here are songs that recall dancing at the Safari and dinners at La Parilla. Girls in full skirts with petticoats and guys in slim ties and sleek shiny suits. Think of cruising at a time when that word meant driving the length of Dewey Boulevard with the wind in your hair and palm trees in sight, while Bingo Lacson played tunes on the radio. I tell you, the flood of memories that this album will release is simply staggering.
Here goes the list: Smile, Crazy, It's Impossible, Historia De Un Amor, Let Me Try Again, No Other Love, The Impossible Dream, Secret Love, Things We Did Last Summer, Fran, I'll Remember You, Fascination, Legata A Un Granello Di Sabbia, Lonesome Town, As Long As I Have You, Someday and as a bonus track probably because it came out during the '70s, an instrumental Somewhere In Time.
RJ has included a cut in Spanish, which is not surprising, because a lot of people spoke Spanish back then and the popularity of Historia De Un Amor out here by Gatica was phenomenal. Correct me if I'm wrong but this was the song that made Pepe Pimentel the first Tawag Ng Tanghalan champion back in who knows where. There is also a song in Italian, Legata A Un Granello Di Sabbia, which was popularized by Richard and which was a big hit here.
There is also a new original included but composed and arranged in the same mood as the others. This is Fran, which is about finding love again. I believe that RJ himself composed this song for his wife Frannie Jacinto. He is indeed truly in a romantic mood. I have just one gripe. RJ did not include You Belong To Me. His instrumental rendition of this Jo Stafford hit is one of his best. Would have been nice if he had sung it for the album.
Now come to think of it, maybe a Volume 2 is in order. I am sure a lot of his fans will now be bugging him to also record their favorites. I think he should have also included Let It Be Me, Love Letters In The Sand, It's All In The Game, I Only Have Eyes For You, Traces, Always, Among My Souvenirs, Blue Moon, The Way You Look Tonight, Can't Help Falling In Love, Moon River, Portrait Of My Love, More, Blue Velvet, etc., etc. I can go on forever about the love songs of the pre-Beatles era. The songs then very much mirrored life. Quite simple really. Uncomplicated. Which is why they are known as the good old days.
Enjoy this one. To the kids, I say time now to discover these beautiful love songs. To those of the past generations, I say savor the memories. Romancing RJ is now available at all 306 Starbucks, Odyssey and Astroplus outlets.