Getting closer to The Chainsmokers
MANILA, Philippines – To put it bluntly, electronic dance music (EDM) artists are still tagged with the misconception that unlike traditional musicians, they are "merely glamorized button pushers."
But for the New York City-based EDM duo The Chainsmokers, composed of Andrew Taggart and Alex Pall, there's definitely more to being EDM DJs than just pushing buttons.
Speaking at a roundtable media interview before their live concert at the Mall of Asia (MOA) Arena last Aug. 19, the duo debunked the said notion.
"I get it. The drummer or the guitarist will be like, damn, that will be so much easier," Alex admitted.
But he also explained that "there's a lot of thought and effort that goes into it, of every DJ's set that goes well, and obviously in the process of making their own music behind it and finding different ways to deliver to the crowd."
Dedication and passion for the craft perhaps explain why The Chainsmokers has become a success in the music business. Formed in 2012, Andrew and Alex are responsible for hits like #Selfie, Don't Let Me Down (featuring Daya) and Roses (featuring Rozes). Their latest single Closer (featuring Halsey) has claimed the top spot on the Billboard Hot 100 chart.
Locally, the duo has been receiving massive support from Filipino fans. Their single Closer has hit No. 1 on iTunes PH, Apple Music PH, Apple Connect PH, Spotify PH Top 50 and Spotify PH Viral 50.
"We've been getting messages from our Filipino fans in (the last) six months saying that you guys have to come here. We put the show because of how much social media love we've been getting," said Andrew.
"To come back after seeing how well all singles have done here, it's really an exciting feeling," added Alex, who recalled their last performance in the country in 2014 as a "super fun night."
Their Manila concert last Friday night was a sold-out success, with the members describing it as their most anticipated show ever.
"Sometimes, you play at places and you don't hear anything from anyone about it. You know, the show could be great but you don't feel any anticipation. And here it's like it's probably the most anticipated show we've ever played, ever probably. I'm almost positive about that," said Alex.
Asked if they know any Filipino celebrities, Alex shared that their fans have been tweeting them "a hot chick."
"I was just reading about some hot girl that people kept tweeting us to invite to the show. She's an actress, I think," shared Alex, who at first couldn't remember the name.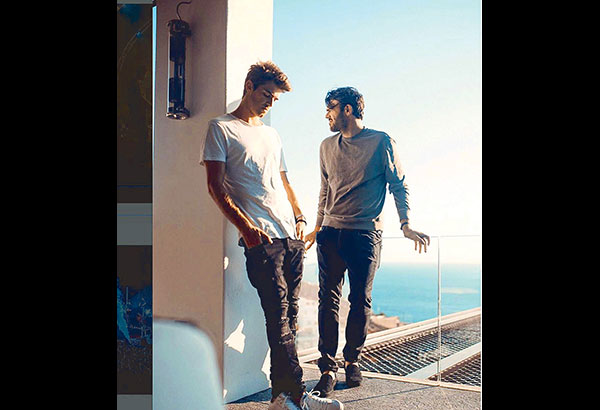 "I was gonna invite her but I saw Charlie Puth invited her," continued Alex, thus identifying the celebrity as Liza Soberano, who was recently invited by Charlie Puth to attend his concert.
The Chainsmokers then tweeted a few days later: "Going on the record. We are in a love triangle with @charlieputh." Charlie replied with lyrics from Closer.
Indeed, social media is a big part in solidifying the duo's fan base. "We have a channel that shows people who we really are. I think that's why our fans, especially in the Philippines, feel super connected to us. People in meet-and-greet are like, we feel like we already know you," said Andrew.
In fact, their song Roses became famous because of social media, despite their label saying it will not be released as a single.
"It (Roses) really had to prove itself. And we put it out, and all our Twitter for months were all about Roses. And it kept on selling and selling and selling, and it wasn't on the radio. And it streamed that way and it became a worldwide hit, which is pretty crazy," recalled Alex.
And despite being two independent individuals, Alex and Andrew are grateful to have a smooth working and personal relationship with each other.
"We trust each other's opinions and each other's ears. And we listen to all the same music so we're pretty much on the same page to begin with," said Andrew.
On collaborating with Filipino artists, The Chainsmokers said that they welcome such possibilities. "We keep our minds open for any collaboration like famous musicians from France, England," said Alex.
"We like to work with people who are authentic and real, and have their own thing going on. And we've gotten really lucky with Daya and now Halsey," added Andrew.
In fact, beyond their wild and hilarious antics on stage, creating authentic and better music is still the duo's core goal.
"What hasn't changed is our ambition and drive," said Andrew. "We recognize what we accomplished but we still have so far to go. And we wake up every day trying to make The Chainsmokers experience better for everybody, better shows, write better music, be interactive with our fans because we are so grateful to have them."
Indeed, the duo keeps on experimenting with new sounds.
"That's why our music is always interesting and new to people because we're not just focusing on what's the popular trend in electronic dance music. We're putting (into our music) influences from hip-hop, electronic dance music, punk rock, old-school hip-hop and everything," said Andrew.
Additionally, they have started lending their own vocals to their tracks, with Andrew singing in Closer.
"We'll be singing in many more tracks. I mean, I sing backing vocals in Roses but you can't really hear it. Closer is the first time that I really sang, ever. Our friend Shawn Frank was on tour with us and said, 'Hey, you could sing this. Let me show you how to record your voice.' And I didn't really know how to do vocals," shared Andrew. "But once we learned those techniques, it opened new doors."
(The Chainsmokers Live in Manila concert was promoted by MMI Live and presented by Globe. The Chainsmokers Bouquet EP and other Sony Music releases are now available on all digital stores.)