Toni reveals plans for her baby
MANILA, Philippines – Toni Gonzaga and husband director Paul Soriano are hoping to find out the gender of their first child when the former undergoes an ultrasound anytime this month. Toni, who is now on her fifth month of pregnancy, is wishing for a boy while direk Paul is hoping for a girl.
"I want a boy kasi s'yempre wala akong kapatid na lalaki at si Paul naman lima silang lalaki kaya ayun nag-kukulitan kami na gusto ko lalaki at s'ya naman babae," shared Toni before the start of the Home Sweetie Home taping inside the Studio 5 of ABS-CBN. "But, of course, it doesn't matter whether it's a boy or a girl. What's important is for our baby to be healthy. We are thankful to God for this blessing."
The Kapamilya actress cannot also be thankful enough for having successfully coped with the discomforts of the first trimester of pregnancy. The queasy feeling made her impossible to attend to her showbiz commitments. Toni took a break from her hosting chore in ASAP and the remaining taping days of her and Piolo Pascual's TV series Written In Our Stars were rescheduled. "It will be our first time together in a soap; nahihiya nga ako kay Piolo for the delay." (Piolo, according to recent reports, is willing to wait for Toni's return after she gives birth.)
"All I can attend to now is this (Home Sweetie Home). I still have to bear the mild headache sometimes and the weight gain that is rapidly increasing. I am now 16 lbs. heavier. Before, I only weighed 100 lbs. and the doctor said it's normal for me to balloon to 125 to 130 lbs."
Toni went on to share her and Paul's reaction when they learned that she's pregnant. "We were shocked. I was expecting to shed tears or jump in joy just like what we usually see on TV or in movies but nothing like that happened. You know that we originally planned to have a baby after a year of marriage but really, it is God's plan that prevails and we are happy with His gift."
These days, Toni is "still having mixed emotions" due to hormonal and physiologic changes. These changes greatly affect her mood and she likened them to "feeling crazy because sometimes, I feel like crying while on other days, I am extremely happy."
There are times, too, when Toni gets insecure with her physicality. Her posture changed when she started to grow a baby bump, increasing the curvature of her back. Good thing, Paul never fails to give emotional support to his wife.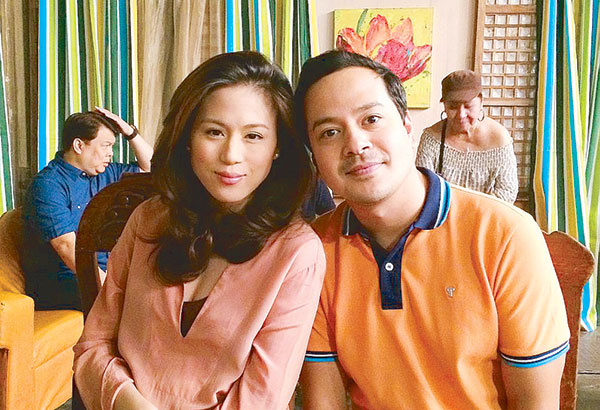 With Home Sweetie Home co-star John Lloyd Cruz during a taping break on the set of the ABS-CBN Saturday night sitcom
"Whenever I tell Paul that I now look like (a mascot with the protruding tummy), he always assures me with, 'For me, you are the most beautiful. I am so proud of you,'" related Toni, who wants her husband to be by her side every so often.
In preparation for the coming of her baby, Toni is reading three books on pregnancy — What to Expect, Baby 101 and Babywise — from cover to cover. "I also have an app on my celfone called What to Expect."
Her friend Jolina Magdangal gifted her with a speaker which Toni can put on her tummy for her baby to listen to classical music for brain development.
"I'd like my baby to grow up in the same way that my parents brought me up. I think I will be the disciplinarian. Lahat ng inalagaan ko, from my sister Alex to some of my cousins, sobrang madisiplina ako sa kanila," Toni answered when asked about plans for her baby.
Meanwhile, Toni's character Julie in Home Sweetie Home also prepares for the coming of her and husband Romeo's (played by John Lloyd Cruz) firstborn after almost three years of marriage. "It's amazing that my role coincides with the state of my life so there is no need for me to act pregnant. But you know, based on the story, Julie is really set to get pregnant this year since everyone is expecting for them to have a child after a year or two of marriage."
In fact, everyone will be surprised to discover Julie's sensitive condition in the show's episode airing on June 4 when Julie is rushed to the hospital due to a minor accident that left her right ankle red and swollen. Everyone, including Romeo, suggests to have her ankle checked through X-ray but the doctor says it is not possible because she is pregnant. Of course, Romeo is overjoyed upon hearing the good news.
How is John Lloyd as expectant dad Romeo?
"He's very caring and even off-cam he is concerned with my condition. My husband was teasing me that every Tuesday (taping day of Home), Lloydie is my husband."
She continued, "Ever since Home Sweetie Home started, several milestones happened to my life. During the show's first year, I got engaged to Paul then on the second year, I got pregnant and now that it is entering the third year, I'll be having a baby. Sakto din sa story ang mga nangyayari sa buhay ko."
But whether she likes it or not, Toni will take a temporary hiatus from showbiz once her date with the stork is confirmed. She is expected to give birth in September.
"I don't mind playing mother roles when I come back. In fact, I have a child in Written in Our Stars."
(Home Sweetie Home, airing on Saturday nights at 6:30, also stars Miles Ocampo, Sandy Andolong, Clarence Delgado, Mitoy Yonting, Jobert Austria, Nonong Ballinan and Ogie Diaz.)