Derek on the campaign trail
Jerry Donato
(The Philippine Star) - April 18, 2016 - 10:00am
MANILA, Philippines – "Actually, we have never talked about it." This was Derek Ramsay's reply when some members of the press implied that his latest movie titled My Candidate with Shaina Magdayao is a team-up of "exes" in a recent presscon. Derek and Shaina were boyfriend and girlfriend of Angelica Panganiban and John Lloyd Cruz, respectively. Then, their former partners eventually became an item.
"We moved on with our lives," he added. "Shaina doesn't show any sign of, you know, that she's still lost with that part of her life. She moved forward. She's very happy and you cannot fake it... She cannot hide that sadness if it is still there inside her. She moved on. I moved on. I think they (John Lloyd and Shaina) are civil to each other. Angelica and I are okay. (And we're) happy."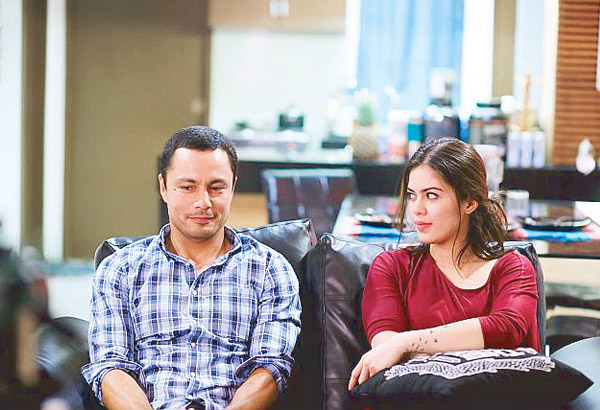 With co-star Shaina Magdayao, who plays a life coach and communication trainer in the movie
The happy disposition of Derek and Shaina in life is translated in the kilig scenes of My Candidate, a rom-com satire, which whisks Derek to the campaign trail. According to direk Quark Henares, the hunk actor is very un-Derek in the movie. He looks sleek and dresses sharp. Fans won't see him taking off shirts, which Derek found refreshing. Putting aside the political undertones, My Candidate promises moviegoers the feel-good vibe they look for in a rom-com. It also serves a breather from the local and national elections. The movie hits the theaters on May 11.
"You have to be 200 percent committed and passionate about public service," said Derek in hindsight of playing Sonny Suarez, a representative who is seeking a senatorial seat. "Getting into politics is a totally different ballgame. There is a positive side to it. There is a negative side to it. There's lot of dirty tricks during the campaign. Just the campaigning itself is so stressful, (so is the challenge on) how to connect with your audience and how to convince them to vote for you. Even if you know you're not corrupt and you're trying to help, you have to get your message across to everybody. It is frustrating and disappointing when you give everything — you sacrifice (your time with) your family and friends — and eventually you never get elected."
Thus, politics remains an uncharted territory Derek will never dare himself venture into. His character, however, was born to it — and built for it. "As my character, I don't know how to connect with the people outside my district," said Derek of a conflict Sonny faces in the story. His character's former flame Vera Chavez (Iza Calzado) is also running for the senate. To be on top of his game, Sonny seeks the expertise of life-coach and communication trainer Billie Pono (Shaina), "Her job (Shaina's character) is to make me more likable to other people," said Derek, "and she (Shaina the actress) has to make herself likable by other people watching the movie." Derek shared that Shaina is a talented actress. Proof to that is how she has taken on the role of a hip-hop, rapping modern woman, which is a stark contrast from her usual Kapamilya tearjerkers.
Given the political realities his character deals with in the movie, Derek was asked to weigh in on issues like the role of public relations in making a politician winnable and political dynasty. And the good actor had this to say:
"You can ask somebody with very good intentions what's best for his country and for his people. But if that person doesn't know how to express and showcase himself to people, in a likable way, he's not gonna get to that position where he can act on those good intentions. So, (it is) just like what happens to my character, who is a very honest person, loves his district and is content where he is at and his daddy wants him (to foray into the) bigger scale, to serve more people and the entire country. At first, he does it for him (his dad). The true spirit of my character, which is public service, comes out. And he is motivated to do it with the help of his team. His team is there to package him in a different way. So people can like him. So times are always changing and (so are the people). He has got to be packaged in a way that people will vote for him."
"(As for political dynasty), it all boils down to (having) great track record," Derek continued. "If the entire family has shown proof of work and they give back to people, I have no problem with it. But if their track record shows (corruption), I don't understand how they get back to power."
While waiting for the official results of the May elections, let's see first how Quark fuses rom-com and satire and redefines rom-com — and let viewers experience com-rom.
(My Candidate was produced by Quantum Films, MJM Productions, Tuko Film Production and Butchi Boy Films.)