9 stunning photos of Miss Universe Pia Wurtzbach at homecoming parade
January 25, 2016 | 11:08pm
MANILA, Philippines - Pia Wurtzbach received a very warm welcome from Filipinos during her grand homecoming parade on Tuesday.
IN PHOTOS: Pia Wurtzbach elegant in green terno at homecoming parade
The 26-year-old beauty queen was a sight to behold, wearing an emerald green terno by Albert Andrada. Pia's float traveled from the Sofitel Philippine Plaza Hotel in Manila City to Ayala Avenue in Makati City for almost three hours.
The adoring crowd, many of whom stepped out of their offices and schools, jammed Manila's streets and snapped pictures of only the third Filipina to win the Miss Universe title.
VIRAL: Double rainbow appears during Pia Wurtzbach's homecoming parade
At one point, rain drizzled during the parade, but this didn't stop Pia from continuously waving at the Filipinos who supported her during the 64th Miss Universe pageant last month.
Check out photos of the elegant and stunning Pia Wurtzbach, the most beautiful woman in the world: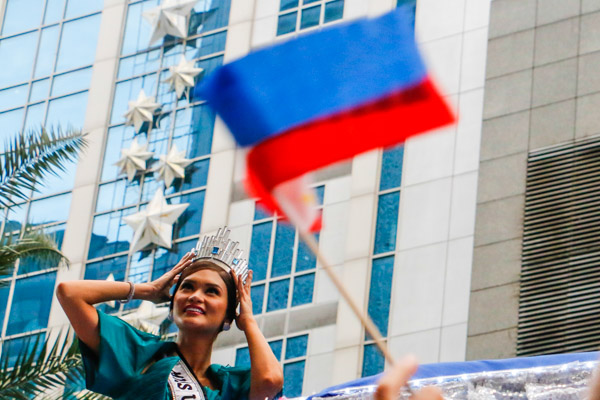 Miss Universe Pia Alonzo Wurtzbach during a victory parade Monday, Jan. 25, 2016 in Manila, Philippines. Philstar.com/Efigenio Toledo IV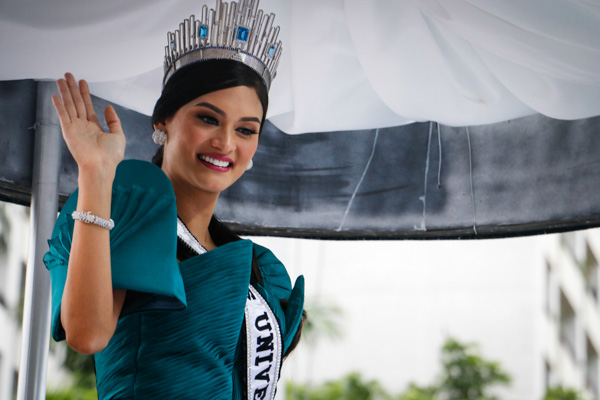 Miss Universe Pia Alonzo Wurtzbach during a victory parade Monday, Jan. 25, 2016 in Manila, Philippines. Philstar.com/Efigenio Toledo IV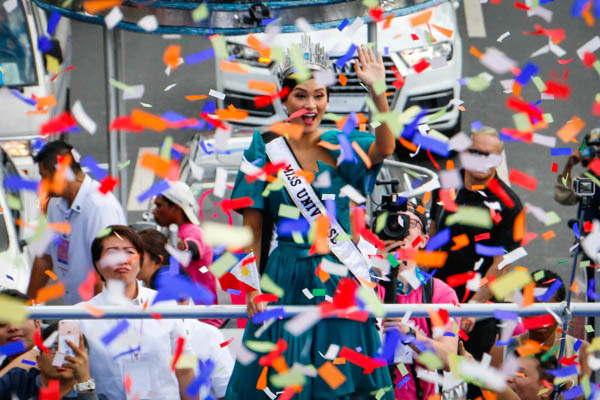 Confetti rain on newly crowned Miss Universe Pia Alonzo Wurtzbach during a victory parade Monday, Jan. 25, 2016 in Manila, Philippines. Philstar.com/Efigenio Toledo IV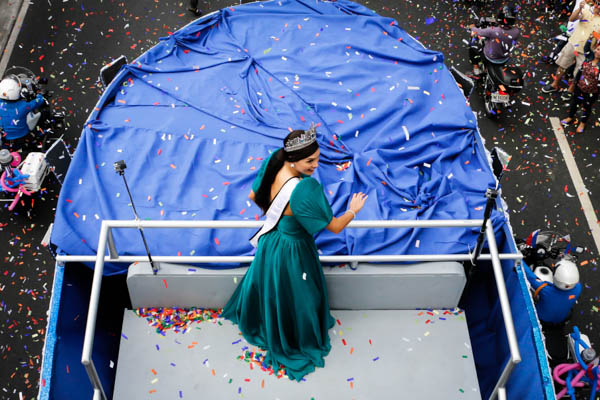 Miss Universe Pia Alonzo Wurtzbach during a victory parade Monday, Jan. 25, 2016 in Manila, Philippines. Philstar.com/Efigenio Toledo IV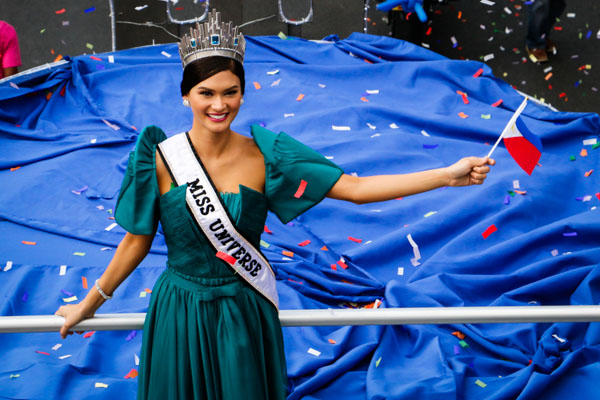 Newly crowned Miss Universe Pia Alonzo Wurtzbach waves a Philippine flag as her float passes by the financial district of Makati city east of Manila, Philippines for a victory parade Monday, Jan. 25, 2016. Philstar.com/Efigenio Toledo IV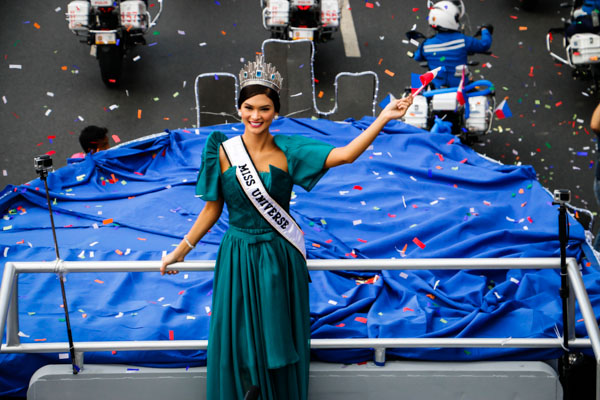 Newly crowned Miss Universe Pia Alonzo Wurtzbach waves a Philippine flag as her float passes by the financial district of Makati city east of Manila, Philippines for a victory parade Monday, Jan. 25, 2016. Philstar.com/Efigenio Toledo IV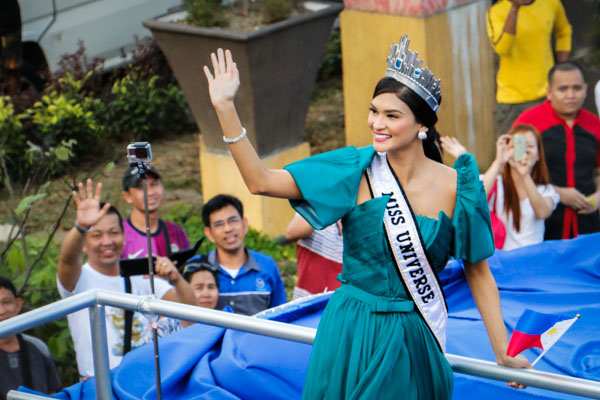 Miss Universe Pia Alonzo Wurtzbach during a victory parade Monday, Jan. 25, 2016 in Manila, Philippines. Philstar.com/Efigenio Toledo IV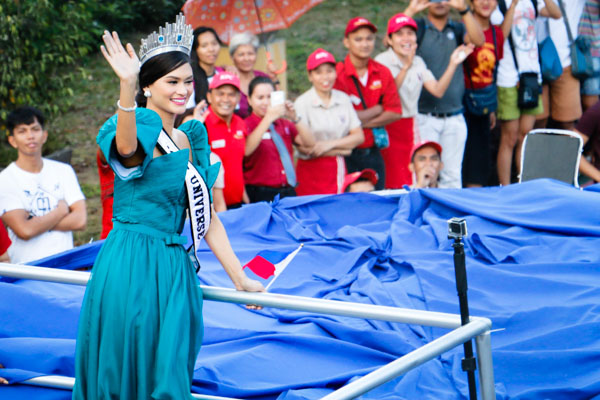 Miss Universe Pia Alonzo Wurtzbach during a victory parade Monday, Jan. 25, 2016 in Manila, Philippines. Philstar.com/Efigenio Toledo IV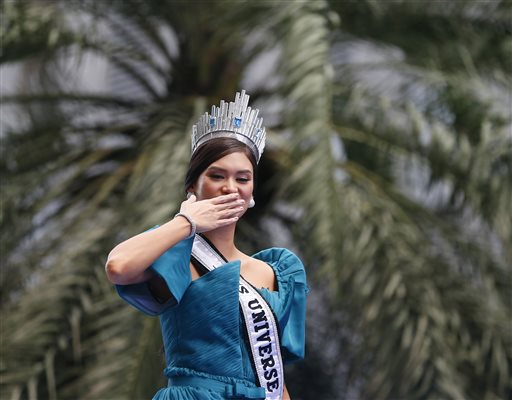 Newly crowned Miss Universe Pia Alonzo Wurtzbach blows kisses to the crowd as her float passes by the financial district of Makati city east of Manila, Philippines for a victory parade Monday, Jan. 25, 2016. AP Photo/Bullit Marquez