Who destroyed the stars of Maine and Julie Anne at the Walk Of Fame?
FUNFARE
-
Ricky Lo
(The Philippine Star) - December 16, 2015 - 9:00am
Has the "war" among fans over their respective idols gotten out of hand? Have the "warring" fans turned violent and destructive? Have they crossed the line?
These questions cropped up four days ago when the "stars" of Maine Mendoza and Julie Anne San Jose at the Walk Of Fame at Eastwood City, Quezon City, were partially destroyed. It came in the wake of the raging war between Team Maine and Team Julie Anne after a GMA director confirmed on social media that Julie Anne is Alden Richards' real girlfriend. The director said that he was misunderstood and apologized for it.
German "Kuya Germs" Moreno, creator and financier of Walk of Fame (and therefore personally chooses who should be granted the honor), bewailed the incident.
"Bakit naman dumating sa ganyan ang pangyayari?" Kuya Germs complained. "It's okay for fans to support their idols pero huwag naman violent."
Good thing the stars (those of Maine and Julie Anne's were installed only last Dec. 1) were made of bronze (indestructible) and only the enforcement around was destroyed.
"There are CCTVs around," according to Kuya Germs, "and the police are trying to identify the suspects."
Actually, there's no rivalry between Maine and Julie Anne. When Maine appeared as guest on the GMA noontime show Sunday Pinasaya last Sunday, she sought out Julie Anne at the dressing room and said sorry to her. During the presscon for My Bebe Love, Maine and Alden's big-screen debut as a love team, Alden explained that there was nothing between him and Maine but (special?) friendship. He refrained from commenting about himself and Julie Anne (they are among the hosts of Sunday Pinasaya), saying, "Let's not talk about people who are not here."
"Years ago," added Kuya Germs, "there was also rivalry between fans," during the Susan-Amalia, Vilma-Nora days, "pero hindi umabot sa bayolente."
Kuya Germs has all the right to be angry because he's the one spending for each and every star installed on the Walk of Fame. No criteria who deserves to be there. What Kuya Germs says, goes. Sa kanya ang Walk of Fame, eh!
"The stars are now being repaired," said Kuya germs.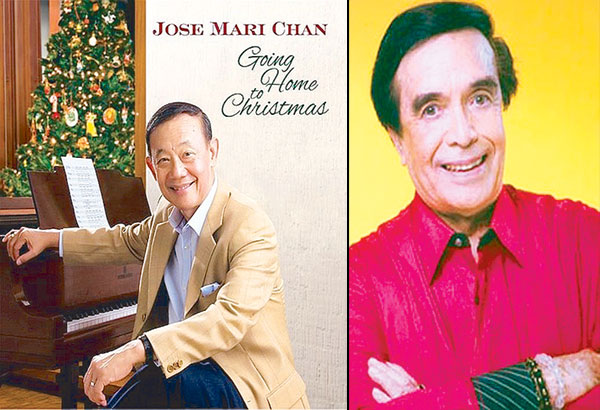 Jose Mari Chan's second best-selling Christmas album, Kuya Germs: Okay to support their idols but fans shouldn't resort to violence.
Thanks, Joe Mari, for making us feel the spirit of Christmas
Unless and until you go to the malls crawling with shoppers or have time to go around the brightly-lit Metro Manila, you can't really feel the spirit of Christmas. At least that's how I feel — that is, until I went home bone-weary from heavy deadline the other night and played Jose Mari Chan's Going Home to Christmas (a follow-up to his chart-busting Christmas In Our Hearts) on my car's CD player.
More than the material (Give Love on Christmas Day, Michael Jackson reminds us year after year), what excites me about Christmas is the sad-happy feeling that the season evokes in me, sad for loved ones who are not around anymore (a feeling intensified by the line from the original Judy Garland version of Have Yourself a Merry Little Christmas…Through the years we all will be together if the fates allow…we don't have control over "fates," do we?) and happy with expectations of a better year ahead.
According to Joe Mari, Going Home to Christmas was written with OFWs in mind "longing and missing their traditional family Christmas celebration," while Pinoy Na Krismas "is a caricature of how Christmas is celebrated in the provinces and the hope of uniting Kapuso, Kapatid and Kapamilya."
Essentially, the recurring theme in the album is: seeing, touching and celebrating Christmas with the eyes of a child because it is only when we are simple like the little children that we begin to understand the wisdom of God's love.
The album is a collective effort of family and friends, with Joe Mari's children and grandchild among the singers, and also close friends (Ogie Alcasid, Cris Villonco and The Company among them) in the industry.
Nice to play the album not just on your way home (like I do) but especially during the Noche Buena.
By the way, Joe Mari is performing with Jack Jones on Dec. 29 and 30 at the Kia Theater and not in a back-to-back show with Michael Bubble reportedly advertised in the Internet.
"I hope it's not a scam selling fake tickets," warned Joe Mari about that show. "Nobody has signed me up for that."
(E-mail reactions at entphilstar@yahoo.com. You may also send your questions to askrickylo@gmail.com. For more updates, photos and videos visit www.philstar.com/funfare or follow me on www.twitter/therealrickylo.)