Laurice on what makes life worth living
No one is ever too late for another chance in life. Through tough battles, people learn how to be stronger.
Critically-acclaimed director Laurice Guillen, the woman behind the success of GMA 7's primetime show Second Chances, knows this too well.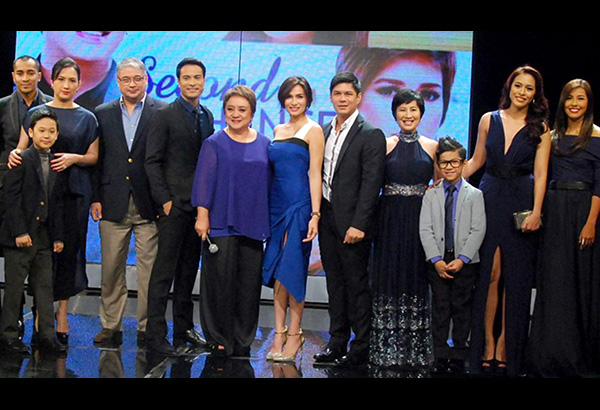 With the cast of Second Chances, the primetime soap she directs on GMA 7
Through her latest television masterpiece, direk Laurice gives Kapuso viewers hope and inspiration to keep on believing that every day could be an opportunity to change and follow whatever it is that makes them happy.
Looking back, direk Laurice's first work as a director for a TV series on GMA 7 was with Akin Pa Rin Ang Bukas, and now is her second chance to provide viewers a show that captures the emotions and desires of the people. With that, she extends a part of her that the viewers might not have known before.
Read on as direk Laurice, a woman of faith and simplicity, shares what makes her happy and what makes her life worth living.
On faith and family. The Second Chances director values God above all else, and her family is on top of her list. These two are what inspires her to always make life meaningful. She shares, "There's not just one person, and if there's one person, it's God of course. And then there are my children and my late husband. I treasure a lot of people, but the order of priority is God, and then the family. I think that's what matters the most."
Having God at the center of their life, direk Laurice was able to instill good values and virtuous practices in her children at an early age. She recalls, "The most memorable experience for me would be going on a religious mission in the name of the Blessed Virgin Mary. The four of us, my late husband and two children, went around Mindanao. That's a trip where we all took a boat at Our Lady of Akita. And then we went to Cagayan de Oro, and from there we brought a van and we drove around. My daughter who was about nine years old that time had a map, and she was our navigator."
Since she values her family more than all earthly things combined, the well-acclaimed director insists that communication is still and always the key towards a better companionship among our loved ones.
With daughters Ina (left) and Ana
"I communicate with them often. I tell them where I am, what I'm doing. And I see to it that they do the same. So, I'm always communicating with them," she reveals her secret on maintaining a good relationship with her children.
On earthly things. She reveals to have a soft spot for animals, and she says she grieved over the dogs that have been a big part of her life but had already passed away. She opens up how emotionally exhausting it is to cry over a pet that died. Now, she instills her happiness on a timeless investment that satisfies her need for warmth and safety.
"My most cherished thing is my home. And right now, it's the home that we built in our little farm. It's also my treasured place where we can go to recharge. It's both a treasure and a present." She now spends her leisure time at the farm, where she reflects and enjoys the quietness of nature.
On happiness. Direk Laurice shares her belief that happiness is only real when shared, and that once it is felt, it will be yours forever. Keeping something that pure for all eternity is a kind of intimacy for her, and she wants to keep its solitude in her memory. Its pricelessness solely depends on its secrecy.
"There are so many moments I value, but they are all very private. All to do with family."
On passion. Taking a trip down memory lane, she recalls how she took little steps in becoming who she is now. Her milestones include the things that opened her heart to her craft. "I treasure the roles that I used to portray in the Ateneo theater," she says.
Honing her passion for the arts did not only set the gears up for the success that she has claimed through the years. It is also with hard-work and determination to continue learning and improving the talents that God has given her that brought her up on the bright lights.
On love. Direk Laurice sets it short and straight for those who once got lost in love, felt battered and tired, but still desires to have a second chance to make things right.
"You know, when you love and it's not reciprocated, you're not on the losing end. It's because you loved. Hindi ikaw ang nag-lose. Ang nag-lose, yung hindi pinahalagahan yung love mo," she says with conviction.
She also believes that when love overflows, a lot of people are nurtured with it. She envisions that people around the world would cherish and foster love. "Yung pagmamahal ng kapwa, sharing the love, that's what people should be giving and receiving from each other."