Bot Glorioso
(The Philippine Star) - February 9, 2015 - 12:00am
MANILA, Philippines - If you've been reading the entertainment news or tuning in to your favorite showbiz talk show, then you know exactly that Luis Manzano and girlfriend Angel Locsin have talked about marriage in passing. However, Luis said that there are no concrete plans yet. Neither has he popped that heartening, music-to-the-ears one-liner "Will you marry me?" to his ladylove on bended knee.
Still, questions pertaining to marriage seemed endless during the presscon for the new season airing of Kapamilya Deal or No Deal where televiewers will get to see Luis once more as the witty and charming host. The game show airs weekdays on ABS-CBN's afternoon block beginning today.
"Well, let's see because I'm (now) 33 and she's not getting any younger," said Luis when asked if he plans to propose to Angel anytime this year. "It's only a matter of waiting and seeing if that's really our time."
What is certain though is their mutual desire of spending a sweet, happy lifetime together. "Even Angel, when she answered in (her) Aquino & Abunda Tonight interview awhile back, she said that at this point she already knows that whatever happens, we will end up together, (that) we are destined for each other. She was nearly echoing what we are both feeling," Luis added.
It was years ago when Luis and Angel went their separate ways but fate seemed to have intervened and brought them back together again last year. That's why Luis felt that after they have reconciled, everything's coming up roses for them.
"Just the other night, pinag-uusapan namin na swerte kami sa isa't isa ni Kite (as he fondly calls Angel). I don't know but everything (is turning) out for the better after we got back together — career-wise, personal-wise."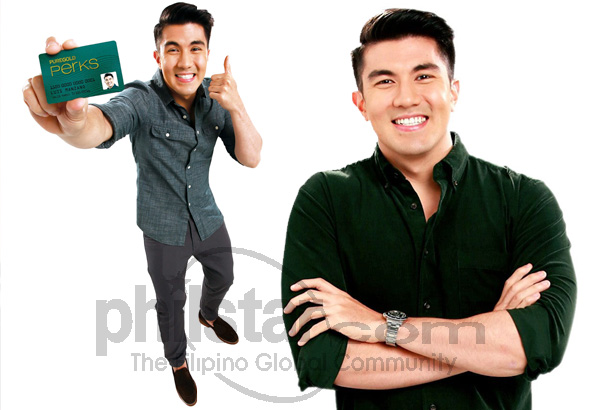 He added, "It may sound superficial but the work is plenty, the blessings keep coming in."
Truth is, aside from TV projects, Luis is also one of the most in-demand product endorsers today. Among his endorsements is the Puregold Perks Card. It is a special privilege card that every Puregold shopper can avail of to earn points and get rewards.
Luis can't also wait to start his hosting chores in Kapamilya Deal or No Deal that promises to be more fun and exciting than the last season.
According to Luis, the 24K Ladies will be replaced by 20 members of Lucky Stars composed of a teen heartthrob, beauty queen, comedian, character actor, sexy actress and a lot more. Each will hold his assigned briefcase for a month. A roulette will determine who among the Lucky Stars will be the player of the day who automatically gets the chance to win the P1M jackpot prize.
It was stated in the press release that this is the first time in all Deal franchises around the world that the briefcase models will be replaced by celebrities who will also serve as studio players.
Asked if he has his own lucky star, Luis replied, "Well, aside from my family, my lucky star is Angel. Life in general turns out fine, sumarap ang buhay."
Does he have a lucky number?
"It's (the number) seven. That's one reason why my name is Lucky. My birth weight was 7.7 (pounds) okay then my birthday is April 21 so four plus two plus one is seven so triple seven. Then, my and Angel's new anniversary is Feb. 7 na 'di sinasadya at nagkataon lang talaga. That was the day when she guested in Minute to Win It and she told me na kapag nagawa n'ya 'yung challenge magiging kami na ulit. It was taped and that was Feb. 7."
But it doesn't mean that he will choose the same number as the date of his marriage proposal. "I have another date in my head. I mean, kahit di ko pa napla-plano ng maayos, I already have something in mind how and when (the proposal will be)." And if and when that day comes, Luis prefers it to be an intimate moment.
"Mas intimate, mas natural because you don't need to tell it to the whole world. That's my take on it. To each his own."