Nat'l music camp tells musicians: Find your place in history
Chuck Smith
(The Philippine Star) - November 10, 2014 - 10:35am
DUMAGUETE CITY, Philippines – Help shape the future of Filipino music.
This is one of the goals of the Elements National Singing Songwriting Camp, led by musician Ryan Cayabyab held at the Bahura Resort and Spa in Dauin, Dumaguete.
Now on its 5th year, the music camp is a five-day songwriting workshop that brings together 60 young musicians with the aim of improving the musical talent of young Filipino artists.
"Our idea is not to commercialize music. Our idea is to make music and for them to be more creative and, for me, help find the direction of Filipino music," said Cayabyab, the camp's content director
The young musicians who are part of the camp will receive mentorship from some of the country's renowned musicians and songwriters such as Ebe Dancel, rapper Abra, Parokya ni Edgar's Chito Miranda, Jim Paredes, Jungee Marcelo, among others.
"Kumbaga, we're helping shape the future of Filipino music—popular music in a way—and help find that direction," Cayabyab said.
The camp was founded by Cayabyab, Twinky Lagdameo and businessman Julio Sy, Jr., with the goal of developing the diverse skills and natural talent of Filipino artists.
Topics for the workshops include an overview of Philippine music, the science behind voice production, music creation, lyric writing, collaborating and arranging, among others.
During the camp's session on the history of contemporary Philippine music, singer-songwriter Joey Ayala urged young musicians to find the "cause," the reason for their music. Popularity and money, he said, are just the effect of music.
"Maaring hindi ka nga sumikat... pero kasama ka sa history—not of recording history, not of commercial history. But you're part of history," Ayala said. "And majority of us here will be part of hindi kilalang history."
He also said: "Hanapin mo yun para mahanap mo ang iyong place in history: what is my cause?"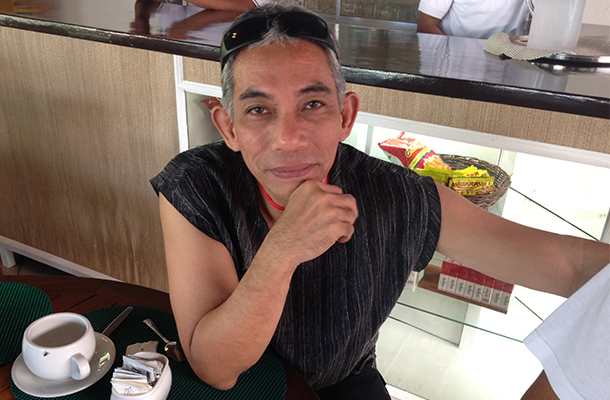 Joey Ayala at the 5th Elements National Singing Songwriting Camp. Philstar.com/Chuck Smith
Ayala said he tries not to let labels bother him when writing a song.
"Kasi when you let labels bother me, kinakahon ko na ang saili ko. Know thyself, ika nga," Ayala said when asked by a camper how one can reconcile being Filipino and writing songs when using the English language.
"Who cares about Filipino? It's not really important. Nation is used as a concept to manipulate people," he adds. "There is an aspect of nationalism that is not healthy."
"The concept of nationalism is primarily a management concept. It's the practical side of nationalism. Which is good—use nationalism for management, but not manipulation."
Ayala, whose rendition of the Philippine national anthem became viral last year, said he started singing for himself "and not singing for my peers."
In the coming days, the 60 participants of the Elements music camp will participate in discussion and modules on lyric writing, headed by scriptwriter Ricky Lee; creativity, to be discussed by Jim Paredes; and various lessons on arranging, song writing, collaboration, and artist management with Jungee Marcelo, Jazz Nicolas, Jonathan Manalo, Gerard Salonga, Noel Cabangon, and Ogie Alcasid, among others.
Some of the alumni from the camp's previous editions have gone to achieve mainstream music success last year.
For instance, last year's Elements camp: Lara Maigue went on to star in a TV5 musical TV show, Davey Langit became a finalist in the Philpop songwriting competition, and Thry Alfaro and Yumi Lacsamana released a number of hits as both singers and songwriters (the two are responsible for the hits in the "Ang Diary ng Panget" movie sound track and, most recently, Sarah Geronimo's latest single "Kilometro".)
"What we realize is the campers, after they come out of the camp, they are energized, they are inspired. And they become part of that movement," Cayabyab said.