Mixed reactions to Blood Ransom
Raymond Lo
(The Philippine Star) - November 2, 2014 - 12:00am
MANILA, Philippines - "I'm nervous! Super, super nervous but super excited!" Anne Curtis gushed when this writer had a short chat with her Monday evening after the press conference organized by Star Media for her first international film, Blood Ransom, in Glendale, California.
One thing fueling Anne's excitement was the thought of her walking on her first US red carpet premiere right in the heart of Hollywood. "It's bringing us, Filipino actors, here through the international indie scene and that, for me, is super major. It just goes to show that dreams really do come true if you have the patience and you wait for it."
Fans of the actress need not worry though. Anne has no immediate plans of ever giving up her thriving career in Manila.
"At the moment? I know I have a career in the Philippines," she replied after I asked her what would make her leave her comfort zone and try a career in the biggest entertainment industry in the world. "I have to do Showtime — it would be heartbreaking for me to leave. Movies? I can take a break, like teleseryes, but Showtime — that would be hard for me to leave."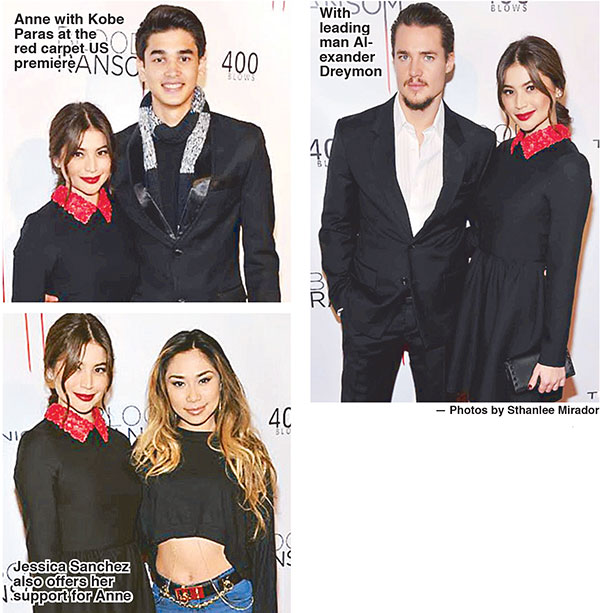 Earlier, during the presscon, the beautiful star addressed a related question and she gave an earnest reply, which offered a rare insight into how Anne values her success in the business.
"I would like to eventually come here and start from square one, like audition and try it out, you know, but then it's so hard also to leave what is comfortable," she said. "I know how hard I worked to get to where I am in the Philippines. It wasn't an overnight thing. It was a climb to get where I am. But, you know, I wouldn't close that door. I don't know. It's a big I-don't-know."
In the film, Anne plays Crystal, a mysterious and seductive woman who begins a perilous love affair with a man while on the run from her dangerous lover. But Crystal is not only running from her lover, she is also running away from a dark secret that's haunted her for years and time may not be on her side.
Blood Ransom is from writer-director Francis de la Torre, the same filmmaker who gave Jericho Rosales his international break several years ago in the film Subject: I Love You. The international cast includes Alexander Dreymon, Caleb Hunt, Darion Basco, Dion Basco and Vanessa Evigan. Tectonic Films produced the film.
Early reactions to the movie from Tuesday's US premiere, attended by the likes of American Idol finalist Jessica Sanchez and basketball standout Kobe Paras, were decidedly mixed. Some declined to give their comment but praised Anne's participation in the film.
The film is set for release in the US on Oct. 31 and is showing in Manila theaters now.