What to expect from the bands
When told that South Border and Freestyle, followed by Side A and Bamboo, would be performing at the third SM Clark Pyrofest, we were excited with the invitation given by Claire Agbayani. It is not very often that these iconic bands get together. But sadly, the opportunity was lost for us and we would need to wait for their next venue to catch a performance. We are very familiar with both Side A and Bamboo having watched them often. But we have never watched a live performance of South Border and Freestyle, and we are hoping that another opportunity presents itself somewhere soon.
South Border is the famous group with Jay Durias on keyboard and lead vocals; Janno Queyquep on guitar; Benjie Mendez on drums, percussion and vocals; Manuel Tabunar on bass guitar; and Edward Picache on saxophone. A Filipino band that gained recognition in the mid-'90s, it nevertheless retained its unique sound and the top spot in its particular musical genre. Much credit goes to Jay, who is also the band's chief songwriter, arranger, producer, musical director and the lead creative force that kept the group united.
South Border first came into national prominence in 1996 when it launched its first self-titled album. It included a song titled May Pag-Ibig Pa Kaya, then Kahit Kailan which became the 1996 Song of the Year giving the band its first big hit. After various problems and discouraging forecasts, South Border released a second album called Bump featuring Sa 'Yo, a haunting ballad that spoke of a heart's yearning for a loved one and the instrumental piece Reborn, reminiscent of its early jazz influences, and South Border was back on top. In addition, Jay was hailed as Producer of the Year for the Bump album, making him the youngest producer to ever bag that award. The following year, the band released its first live recording with lyrics by Armando Lao and music composed by Jay, who considers the song to be one of his best compositions and arrangements to date.
Freestyle boasts of Ava Santos on vocals, who was behind Ivory Records' acoustic albums like Love Songs Unplugged and Whitney Houston Acoustic. With Joshua Desiderio and Mike Luis on vocals and keyboard; Mike Luis and Rommel dela Cruz on bass; and Gerald Banzon on drums, a new vibe has been introduced, resulting in a powerhouse of rich harmonies and robust music, flavoring its cool mix of old and new schools of music. When Freestyle hit the Manila bar scene in 1998, it was a case of young musicians being at the right place at the right time with the right sound. Those five guys and a girl had then been what Manila was looking for — a new band with vast appeal and the knack for filling venues with its music.
After several years, the pop, rock and R&B band has grown into an OPM heavyweight with six studio-recorded platinum albums, a string of local and international concerts and industry accolades under its belts, thus making Freestyle one of the country's best-loved and most sought-after groups. Freestyle has finally set out to promote its latest independent album: Mga Kwentong Kinanta.
The album features a sound distinctively its own without compromising the styles of each individual member. It is clear that the band is happy to be where it is now, and is very much here to stay.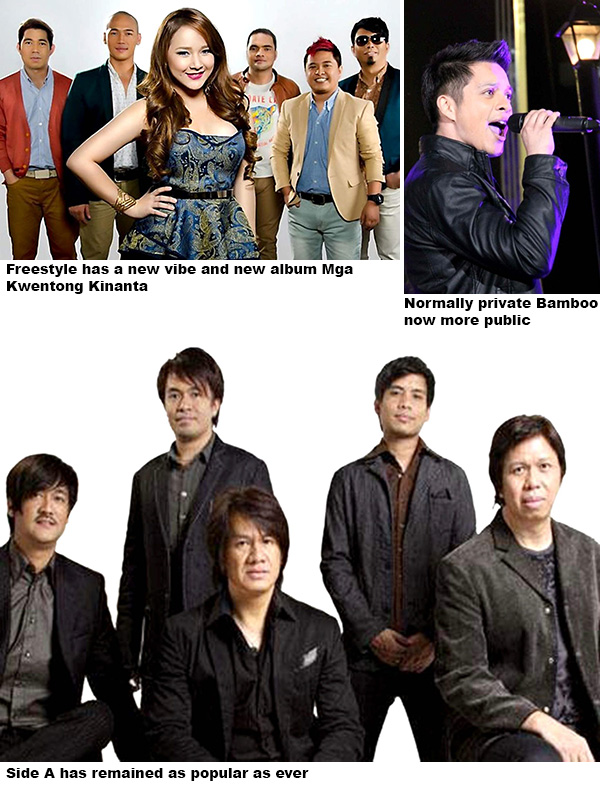 (E-mail your comments to bibsyfotos@yahoo.com or text me at 0917-8991835.)