The Script coming back for concert April 2015
FUNFARE
-
Ricky Lo
(The Philippine Star) - October 13, 2014 - 12:00am
Will The Script generate delicious gossip when they come back for a concert (at the MOA Arena) on April 17 next year?
You see, when the trio first came here for a concert last year, one member (was it front man Danny O'Donoghue?) was reported to have been "smitten" by 2012 Miss Phiippines-Universe/Miss U First Runner-up Janine Tugonon who proudly admitted on national television that she was breaking up with her long-time boyfriend.
Then, when The Script proceeded to France for a concert, Janine was reported to have followed the trio and after that…silence. When last heard from, Janine was in L.A. taking up a course in filmmaking. It's not known if she and The Script man are still in touch.
Funfare mentioned that trivia because The Script's fourth/latest album is called No Sound Without Silence which speaks well of the abortive "romance" between Janine and the front man who is impressive not only as a singer but also as a speaker.
The album is described as "the sound of a band firing on all cylinders and channeling the momentum of their last, rocket-powered campaign," referring to album #3 (that's the title) for which they went on tour (that included the Philippines) last year, took off for two weeks and then quickly re-entered their studios in London and Dublin.
The two other members are Mark Sheehan (vocals, guitar) and Glen Power (vocals, drums).
The Script wanted their new songs to capture what Danny describes as "that nervous energy coming straight off stage. It was a bit uncontrollable at the start, it was shooting everywhere." It's the new album that is setting the trio back on the road, bringing them all over the place including the Philippines, a very welcome news for The Script fans who have been clamoring for its repeat performance.
The Script has sold over 20 million records, and all its three albums have been multi-platinum throughout the world. Hall Of Fame, the lead single from last album #3, was a worldwide No. 1 single with over five million sales and 133 million YouTube views.
(The Script — Live in Manila 2015 will be presented by Midas Promotions. Tickets will be on sale starting at 9 a.m. on Oct. 23 at www.smtickets.com or any SM ticket outlets [call 470-2222 for inquiries]. Prices: P8,000 for VIP; P7,000 for Patron; P5,500 for Lower Box A; P4,000 for Lower Box B; P2,500 for Upper Box; and P1,000 for General Admission; booking fees not included).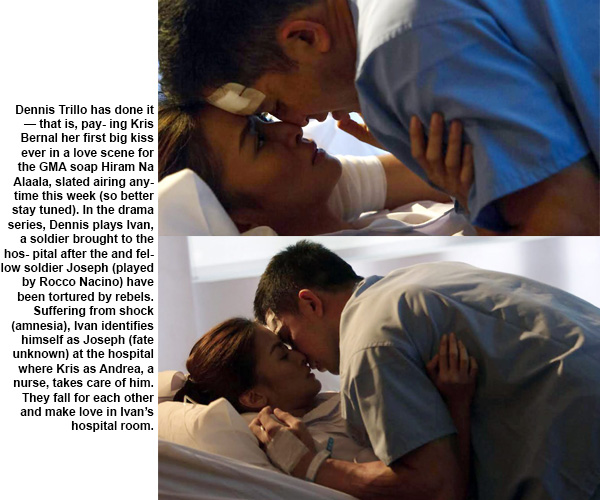 Megan true to promise
When Megan Young promised to be "the best Miss World ever" during her crowning late last year in Indonesia, she really meant it.
While her reign as 2013 Miss World-Philippines has ended last night when her successor was chosen at glittering rites at the MOA Arena, Megan still has several months to fulfill as Miss World, a title that has brought her around the world in pursuit of the pageant's "Beauty with a Purpose" objective.
When she appeared last Saturday on Startalk, Megan clarified the report that her Miss World reign was extended.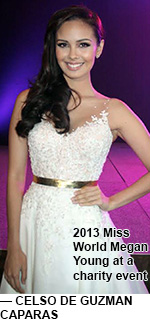 It was a misunderstanding, actually.
"Even after I turn over the crown to the new Miss World," explained Megan who has remained grounded (unlike most beauty queens whose heads instantly grow swollen for their crowns) and down-to-earth (she greeted even the utility boy at GMA), "I will continue helping the projects of the Miss World Organization (MWO)."
She said that she's also resuming her interrupted showbiz career whether here, around in Asia or, why not, in Hollywood perhaps in the footsteps of Aishwarya Rai, the Miss World from India, who has crossed over from Bollywood to Hollywood (last seen with Steve Martin in a Pink Panther movie).
Last week, Megan made her farewell appearance as 2013 Miss World-Philippines (MWP) at a Gala Charity Night produced by the MWP people (led by its national director Cory Quirino) at the Solaire Casino & Resort for the benefit of the pediatric wing of the Philippine General Hospital. The event served as the Fashion Runway Competition for the 27 candidates of the 2014 Miss World-Philippines.
(E-mail reactions at entphilstar@yahoo.com. You may also send your questions to askrickylo@gmail.com. For more updates, photos and videos visit www.philstar.com/funfare or follow me on www.twitter/therealrickylo.)