Imelda Marcos musical staged soon
FUNFARE
-
Ricky Lo
(The Philippine Star) - September 18, 2014 - 12:00am
Curtain-raisers:
• James Yap and his girlfriend Michela Cazzola came home fully recharged from their almost one-month vacation in Europe. They visited Michela's folks in Italy, spent time in Venice and even made a side trip to Spain where they watched (and cheered for) the Gilas games at the just-concluded FIBA World Cup. Because wedding proposals are the current fad in the business, James was pestered with questions if he proposed to Michela while abroad. Sounding like a broken record (because he has answered the question a hundred times), James said, "No, walang proposal," because marriage is something that must not be rushed. Well, he must have learned a lesson from the first time he "committed" it.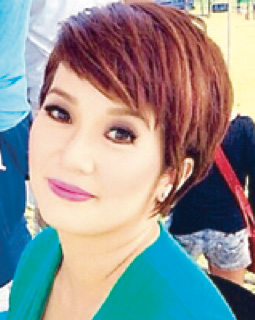 • I know the reason why Kris Aquino (photo) is on Cloud 9 and feeling magnanimous these days. No, it's not her good friend Derek Ramsay who's responsible for it but an ardent suitor who is the "ex" of a popular TV host. If ever Kris and the man (from an influential clan) do click, she will be (hopefully!) wearing an "L" pendant (goodbye, letter "B"!). The man can make Kris happy in many ways, including giving her the "moon" if she asks for it. There's the clue.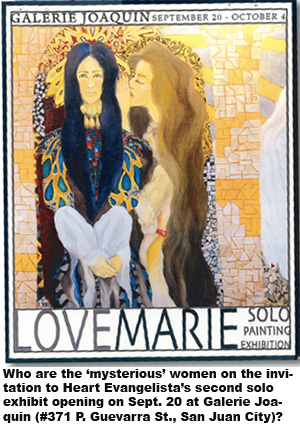 • After her recent successful one-woman exhibit (all paintings sold out), Heart Evangelista (soon to be Mrs. Chiz Escudero) will hold another one from Sept. 20 to Oct. 4 at Galerie Joaquin (on #371 P. Guevarra St., San Juan City). Printed on the invitation is Heart's painting of a woman transfixed while another woman is whispering to her. "The one facing you is me," said Heart, "and the one whispering (to me) is my Guardian Angel." I'm sure that, like during the first one, all the paintings on exhibit will again be sold out even before the show opens.
* * *
The musical about the love story of Pres. Ferdinand Marcos (with Mark Bautista playing him) and former First Lady Imelda Marcos, titled Here Lies Love, is opening on London's West End third week of October yet.
Opening ahead of it on Oct. 4 at the Justo Albert Auditorium of Pamantasan ng Lungsod ng Maynila is A Mother's Soul, the original stage musical about the life journey of former Madame Imelda which has been likened to a roller-coaster ride with all its dramatic twists and turns.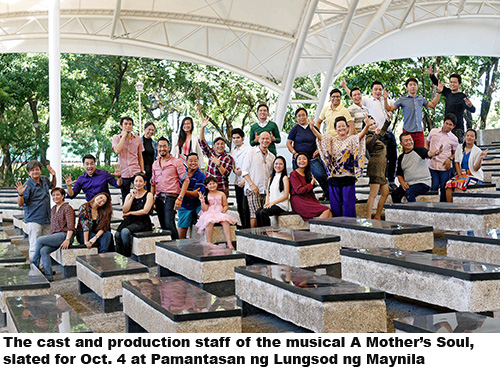 A Mother's Soul, written by Francis Tanseco who will also co-direct it with London-based stage director/choreographer/commercial model/actor Ronnie del Barrio, will be told in original songs (composed by Marites Anino) and dances.
The cast is composed of veteran performers and new but surprisingly competent artists. Playing the title role are: Mercy Viola (as the present-day Imelda Marcos), Armie Zuñiga (as the middle-aged Imelda), Gina Respall (as the young Imelda), Annalin Bantug (young Imelda understudy), and Sandra Kim (as the child Imelda).
Playing former Pres. Marcos are Angelo Estrada (Manila City Mayor Joseph Estrada's grandson) and Rudell Ramirez of German "Kuya Germs" Moreno's GMA show Walang Tulugan.
Completing the cast are ensemble actors Brylle Mondejar, Albert Jimenez, Glenn Javier, Benjie Espina, Daryll Tanseco, Leo Angelo Jacinto, William Serrano, Paulo Rodriguez, Alyssa Marie Viray, Giarell Apolona, Maria Cristina dela Cruz, Marrey Anne de Leon, Angelyne Ramirez and Jeannah Grace Arado.
Aside from Tanseco, Anino and Del Barrio, the other creative/artistic team members are: Jude Roldan (musical arranger/composer), Maria Theresa Roldan (musical director), Edna Encarnacion (costume designer), Rollie de Leon (scenographer), Roldan Lozano (light designer), Teddy Mendoza (make-up artist/hairstylist), Alden Lugnasin (dance consultant), Eugene Ticzon (folk dance consultant), Daryll Tanseco (account manager), Dennis Adobas (casting director/publicist) and Henrik Bodilsen (poster and souvenir program designer).
It is produced by the Association of Merkaba Arts Philippines in partnership with the Manila City Tourism and Cultural Affairs Bureau, Pamantasan ng Lungsod ng Maynila and in cooperation with the National Parks Development Committee. Flower sponsor is Roberto Go of 365 Studio Flower Shoppe.
(E-mail reactions at entphilstar@yahoo.com. You may also send your questions to askrickylo@gmail.com. For more updates, photos and videos visit www.philstar.com/funfare or follow me on www.twitter/therealrickylo.)