MANILA, Philippines - TV5 is once again offering viewers an exciting and different kind of entertainment with the debut of its new program, the musical-drama-comedy Trenderas, which takes center stage during its special one-hour pilot telecast on Sept. 13 at 9 p.m.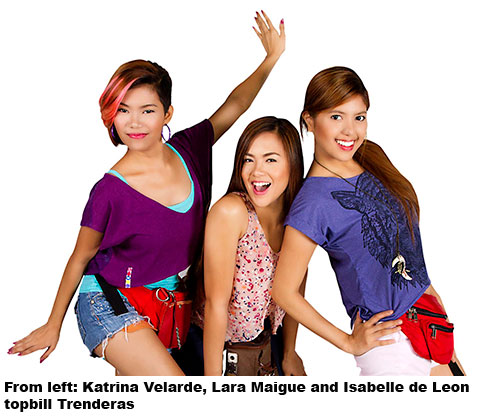 The Kapatid network takes the viewers' strong interest and relatability to aspirational underdog stories to even greater heights by introducing this one-of-a-kind weekly spectacle, highlighted by musical numbers that embody friendship, ambition and dreams. Moreover, the viewing experience of Trenderas will be made even more unique as the program captures the raw emotions in all these songs, with the lyrics becoming the dialogue of the various characters. Viewers will find themselves wanting to sing along with the characters as they express their emotions through the lyrics of various well-loved songs.
Trenderas will be top-billed by TV5's newest stars — the talented trio of Isabelle de Leon (as Isabelle), Katrina "Suklay Diva" Velarde (as Diva) and Lara Maigue (as Lara) — who play best friends who make ends meet by selling trinkets on the street. Their shared passion for music and their dream of one day becoming professional singers keep them strong despite their daily struggles in life.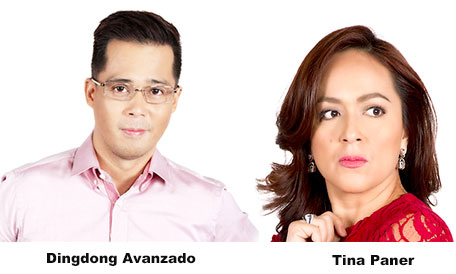 The program will chronicle their journey towards their ultimate dream as they transform from ordinary tinderas to the country's newest trending sensations — which all begins when a video by a random pedestrian capturing the girls' musical performance in the marketplace goes viral.
Other cast members are Dingdong Avanzado (as Julio), Ara Mina (as Diane) and Tina Paner (as Veronica), as well as Carl Guevarra (as EJ) and Edward Mendez (as Benjo) whose interactions with Isabelle, Lara and Katrina will bring viewers their weekly dose of kilig.
Meanwhile, comediennes K Brosas (as Katy), Cacai Bautista (as Miley) and Kitkat (as Lady) are the Tres Malditas, the trio of vendor-villains who will do anything they can just to hinder Isabelle, Katrina and Lara from reaching their dream. Rounding up the cast also are Francine Prieto (as Viveka) and Rez Cortez (as Mother Pearl).
And finally, playing a very special guest role is Superstar Nora Aunor (as Celestina Cruz), who will serve as the mentor of the Trenderas.