CONVERSATIONS
-
Ricky Lo
(The Philippine Star) - July 27, 2014 - 12:00am
One of the stars of Guardians of the Galaxy, the new Marvel movie, Dave Bautista talks about being a Proud Pinoy and proves it with a tattoo of the Philippine Flag on his massive upper arm
SINGAPORE — Asian journalists invited to the junket for Guardians of the Galaxy were pleasantly surprised to know that, like some giants, Dave Bautista is painfully shy. He's soft-spoken and, like Dwayne Johnson (formerly The Rock) who's also a recruit from the WWE (World Wrestling Entertainment), Dave hardly ever opened his mouth during the movie's general presscon held at a function room of the Marina Bay Sands Expo & Convention Center. But when he did, his booming voice seemed to shake the venue. He was onstage with co-star Zoe Saldana and the movie's director, James Gunn (recently featured in The STAR), who did most of the talking.
Eight years ago, Conversations did a one-on-one with Dave (who used the surname Batista at that time) in Manila when he and fellow WWE superstars (King Booker, The Undertaker, Chris Benoit, Sharmell and Chavo Guerrero) staged the WWE SmackDown! Survivor Series Tour at the Araneta Coliseum. Dave was then popularly known as The Animal.
He's half-Filipino, proudly showing it to the world by having the Philippine Flag tattooed on his upper right arm. He has other tattoos: a dragon on his back that goes all the way to his neck, another dragon on his right arm, a sunburst around his navel and, under the Philippine Flag, two Chinese characters that he said meant "angels."
He said then, "I am an angel," and he was a quiet, smiling angel at the Guardians junket. Asked then if he had ever been challenged to a fight in real life, Dave admitted, "Yes, all the time…from drunks usually. I'm a pretty nice guy, I'm not a violent person, so I just try to talk the person out of it. I avoid a confrontation if I can."
Dave quit WWE in 2010 to focus on his acting career. He has appeared on several TV shows (Chuck, Smallville, Headcase and Iron Chef America in which he played himself) and some movies including House of the Rising Sun, Wrong Side of Town, The Man with the Iron Fists (with Russell Crowe and Lucy Liu) and Riddick (with Vin Diesel).
Bringing the Marvel cinematic Universe into the cosmos, Guardians of the Galaxy adventure revolves around a brash adventurer (played by newcomer Chris Pratt (as Peter Quill) who finds himself the object of a bounty hunt after he stole a mysterious orb coveted by a powerful villain (Ronan The Accuser played by Lee Pace of The Hobbit fame) that threatens the entire universe. To evade Ronan, Quill enters into a truce with a quartet of disparate misfits — Rocket the gun-toting raccoon (voiced by Bradley Cooper), Groot the tree-like humanoid (voiced by Vin Diesel), the deadly/enigmatic Gamora (Saldana) and the revenge driven Drax The Destroyer, the character played by Dave. Can they save the universe from being blown into bits by Ronan?
Guardians of the Galaxy opens nationwide on Thursday, July 31, produced by Marvel Productions, maker of such blockbusters as Iron Man, Captain America and The Avengers.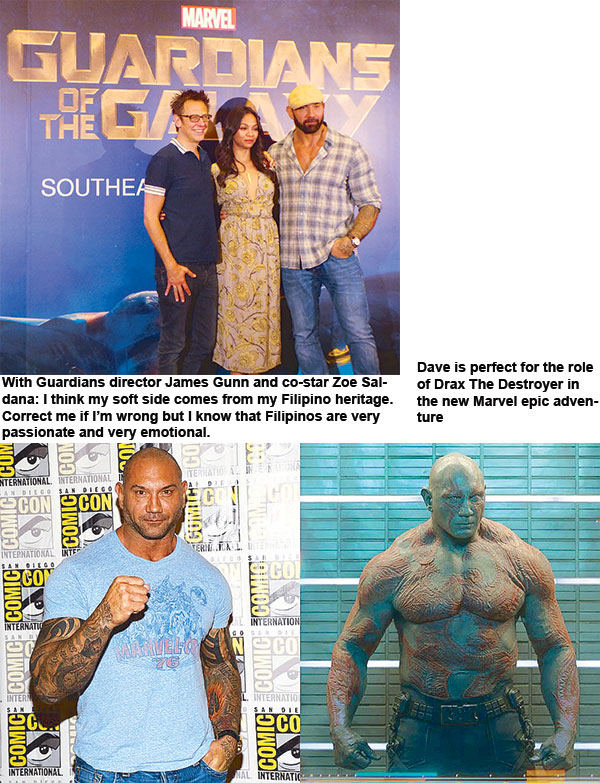 Now, did you know that Dave the Gentle Giant cried twice during the shooting of the movie?
Why did you cry? I thought big boys like you don't cry.
"There was a couple of times when I got choked up and so did James. It happened when we shot the last scene. I just had the feeling that I wouldn't be seeing the same guys again, guys whom I enjoyed working with so much. I also got choked up because in one scene which was very hard to do, Chris did it so well that I was surprised he had that kind of range. That was a serious leading-man moment for him, you know. When you realize how talented an actor is, that brings you to tears."
So nice to know that you have a soft spot.
"You know, I like to think that that side of me comes from my Filipino heritage. Passionate. I think Filipinos are very passionate, very emotional. Correct me if I'm wrong but I believe that they are. I was raised never to feel that it's a shame for a man to cry."
Of course, you're open about your being half-Filipino. How much of you is Filipino?
"My father is Filipino and my mother is Greek. But I was born and raised in America, so I'm very Americanized. I'm trying my best to speak Tagalog and I do know a few words like 'Mabuhay' and 'mahal kita.'"
Any chance for you to visit the Philippines again?
"Yeah, we were actually talking about that today. I hope it will be soon."
Why did you leave WWE?
"There were few different reasons why I left WWE, but the big reason was because there were challenges that I wanted to do outside of WWE, things that I couldn't do while I was under contact with it and they wouldn't allow me to do those things. I wanted to act, to pursue acting. I wanted to do films with WWE. I was one of the top stars in the company, so how come they didn't give me the opportunity to do films with them? It didn't seem fair. They should have let me do films with other companies but they wouldn't let me do that. It wasn't an easy decision to make because I was leaving a multi-million-dollar career."
What do you do on your off-duty day?
"Surprise, surprise! I go to the gym. I do. I am that kind of guy. I love working out in the gym. There's no exciting answer to that question. In the last couple of weeks, I moved into a new house and I've been busy decorating it. I spend time with my fiancée and my dog. That's my everyday life. Not exciting, is it? But I like it that way."
What did you learn in wrestling that you are now using in your work as an actor?
"WWE taught me how to be responsible. If you got to be here, you should be here on time. If you got to do this, do that, if you go out, you should be fan-friendly. That's another thing I learned at WWE. So there is no separation between WWE and the entertainment industry; we are all together in one universe.
"That should come in handy because some entertainers lose track of that and they lose their connection with their audience. They want to hide from the public, they want to disguise themselves, they won't sign autographs, they don't want people having pictures with them, they want to separate themselves from the public, and I don't understand why.
"With WWE, I got used to be on the ground. It was hard work, it was hard schedule. So now, when I have to spend 16 hours on the set, it's no big deal; it's not hard work."
You were so quiet, almost not saying anything, during the presscon. Are you really that shy? (Seated beside her on stage, Saldana confirmed, "Yes, he's very shy.")
"It still feels weird when people walk up to me because inside I very much feel that I'm a normal guy. I must admit that, yes, I'm also an introvert. I'm not so comfortable being in public. That may sound strange because of the profession I am in, which is very public."
What's the best lesson that you have learned in life?
"I think when I was with WWE and we were traveling the world, I took it for granted and I didn't bother learning about the places that we visited. I could have learned how beautiful the world was and how beautiful people were wherever they were."
(E-mail reactions at entphilstar@yahoo.com. You may also send your questions to askrickylo@gmail.com. For more updates, photos and videos visit www.philstar.com/funfare or follow me on www.twitter/therealrickylo.)