US panel recommends Pfizer COVID-19 vaccine for younger children
October 27, 2021 | 7:47am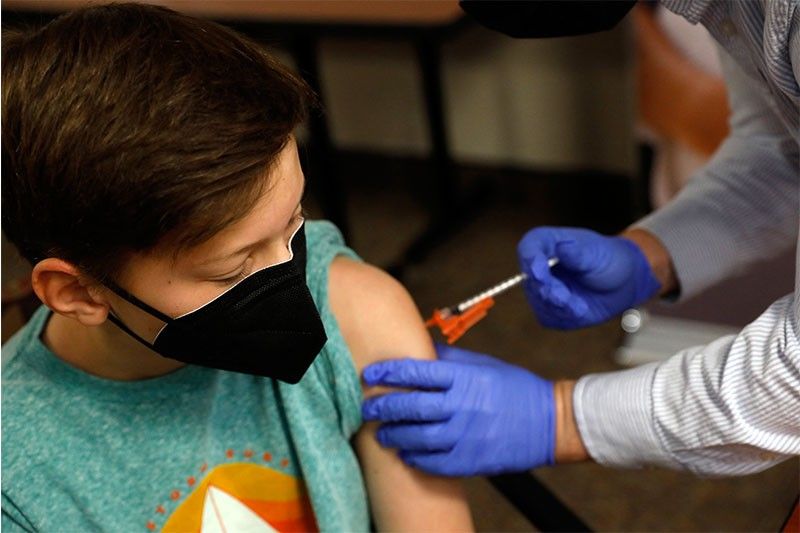 WASHINGTON, United States — A medical panel of US government advisors endorsed the Pfizer Covid-19 vaccine in five-to-11-year-olds Tuesday, paving the way for younger children to get their shots within weeks.
The independent experts concluded the known benefits — both directly to kids' health but also in ending school and other disruptions — outweighed the known risks.
After a day of presentations and debate, the final vote was 17 in favor and one abstention.
The Food and Drug Administration, which convened the meeting, is expected to give its formal green light soon, making 28 million young Americans eligible for the shot by mid-November.
"It is pretty clear to me that the benefits do outweigh the risk when I hear about children who are being put in the ICU, who are having long term outcomes after their COVID, and children are dying," said Amanda Cohn of the Centers of Disease Control and Prevention (CDC), who voted yes.
"It's never when you know everything — the question is when you know enough," said Paul Offit, a pediatrician at the Children's Hospital of Philadelphia, who also voted yes but reflected on the fact that more complete safety data would become available over time.
He added that many children who are at high risk stand to benefit, and that the theoretical risk of myocarditis, the most worrisome side-effect, would probably be very low, given the lowered dose of 10 micrograms, compared to 30 micrograms in older ages.
Nevertheless, several experts partly caveated their votes by saying they would not favor broad vaccine mandates in schools and the shot should remain a personal decision for families.
Earlier, top FDA vaccine scientist Peter Marks said younger children were "far from being spared harm of Covid-19," adding that, in this group, there had been 1.9 million infections and 8,300 hospitalizations, roughly a third of which required intensive care.
There have also been around 100 deaths, making it a top 10 leading cause of death, he added.
Rare side-effects
An analysis by Pfizer posted by the FDA before the meeting showed the vaccine was 90.7 percent effective at preventing symptomatic Covid-19.
FDA scientist Hong Yang presented a risk-benefit model that showed at current infection rates, the vaccine would prevent far more hospitalizations from Covid than they might cause from myocarditis.
If community transmission was brought down to very low levels, this may change -- but even then vaccination might be worthwhile because of long term risks linked to non-hospitalized cases, she added.
These include multisystem inflammatory syndrome in children (MIS-C), a rare but highly serious post-viral complication, which has affected more than 5,000 children of all ages and claimed 46 lives.
In its clinical trial, Pfizer evaluated safety data from a total of 3,000 vaccinated participants, with the most common side-effects mild or moderate, including injection site pain, fatigue, headache, muscle pain and chills.
There were no cases of myocarditis or pericarditis (inflammation around the heart), but experts agreed there were not enough study volunteers to be able to detect highly rare side-effects.
Matthew Oster, a CDC researcher, gave a presentation on what is known so far about these side-effects among groups already eligible for vaccines.
Of 877 vaccine-induced myocarditis cases in under 29s, 829 were hospitalized, according to official data. The vast majority were discharged but five remain in intensive care.
The rate will probably be lower in the five-to-11 age group than among adolescent males, because it is thought to be linked to testosterone.
The panel weighed this theoretical risk against preventing Covid, which may cause more frequent and severe myocarditis.
The meeting comes as the United States is emerging from its latest wave driven by the Delta variant.
Overall, 57 percent of the total population is now fully vaccinated.
Vaccine confidence has risen in recent months, but the United States remains behind every other G7 nation in percent of population fully vaccinated.
As It Happens
LATEST UPDATE: November 26, 2021 - 8:06am
Pharma giants Sanofi and GSK said on July 29, 2020, that they have agreed to supply Britain with up to 60 million doses of a potential COVID-19 vaccine. The agreement covers a vaccine candidate developed by France's Sanofi in partnership with the UK's GSK and is subject to a "final contract."
This thread collects some of the major developments in the search for a vaccine to ease the new coronavirus pandemic. (Main photo by AFP/Joel Saget)
November 26, 2021 - 8:06am
Chile on Thursday announces it would start vaccinating children aged three and up against the coronavirus, after successfully innoculating around 90 percent of its initial target population.
Children under the new rollout will receive the Chinese CoronaVac shot already used for kids aged six to 15, the Public Health Institute says.
For 16 to 18-year-olds, Chile uses the Pfizer/BioNTech vaccine. — AFP
November 25, 2021 - 3:09pm
COVID-19 vaccines reduce transmission of the dominant Delta variant by about 40%, the WHO says, warning that people were falling into a false sense of security concerning jabs.
The World Health Organization's director-general Tedros Adhanom Ghebreyesus says many vaccinated people were wrongly thinking the jab meant they no longer needed to take any other precautions.
Fully-immunized people must stick with measures to avoid catching the virus and passing it on, Tedros insists, spelling out how the more contagious Delta meant the vaccines were not as effective against transmission. — AFP
November 25, 2021 - 1:23pm
Canada begins mmunizing children aged 5-11 against COVID-19, joining a handful of nations including Israel and the United States in offering shots to this age group.
At Montreal's convention center, a few dozen youngsters were among the first to receive the Pfizer doses authorized since last Friday for this age group.
To help ease their fears of needles, additional measures have been taken such posting stickers of unicorns or hockey players on partitions between nursing stations, longer appointments than for adults, and a dog to pet. — AFP
November 24, 2021 - 5:29pm
Leading Russian doctors on Wednesday invited celebrities and politicians with anti-vaccine views to visit COVID red zones in hospitals and see for themselves the effects of the pandemic.
In an open letter published by state news agency TASS, 11 doctors from several cities wrote to a dozen public figures who expressed anti-vaccine views to hundreds of thousands of followers on social media.
Russia, one of the countries worst-hit by the coronavirus pandemic, is struggling with widespread opposition to vaccination even though it has developed several homegrown jabs including Sputnik V.
Despite multiple pleas from President Vladimir Putin, only 37% of Russians are fully vaccinated and the country has seen more than 1,000 deaths a day in recent weeks.
In their letter, the doctors told several singers, actors, TV personalities and politicians who had expressed skepticism over vaccinations that they would take the time to show them around COVID treatment centers. — AFP
November 24, 2021 - 7:14am
The United States is shipping another four million Covid-19 vaccine doses to Vietnam, the White House said Tuesday, bringing the total of US doses donated globally to nearly 270 million.
A senior administration official told AFP that 4,149,990 doses of the Pfizer vaccine are being sent, bringing the total delivered to Vietnam by the United States to 17,589,110 doses. Shipments began Tuesday.
Globally, there have now been 268,472,780 doses sent out to 110 countries, which the official, who asked not to be identified, said "is more than all countries combined have shared." — AFP