AstraZeneca jab faces suspensions as world marks pandemic anniversary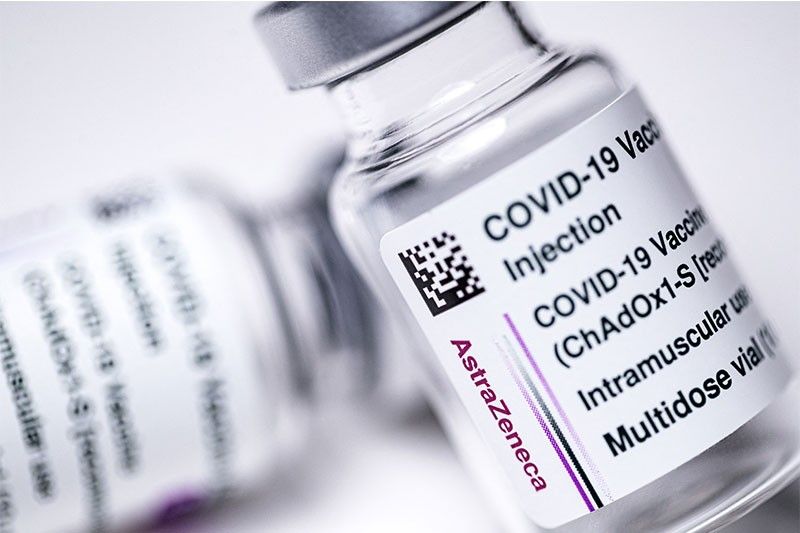 THE HAGUE, Netherlands — Several countries suspended the use of AstraZeneca's vaccine on Thursday over blood clot fears, prompting Europe's medical agency to quickly reassure the public there were no known health risks linked to the jab.
The melee over the vaccine came as the world marked one year since the pandemic was officially declared, and threatened to dim hopes that inoculations are the ticket to returning to normal life.
The virus has now killed more than 2.6 million people, subjected billions to anti-Covid restrictions, and left the global economy in tatters — an outcome unimaginable at the outset of the crisis.
A year on, several countries are looking to peel back restrictions put in place after second — or even third — waves and ramp up vaccine rollouts as a way out of the crisis.
But that momentum hit a snag Thursday as Denmark, Norway and Iceland all suspended the use of the Oxford/AstraZeneca jab over fears it could be linked to blood clots.
Italy joined them, banning a batch of the vaccine as a precaution, even as its medicines regulator said there was currently no established link with the alleged side-effects.
The European Medicines Agency (EMA) issued a statement seeking to assuage fears.
"The information available so far indicates that the number of thromboembolic events in vaccinated people is no higher than that seen in the general population," the EMA told AFP by email.
The UK called the jab "safe and effective".
"When people are asked to come forward and take it, they should do so in confidence," British Prime Minister Boris Johnson's spokesman said, as AstraZeneca shares plunged by more than 2.5 percent on the stock exchange.
French Health Minister Olivier Veran said there was "no need" to suspend use of the vaccine.
Gavi, which co-leads the Covax programme for ensuring vaccines are equitably distributed globally, said it would wait to hear what the World Health Organization had to say.
EU approves new jab
European Union countries are eager to speed up vaccine drives after a slow start left the bloc behind the United States, Israel and Britain — leaders in the race to immunise.
Any further AstraZeneca suspensions could hamper already slow progress, with the EU under pressure to catch up and populations eager to return to a pre-pandemic reality.
On Thursday, the EMA approved the single-shot Johnson & Johnson vaccine, which is stored at warmer temperatures than its competitors and is easier to distribute.
"Authorities across the European Union will have another option to combat the pandemic and protect the lives and health of their citizens," EMA chief Emer Cooke said in a statement.
Adding to the optimism on Thursday, a real-world study in Israel showed the Pfizer/BioNTech jabs to be 97 percent effective against symptomatic Covid cases, higher than originally thought.
'War footing'
Since first emerging in China at the end of 2019, the coronavirus has infected nearly 118 million people, with few parts of the globe left untouched.
The WHO officially declared Covid-19 a pandemic on March 11 last year as infection numbers were beginning to explode across Asia and Europe.
The only defences to the contagious virus then appeared to be face masks and stopping people from interacting.
Global aviation came to a near-standstill and governments imposed deeply unpopular restrictions, forcing billions of fearful people into some form of lockdown.
"We are on a war footing," Corinne Krencker, the head of a hospital network in eastern France told AFP on March 11 last year, as patient and death numbers began to surge.
Today, more than 300 million vaccine doses have been administered in 140 countries, according to an AFP tally.
'Light at the end of the tunnel'
Governments have started to cautiously roll back measures put in place over what turned out to be a deadly winter in many spots.
Greece hopes to reopen for tourists in mid-May, a government official said Thursday.
France said it would ease travel restrictions from seven countries — including the UK — while Portugal was set to lift some of its anti-virus measures later Thursday.
Portugal said it would reopen nurseries and primary schools on Monday, as part of a phased plan to ease the country's Covid-19 restrictions.
And the sports world — after a year of cancelled or spectator-less matches — also looked to a return to normal thanks to more jabs.
The International Olympic Committee said athletes at the Tokyo Games and the 2022 Beijing Winter Games would be offered vaccines bought from China.
Meanwhile, in the United States, congress passed one of its biggest stimulus efforts ever — a $1.9-trillion package that President Joe Biden said would give struggling American families a "fighting chance".
Vaccination efforts there have gained momentum in recent weeks, with Biden vowing to have enough doses in place within months for the entire population in a country that has already clocked some 529,000 deaths, the highest in the world.
Biden will deliver a prime-time address on Thursday in which he will offer an optimistic vision for his nation.
"There is real reason for hope, folks, I promise you," Biden said in a preview of his remarks.
"There is light at the end of the tunnel." — with AFP bureaus
As It Happens
LATEST UPDATE: December 4, 2021 - 11:34am
Pharma giants Sanofi and GSK said on July 29, 2020, that they have agreed to supply Britain with up to 60 million doses of a potential COVID-19 vaccine. The agreement covers a vaccine candidate developed by France's Sanofi in partnership with the UK's GSK and is subject to a "final contract."
This thread collects some of the major developments in the search for a vaccine to ease the new coronavirus pandemic. (Main photo by AFP/Joel Saget)
December 4, 2021 - 11:34am
A Canadian government immunization advisory committee urges COVID-19 booster shots for people 18 and older who are at greater risk of infection, while also strongly recommending those 50 years-plus to get the third jab.
The updated guidance comes after two provinces -- Ontario and Alberta, with half the population of Canada -- this week said they would start offering third jabs to people 50 and 60 years and over, respectively, and planned to further expand eligibility in the new year, amid concerns over the Omicron variant.
Eleven cases of the Omicron variant have so far been recorded in Canada, linked to travel abroad, public health officials say. — AFP
December 2, 2021 - 1:51pm
The WHO issued stern warnings Wednesday on the dangers of vaccination apathy and the European Union put mandatory jabs on the table as the United States registered its first case of the fast-spreading Omicron strain of the coronavirus.
The new variant, first reported to the World Health Organization by South Africa a week ago, has quickly popped up across continents, darkening economic forecasts and deepening fears of another difficult winter in the northern hemisphere.
"Globally, we have a toxic mix of low vaccine coverage, and very low testing — a recipe for breeding and amplifying variants," said WHO chief Tedros Adhanom Ghebreyesus, reminding the world that the Delta variant "accounts for almost all cases". — AFP
December 1, 2021 - 10:11am
Pfizer announces it was seeking US authorization for Covid booster shots among adolescents aged 16 and 17, as concerns grow about the impact of the new Omicron variant.
The Food and Drug Administration (FDA) has so far only granted emergency use authorizations (EUAs) for boosters to people aged 18 and over, six months after their primary series of the Pfizer or Moderna Covid vaccine, or two months after the Johnson & Johnson shot.
"Today, we submitted a request to the @US_FDA to expand the emergency use authorization of a booster dose of our COVID-19 vaccine to include 16- and 17-year-olds," Pfizer CEO Albert Bourla wrote on Twitter. — AFP
Today, we submitted a request to the @US_FDA to expand the emergency use authorization of a booster dose of our COVID-19 vaccine to include 16- and 17-year-olds. It is our hope to provide strong protection for as many people as possible, particularly in light of the new variant.

— Albert Bourla (@AlbertBourla) November 30, 2021
November 30, 2021 - 3:58pm
Existing Covid-19 jabs will struggle against the Omicron variant and it will take months to develop a new shot that works, the head of US vaccine manufacturer Moderna tells the Financial Times.
Stephane Bancel tells the newspaper in an interview published Tuesday that data would be available on the effectiveness of current vaccines in the next two weeks but scientists were not optimistic.
"All the scientists I've talked to ... are like 'this is not going to be good'," he tells the newspaper. — AFP
November 26, 2021 - 8:06am
Chile on Thursday announces it would start vaccinating children aged three and up against the coronavirus, after successfully innoculating around 90 percent of its initial target population.
Children under the new rollout will receive the Chinese CoronaVac shot already used for kids aged six to 15, the Public Health Institute says.
For 16 to 18-year-olds, Chile uses the Pfizer/BioNTech vaccine. — AFP