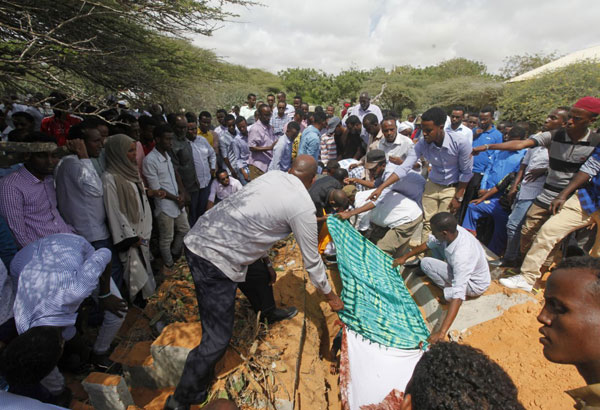 Somalis bury a body of a victim who died in Saturday's truck blast, in Mogadishu's Medina hospital graveyard in Mogadishu, Somalia, Tuesday, Oct, 17, 2017. A United States military plane has landed in Somalia's capital with medical and humanitarian aid supplies after Saturday's massive truck bombing killed more than 300 people. (AP Photo/Farah Abdi Warsameh)
'Please bring my son back': Anguished Somali families mourn
Abdi Guled
(Associated Press) - October 17, 2017 - 7:00pm
MOGADISHU — Anguished families gathered across Somalia's capital on yesterday as funerals continued for the more than 300 people killed in one of the world's deadliest attacks in years.

In a sandy cemetery at one Mogadishu hospital, mourners carried the coffin of a woman killed in Saturday's massive truck bombing. The crowd prayed in low voices under the scorching sun.

"God, please bring those who killed both my father and aunt before our eyes or book them to justice," Zakariye Abdirisaq said, wiping his eyes. He squatted by the fresh grave, putting his hands to the earth and then to his lips, one by one. Then he prayed.

The woman had died Sunday of her wounds, a day after her husband. They had been traveling on a crowded street when the truck detonated nearby.

Other families waited anxiously for any word of the scores of people still said to be missing. The death toll of 302 is expected to rise. Nearly 70 people were missing, based on accounts from relatives, said police Capt. Mohamed Hussein.

"My son has gone missing since the day of the attack. I would be very lucky if I had a portion of his body," Abdulkadir Mohamud said, breaking down in tears. "I do not have even his flesh. Please bring my son back."

Across Mogadishu, Somalia's flag flew at half-mast.

With nearly 400 people wounded, with some burned beyond recognition, international aid continued to arrive to help overwhelmed hospitals.

A United States military plane landed in Mogadishu yesterday with medical and humanitarian aid supplies. Dozens of critically injured have been airlifted to Turkey for treatment. A medical team from Djibouti arrived for more evacuations. Kenya said it would evacuate 31 injured people and sent 11 tons of medical supplies.

Somalia's government has blamed the attack on the al-Shabab extremist group, which has not commented.

But analysts said there is little doubt that Africa's deadliest Islamic extremist group carried out the bombing. "No other group in Somalia has the capacity to put together a bomb of this size, in this nature," said Matt Bryden, a security consultant on the Horn of Africa. Al-Shabab may have avoided taking responsibility because it did not want to be blamed for the deaths of so many civilians or a splinter group may be responsible.

Al-Shabab has waged war in Somalia for more than a decade, often targeting high-profile areas of the capital. Earlier this year, it vowed to step up attacks after both the Trump administration and Somalia's recently elected Somali-American president, Mohamed Abdullahi Mohamed, announced new military efforts against the group.

The US military has stepped up drone strikes and other efforts this year against al-Shabab, which is also fighting the Somali military and 22,000 African Union forces in the country.

Saturday's explosion shattered hopes of recovery in an impoverished country left fragile by decades of conflict, and it again raised doubts over the government's ability to secure the seaside city of more than 2 million people.

International condemnation has poured in, with the United States calling the attack "cowardly" and the United Nations special envoy to Somalia calling it "revolting." Michael Keating said the UN and African Union were supporting the Somali government's response with "logistical support, medical supplies and expertise."