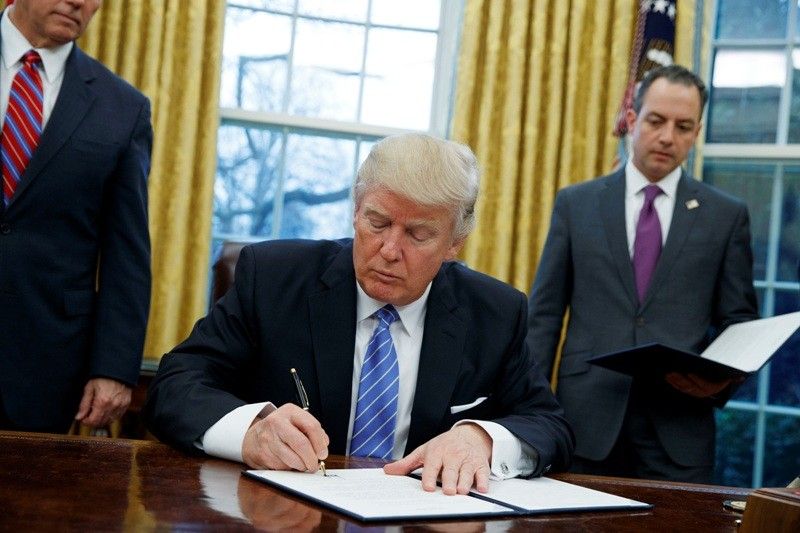 FILE - In this Monday, Jan. 23, 2017, file photo, President Donald Trump signs an executive order to withdraw the U.S. from the 12-nation Trans-Pacific Partnership trade pact agreed to under the Obama administration in the Oval Office of the White House in Washington. With his rejection of an Asian trade pact, Trump has started tackling policy changes that could inadvertently give China room to assert itself as a regional leader and worsen strains over the South China Sea and Taiwan.
AP/Evan Vucci, File
US panel warns Trump change on one China policy 'dangerous'
WASHINGTON — The Trump administration shouldn't abandon long-standing U.S. policy on the status of Taiwan, a prominent panel of China specialists said Tuesday, calling such a move "exceedingly dangerous."
Before taking office, President Donald Trump questioned Washington's "one China policy" that shifted diplomatic recognition from self-governing Taiwan to China in 1979. He said it was open to negotiation.
But former U.S. officials and scholars said in a report that such an approach could destabilize the Asia-Pacific and leave Taiwan more vulnerable.
U.S.-China relations are at a "precarious crossroads" and the two world powers could be on a "collision course," it said, describing a rivalry that is growing amid Beijing's assertion of territorial claims in the disputed South and East China Seas.
Close Ad X
The report is the product of an expert task force convened by the Asia Society and the University of California San Diego. It includes former officials who have served both Democratic and Republican administrations — two key Asia policymakers for the Obama administration among them: Kurt Campbell, who served as top diplomat for East Asia during Obama's first term, and Evan Medeiros, who was White House senior director for Asian affairs.
China has bristled at the "one China" comments by Trump, who wants to pressure Beijing to narrow its huge trade surplus with America. Beijing also warned of instability in East Asia after Trump's defense secretary, Jim Mattis, said last week on a trip to the region that a U.S. commitment to defend Japanese territory applies to an island group that China claims. The Trump administration has cast its China policy as part of a "peace through strength" approach.
"The incoming administration should be mindful of lessons from the past," the report said. "It would be exceedingly dangerous to unilaterally abandon our long-standing 'One China policy' — an understanding that has served as the basis for the U.S. relationship with China ... for almost four decades."
Medeiros said it would undermine U.S. standing in the region.
"The rest of Asia looks at what the administration's doing on Taiwan, and nobody agrees with it," he said as the report was released. "The rest of Asia does not want to follow the U.S. to war with China over the question of Taiwan."
On Barack Obama's watch, the U.S. cooperated successfully with China on climate change and the Iran nuclear deal, but failed to curb Beijing's island building in the South China Sea.
The report said "greater firmness" is needed when China impinges on U.S. interests. It said Beijing is acting more assertively in Asia, its market-opening economic reforms have virtually halted, and its domestic politics are more authoritarian.
In the South China Sea, it said the U.S. should support diplomacy among territorial claimants and maintain active naval and air presences to show it will respond resolutely to China's use of force against the U.S. or its allies.
Trump should immediately engage China's President Xi Jinping on North Korea, where the Obama administration tightened sanctions but failed to curb its weapons development, the report said.
A formal peace ought to be negotiated for the divided Korean Peninsula in return for a verified freeze of North Korean nuclear and missile programs, and a pledge to get rid of nuclear weapons.
If China doesn't exert pressure on North Korea, it said the U.S. should impose sanctions on Chinese banks and companies doing business with Pyongyang.