EDITORIAL - Be ready
December 2, 2022 | 12:00am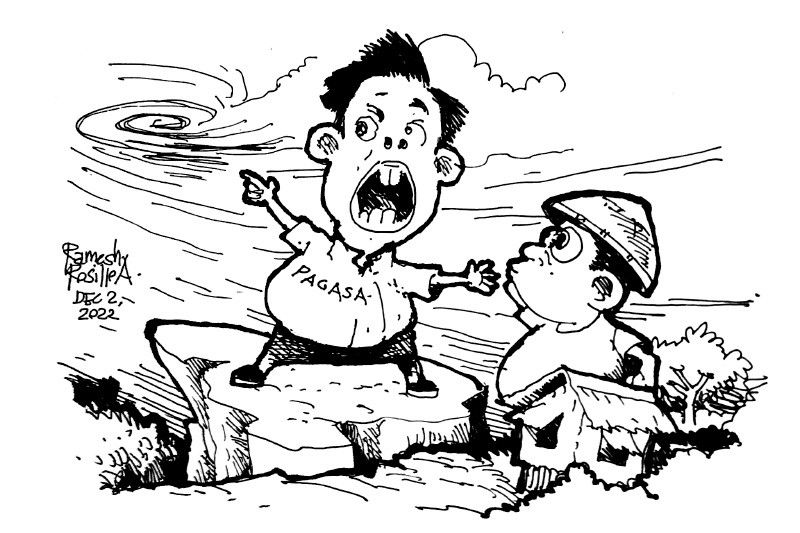 December is here and it seems like the rest of the year might be a breeze. However, we shouldn't rest easy yet. According to the Philippine Atmospheric, Geophysical and Astronomical Services Administration, two more tropical cyclones are expected to enter the Philippine area of responsibility this month.
In fact, they have already been designated names. They will be called "Rosal" and "Samuel" once they have entered our jurisdiction.
"We also do not discount the possibility that they will be strong, and may reach typhoon and super typhoon categories," PAGASA weather specialist Benison Estareja said. He added that cyclones that form this time of the year have a higher chance of making landfall.
We --at least those in Cebu City and parts of Cebu Province-- all know what happened last December with Odette. From two years of lockdowns we were all excited and expected a Christmas like the pre-pandemic times.
However, this was not to be. Just a few days before Christmas Day typhoon Odette struck in the dead of the night. It caught most of us off-guard as we had been spared the worst of the storms that hit the country for that year.
Typhoon Odette hit us harder than we expected. In fact many of Cebu's old-timers compared it to Ruping, the last storm that devastated Cebu in the '90s.
We all know what happened next. There was massive loss of water and power services, massive damage to properties, some even noticeable until today. There were disruptions in transportation and the supply of basic goods and construction materials. People had to line up for hours for everything from fuel, to water, to noodles, and other items.
Many families spent Christmas Day and New Year's Day in darkness. Many areas didn't even see a stable power supply until a month into the new year.
Cebu, so used to helping other nearby cities and provinces when it came to disasters and calamities, became the victim that needed help.
So let us not take nature's wrath for granted, what with 2023 being so close, along with it the prospects of new hope and a better year to come. Let's be prepared for anything, even for a storm that may be worse than typhoon Odette.