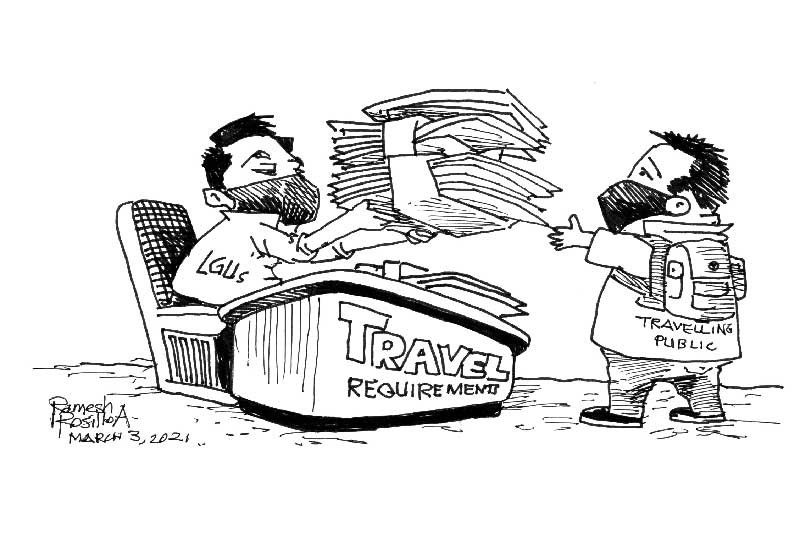 EDITORIAL - Wanted: Standardized travel papers
(The Freeman) - March 3, 2021 - 12:00am
A news report highlighted the plight of a man who wanted to go back to Zamboanga City from Metro Manila with his family. Just before they were set to board their flight they were told they couldn't do so because they lacked some travel requirements.
The man told reporters he thought he had everything he needed, but that apparently was not the case. While he had everything that his destination required, he did not have some of the things the airport required.
This is where it becomes confusing for Filipinos who want to travel, whether for leisure or necessity; there is no standardized set of requirements travelers need to present to be allowed to travel. The requirements vary from place to place and from local government unit to local government unit.
Some require negative RT-PCR results, others don't; some ask for a barangay clearance where they will stay, other's don't, and so on. And in the course of travel, some people may have to stop at or pass by more than one place, further complicating the situation.
It can get very confusing and exasperating if someone finds out too late that something is lacking, particularly if expenses in accommodation and airfare have been paid.
A standardized set of requirements will help these travelers. There should be a clear set of instructions for what documents, permits, or other papers are required and what are no longer necessary.
Of course, this is easier said than done, because each local government unit has the authority to require what they want from those coming from outside.
Then there is the fact that not all LGUs face the same level of danger from COVID-19. Not all provinces have top tourist attractions. Not all places have huge populations that require monitoring, and so on.
We don't envy the government officials who have to harmonize the things travelers need to present, they have their job cut out for them.
But for the sake of those who have to travel, the documents needed for them to do so must be streamlined and standardized. And this is not just to encourage tourists to visit our top spots again, but also to make it easier for those who really need to travel and not just want to.