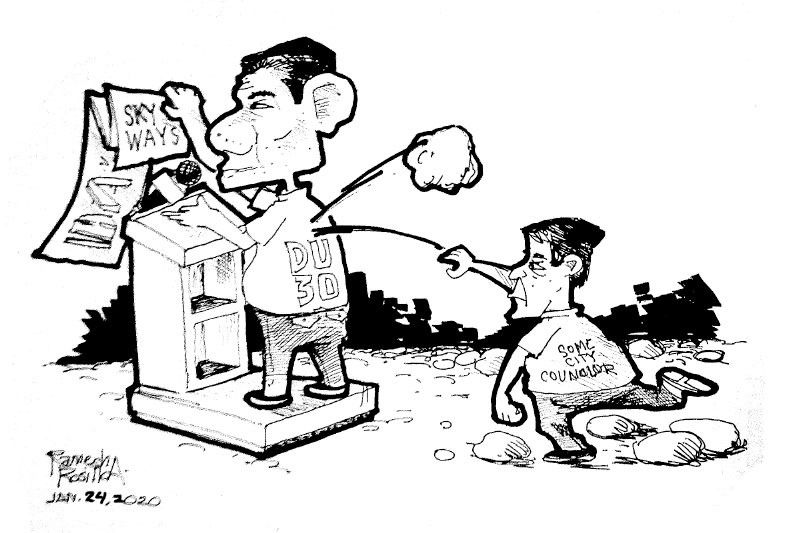 EDITORIAL - Let's hear Young's ideas
(The Freeman) - January 24, 2020 - 12:00am
During his visit here for the Sinulog Grand Parade, President Rodrigo Duterte said he will help ease Cebu's traffic by looking for funds to fast-track the rail projects.
This is a welcome development considering how our traffic situation is quickly becoming "world-class." Aside from our Sinulog Festival, and the tourist spots we have to offer, we are also quickly becoming infamously known for our tremendous traffic jams and gridlocks.
However, it seems not everyone was happy about the president's announcement. According to Cebu City Councilor Joy Young, he doesn't see rail projects or skyways solving the traffic problems of Cebu because they haven't solved the traffic problems of Metro Manila.
Make no mistake about this, Young is free to say what he wants about the president's projects, as do any of us. However, anyone who criticizes an idea should have something better to offer in its place.
If Young has a better solution to the traffic problem then, by all means, let's hear it. However, if he doesn't, Young shouldn't be so brash to quickly shoot down an idea, let alone say he sees no wisdom in it.
In fact, Young should be grateful that the head of state himself is taking an interest in helping solve one of our biggest problems, a problem which is actually costing Metro Cebu businesses billions in losses; P1.1 billion a day as per a 2018 study, to be precise.
The president was also right in saying Cebu is an old city and there is no space to expand anywhere. We are now practically sandwiched between the mountains and the sea. So maybe it's high time to build up.
So if Young has other ideas to help decongest traffic, we would be more than happy to hear them. However, if Young just wants to criticize a plan simply because it was put forward by someone on the other side of the political fence --never mind if he happens to be the president-- then Young is just...how do we put it these days? Trolling?