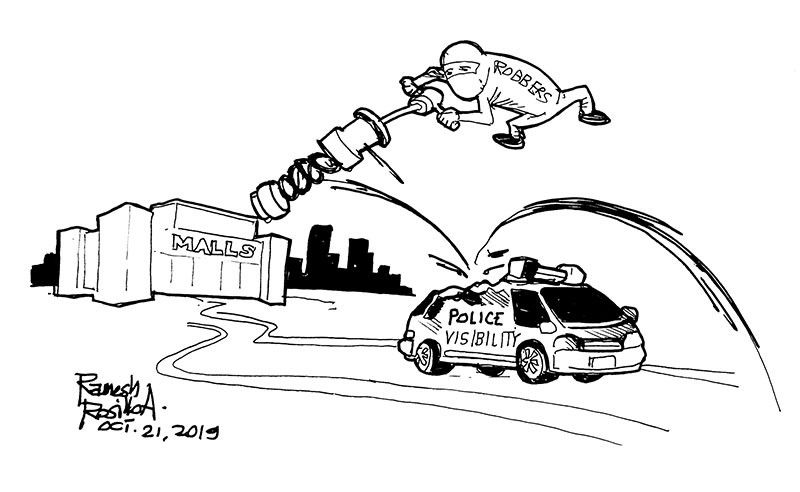 EDITORIAL – Questions that need to be answered
(The Freeman) - October 21, 2019 - 12:00am
It could not have been more brazen. Around 15 armed men stormed a mall in Mandaue City and targeted not just one but five establishments dealing with money and jewelry.
They smashed glass cases and emptied cash drawers. They also beat up and subdued a security guard who tried to stop them before they escaped with their loot. Or so they thought.
Fortunately, seven of the perpetrators would be arrested in Bogo City hours after the heist as they tried to escape Cebu via Masbate, thanks to the speedy response of our lawmen. Four of them were reportedly killed while trying to grab the firearm of a policeman while they were being taken to the Bogo Police Station.
Most of the perpetrators are now in custody, and part of the loot recovered. However, things are far from over where this case is concerned.
No doubt this incident will raise a lot of questions. How were the suspects able to smuggle firearms into the mall? Were there lapses in mall security? Was the response of the mall security adequate? What does this mean for mall security in Cebu?
What makes these questions even more relevant is that this latest incident proves robbery groups are no longer settling for some jewelry store, moneychanger, or pawnshop in a lonely, out-of-the-way street, they have now no qualms about hitting establishments in malls busy and teeming with people.
And these days it is the mall where people from all walks of life usually bring their families and children to unwind, it is where couples meet to strengthen their bonds, and where youths congregate to pursue their interests. It is nothing short of a miracle no one was injured or killed in the commotion that ensued during the robbery.
Try entering a mall, any mall in the country for that matter and you will be greeted, wanded, and your bag searched by a security guard. Somehow, 15 men managed to get their guns through.
Yes, the case may almost be over. However, many questions still need to be asked and answered.