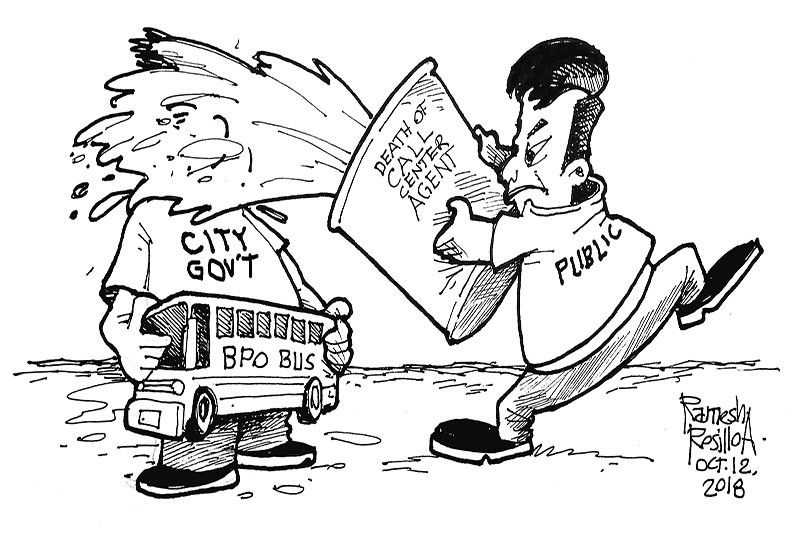 EDITORIAL - Boosting safety
(The Freeman) - October 12, 2018 - 12:00am
The Cebu City government is putting up a bus transport system for business process outsourcing workers at the Cebu IT Park. Mayor Tomas Osmeña said shuttle buses will ferry call center agents and other BPO employees free of charge.
Good thing the Cebu provincial government allowed the city to use a lot it owns at the IT Park for the establishment of a terminal. Osmeña said the clearing operation has started for the terminal, and thanked Cebu Governor Hilario Davide III for the lot.
Osmeña came up with the program following the death of a call center agent during a robbery incident last week. Loraine Bravante Temple was killed when she resisted when two unidentified men riding a motorcycle grabbed her bag while she was walking in Barangay Mabolo from the IT Park at dawn.
Such program of the city would undoubtedly be a big help to thousands of BPO workers going in and out of IT Park. Many of these workers do not have vehicles and have to take a long commute to and from their work.
Since the safety of BPO workers has been the purpose of this program, those taking the night shift or going home at dawn no longer have to worry about their transportation, hopeful that it will be realized soon.
But as the city rushes forward its program protecting BPO workers in the aftermath of Temple's killing, the Cebu City Police Office should also do its part by intensifying security at the IT Park and surrounding areas.
The CCPO cannot erase the reality that the lack of police visibility largely contributed to the call center agent's death. Had the police maintained a presence in the area, the robbers would not have had the chance to pull off their trade.
Temple's murder triggered the move to establish a bus transport system for BPO workers. But that is not the best move to protect their safety. A serious risk is still lurking unless the police take the necessary measures to boost their presence at the IT Park and its surroundings.