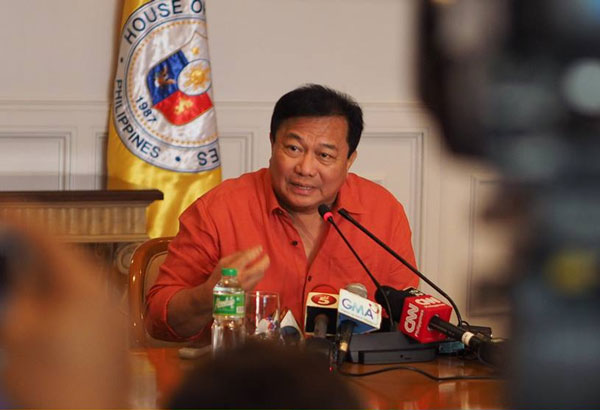 Speaker Pantaleon Alvarez vowed to leave no stone unturned when the House of Representatives investigates reports that the Bureau of Internal Revenue (BIR) allowed a multinational company to get away with its supposed P29-billion tax liability. Facebook/Speaker Pantaleon Alvarez, File
Who would have thought that a simple phone call by a man with an eerie language could send a whole school into panic? This week was full of bomb scares from probably the same caller who just wanted to make fun of the children who were in school. Not only a number of schools in Cebu City were victimized by this bizarre caller but also the office of the Department of Education in the city. It sent not only the students into chaos but also parents who were concerned for their children.
I personally witnessed in Mabolo National High School how the parents there exchanged fists with the assigned person guarding the gate. They were angry why the students were not allowed to go out despite the bomb scare. The principal explained that no suspension of classes was announced and that they were following a protocol. Parents vented their concerns in front of the gate saying that if something would happen to their child and they would not let them out, then keeping them inside for supposedly safety reasons would have been defeated.
In other schools, the same scene is also present except that there is the element of a traffic jam in front of the school. The person must have been laughing really hard at how Cebu City reacted to his series of phone calls to the different areas. Little did he know that his number is being investigated. Soon after, he will be known by the authorities. He will reap the consequences of his actions. From a standpoint, it seems like it wasn't well thought of, just a prank to scare people away then laugh about it.
However, we cannot discount the fact that there are possibilities for terrorist groups to enter Cebu. With the ongoing conflict now in Marawi City, there is high chance that a dense, crowded area such as Cebu could be the next target. We cannot say that the response of the different schools and offices on the bomb scare was exaggerated. In fact, they were just doing the proper protocol in responding whenever there is such an incident. I commend the Special Weapons and Tactics team of the police who came in a jiffy to check on the school buildings, along with the bomb squad of the military. It was a good thing that they were all false, but it stirred panic. Not to mention, whoever is responsible for it will face the proper charges as it is a crime punishable by law.
The lesson is to not make fun out of a serious matter as such. It is okay to have fun, make jokes but not anything that would cause panic and stir the crowd in the most unconventional way. There is a limit to everything that we do, especially to the things that we say. If you are not careful enough, then expect the worst. I do hope those bomb scares would not happen again, ever.