Getting ready for Typhoon Mawar: City on blue alert status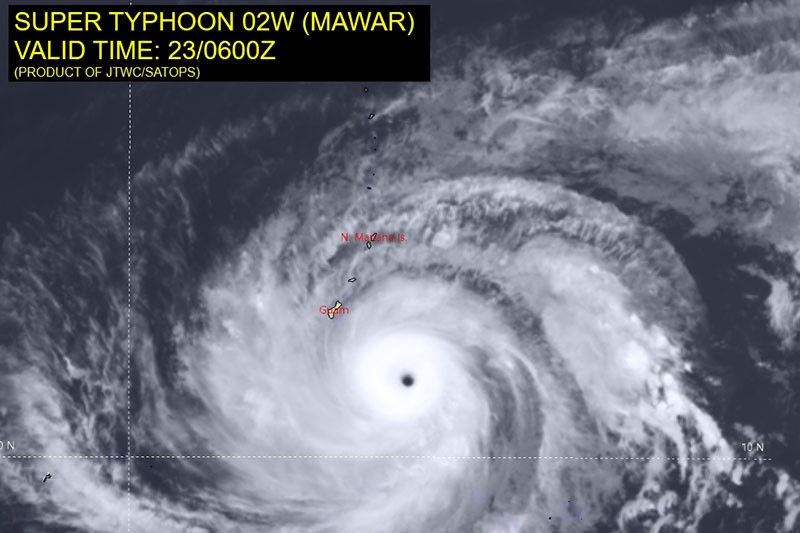 CEBU, Philippines — The Cebu City government will be on blue alert status starting this afternoon in preparation for the possible effects of the incoming super typhoon Mawar that is expected to enter the Philippine area of responsibility (PAR) this weekend.
The Philippine Atmospheric Geophysical and Astronomical Services Administration (Pagasa) said that typhoon Mawar may develop into a super typhoon within the next 24 to 48 hours.
Although it will not make a landfall, Pagasa warned of a heavy downpour that may cause massive flooding and landslides.
Jhomer Eclarino, weather specialist of Pagasa-Visayas Regional Services Division, said the typhoon, which will be named Betty as soon as it entered PAR, will enhance the southwesterly wind flow that will bring in heavy rains and strong winds.
"Ang epekto sa Cebu is mokusog ang southwesterly wind flow. Makasinati ta og pag-uwan, naay kusog na hangin ug baluron ang kadagatan. Delikado ang mga sasakyan na pandagat ilabi na ang gagmay," Eclarino said.
He advised those living in areas vulnerable for flashfloods and landslides to be vigilant and continue to monitor the latest weather update.
"Dili ta magkumpyansa maski dili mag-landfall sa atoa, naay indirect effect na mokusog ang southwesterly wind flow or hangin gikan sa habagatang kasadpan," Eclarino said.
Mayor Michael Rama said the city is not taking the threats coming from the possible effects of the typhoon lightly.
"It is better to be over-prepared than be under-prepared on the side of caution than regret later," Rama said during a press conference yesterday.
The mayor calls for a "resilient, responsive, prepared" team ahead of the upcoming typhoon.
"Monitoring is very important," he emphasized.
Cebu City Disaster Risk Reduction and Management Office (CCDRRMO) head Harold Alcontin said they will be under blue alert status beginning this afternoon. This means that all emergency response units from different offices are mandated to standby and monitor the situation.
Alcontin said that raising its alert status ahead is part of the city's emergency preparedness and response plan, learning from the lessons they have during the typhoon Odette.
The city was among the badly hit areas by typhoon Odette on December 16, 2021.
According to Alcontin, the city disaster team will closely monitor the landslide and flood-prone areas. Equipment and devices for rescue situations are also being prepared ahead.
The Department of Social Welfare Services (DSWS) was also instructed to prepare relief goods ahead for any possible affected residents.
Earlier, the Department of Health (DOH) has also alerted its Health Emergency Management Bureau - Operation Center in anticipation of the effects of the typhoon.
The health department advises the public to prepare and report any untoward incident that may later be related to the weather disturbance. It also advised the public to understand signs of the emergency such as following the Early Warning Systems (EWS) in the community, preparing ones home for flooding, to charge all electronic gadgets and emergency batteries, watch/listen weather updates.
The DOH also urged the public to know the locations of multi-storey buildings and pre-arrange with family or friends living in the higher grounds for evacuation in case of flooding; have an Emergency Go Bag/E-balde ready which will include ready to eat food, tools, clothes, first aid kit, sleeping bags, flashlight, batteries, toiletries, COVID-19 Protection Kit (facemasks, face-shield, alcohol spray, gloves, etc., as necessary); ensure an adequate food supply and clean water for the whole family that would last for at least three days. — Mitchelle L. Palaubsanon (FREEMAN)