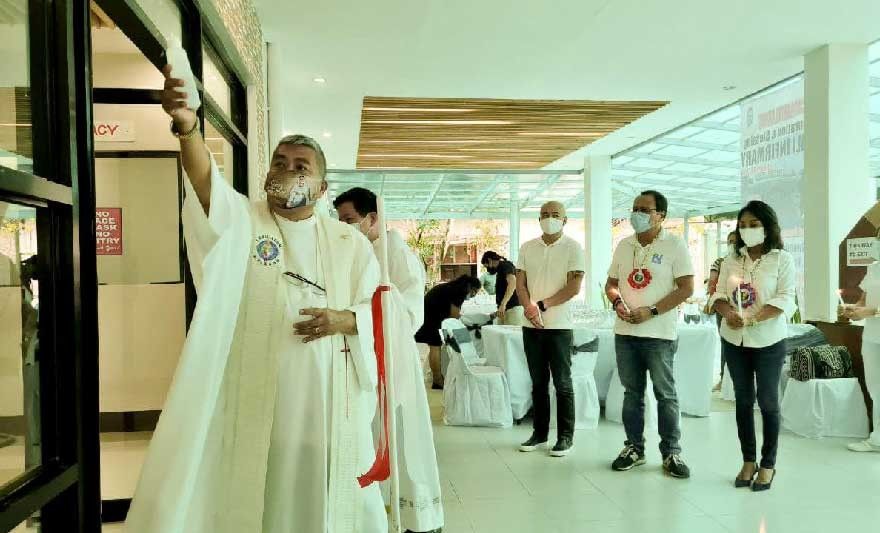 Blessing of the new infirmary in Barili town in Cebu.
Photo from Rep. Pablo John Garcia facebooks
Infirmary in Barili town now open
CEBU, Philippines — The newly-developed infirmary in Barili town in southern Cebu is now open to serve its residents after it was formally opened last week.
The 10-bed capacity facility which is already equipped with x-ray machine and ultrasound is seen to be a model clinic in the third district of Cebu Province, thus expected to help Barilihanons with their medical needs.
"Matag tuig naningkamot ko nga maggahinan gyud og pondo kaning maong infirmary. Mao kadto nga lagi dependent man ta sa DOH, hinay-hinay ni nga nahimo," said Governor Gwendolyn Garcia during the opening of the facility last January18, 2021.
Garcia assured that she will talk to the Department of Health 7 Director Jaime Bernadas to get an update for the equipment intended for the said infirmary.
Barili Mayor Julie Flores expressed gratitude with the said facility as this would help in addressing the medical needs of his constituents.
"Ako kining ipasalig Gov nga ako ning ampingan nga facility, ako ning tabangan nga makompleto ni siya," Flores said in Sugbo News report, the Capitol run news portal.
The mayor said there's a supplemental budget of P9.2 million approved by the municipal council for the salaries of the new doctors, nurses, nursing aides, administrator, other personnel, medical apparatus, among others that are needed in the facility.
Third District Congressman Pablo John Garcia also released P3 million for the ambulance and medical equipment of the infirmary.
The infirmary has three available doctors and three full-time nurses. It is expected to be accredited also by the Philippine Health Insurance Corporation (PhilHealth). — GMR (FREEMAN)