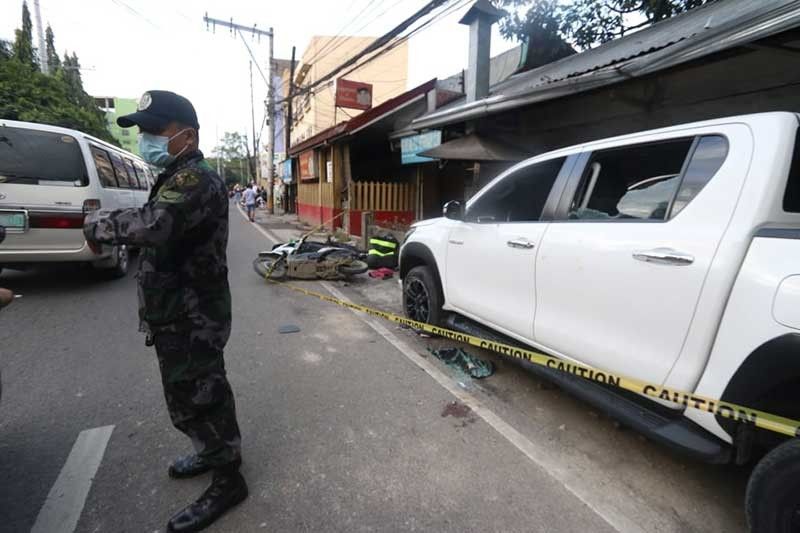 The pick-up truck driven by retired policeman Edmund Junco when he was shot by unidentified gunman in Barangay Talamban, Cebu City yesterday afternoon.
Joy Torrejos
Ex-cop, wife hurt in ambush; robbery suspect shot dead
CEBU, Philippines — A retired cop and his wife landed in the hospital after they were shot by unidentified perpetrator while onboard their vehicle in Nasipit, Talamban, Cebu City yesterday afternoon.
Police Major Jonathan Bethooven Taneo, Talamban Police Station chief, identified the victims as Edmund Dela Rosa Junco, a retired member of the Criminal Investigation and Detection Group (CIDG)-7, 65 years old, and wife, Betty Uy Junco, 57.
Both have sustained gunshot wounds and were immediately rushed to the hospital.
An unidentified motorcycle rider was also hit with a bullet during the incident and was rushed to the hospital.
As of this writing, Taneo said the victims are still in the hospital and undergoing treatment.
"Dili pa ta ka confirm (kung ambush) kay sa pagkakaron ongoing pa ang pag-process sa SOCO and wala pa ta ka search sa area kung either gisundan ni or giatngan ba sa perpetrators, i-double check pa nato ang dalan, kung naa bay nakuha na CCTV pero usa na sa possibility nga atong gitan-aw nga ambush," said Taneo.
Taneo said the incident transpired during the rush hour, pointing the possibility of an ambush since it could slow down the movement of vehicles.
They are also looking into reports that the couple's vehicle was being followed by the motorcycle-riding perpetrators.
"Ang nahitabo, gipusil siya didto sa may San Carlos nya naka-move pa ang sakyanan og mga pila ka meters before na stop, atong natan-aw na pagpusil nadagan pa ni Sir Junco ang sakyanan," said Taneo.
Taneo said they are yet to establish the motive behind the shooting since the victims are still in the operating room as of this writing and there have been no witnesses who could give a statement.
"Sa pagkakaron ato sa gi-establish ang panghitabo kung its either ambush or gisunda ba, usa sad na among gitan-aw (former job as a police) kay daku sad na nga purohan kay retired PNP man siya," Taneo added.
Bailed but killed
Meanwhile, one of the suspects behind the JCentre Mall robbery last year was shot dead shortly after he was released from jail after posting bail at around 6:15 in the evening Monday in Sitio Superior, Barangay Lo-oc, Mandaue City.
The victim was identified as Julivyn Lumingkit Terante, 43, one of the suspects in the daring JCentre Mall heist in Mandaue City last October 9, 2019.
"Wala man gyud ta kabalo sa iyang mga previous nga mga cases, then ang amoa, mo-focus lang mi sa JCentre Mall na robbery, kay usa man siya sa suspects, so possibility is either ang iyang grupo maoy giresbakan siya kay nag-bail man siya, pero ongoing pa among investigation niya," said Police Colonel Jonathan Abella, Mandaue City Police Office (MCPO) director.
Initial report said that right after Terante and his live-in partner went out from Mandaue City Jail, a vehicle believed to have been boarded by the perpetrator went to his direction and shot him.
"So far kato nga area, mingaw gyud to, kanang inig dayong gawas bitaw nimo sa city jail," he added.
Abella further stated that they do not discount the possibility that Terante might have been monitored all throughout his days in jail thus he was being watched on that day.
Quoting the initial investigation, Abella said the vehicle boarded by the perpetrator arrived in the area while Terante and his live-in partner were walking.
The shooting incident transpired at approximately 100 meters from the Mandaue City Jail.
Abella said the remaining suspects have reportedly not yet decided if they are also going to post bail.
"So far ongoing pa investigation namo, murag dili man sila makig-estorya sa amoa base sa initial nga investigation, but amo gihapong paningkamutan na makig-estorya mi sa ilaha," said Abella.
He added that the remaining suspects might have information on Terante's death.
It was last year when Terante and four other suspects were nabbed after four of their cohorts were shot dead when they tried to wrestle the firearms of the police escorts on their way to the station following the aggressive robbery in JCentre Mall.
Terante, a native of Tagum City, has a live-in partner presently residing in Wireless, Barangay Subangdaku, Mandaue City who processed his bail.
At present, Abella said there are still several of their cohorts who remain at large.
Previous reports said that Terante and his cohorts were from Ozamis City and believed to be members of a robbery group.
Abella said the suspects were reportedly behind some series of robbery incidents in Bacolod City and in Consolacion, Cebu. — GMR (FREEMAN)