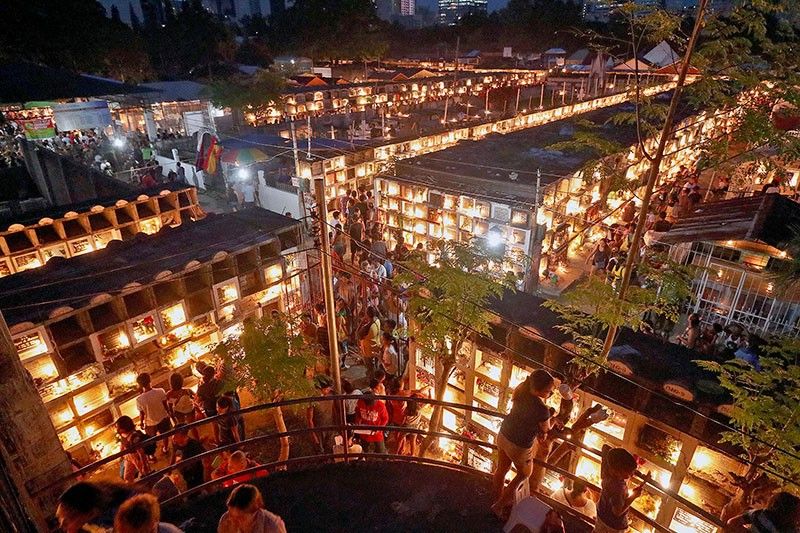 As darkness falls, people still troop to the Carreta Cemetery, one of the biggest public cemeteries in Cebu City, to pay their respects to their loved ones .
Aldo Nelbert Banaynal
Aside from minor violations: All Saints' Day peaceful in Cebu
CEBU, Philippines — Aside from prohibited items confiscated at cemeteries, All Saints' Day was generally peaceful in Cebu City and province.
"It is relatively peaceful and orderly and no untoward incident being recorded," said Police Colonel Geovanie Maines, officer-in-charge of the Cebu City Police Office yesterday afternoon.
As of 2 p.m. yesterday, the police recorded at least 36,786 visitors to cemeteries in Cebu City.
Aside from confiscating 97 bladed weapons at the entrances, Maines said they have not encountered problems in enforcing security protocols at the cemeteries.
Alcoholic drinks, bladed weapons, firearms, and gambling paraphernalia were prohibited inside cemeteries.
"Ang mga tawo sa Cebu City ay mababait naman, law-abiding citizens naman ang mga yan. Pag pumasok sila dito at ini-open yung bag for inspection, inu-open naman at kapag kino-confiscate naman ang mga bagay na sa palagay naman ay bawal, sinu-surendeer naman (People in Cebu City are law abiding. When they enter the cemetery, they open their bags for inspection and do not hesitate to surrender items that are prohibited inside)," Maines said.
The same strict security protocol will be implemented today, All Souls' Day.
Provincial Police Director Roderick Mariano also said the province has been peaceful yesterday, except for a slight problem in traffic as some vehicles had to be rerouted leading to cemeteries.
"So far, sa pag-ikot ko…generally peaceful tayo (I went around and we're generally peaceful)," Mariano told reporters.
An estimated 400,000 visited cemeteries across the province as of 2 p.m. yesterday.
Meanwhile, Cebu City Mayor Edgardo Labella ordered the police to apprehend those who littered the cemeteries.
"Naa koy nakit-an naglabay na og papel, basura. Kinahanglan gyud natong disiplinahon ni (We have to discipline them). We have to discipline the people because garbage problem has metamorphosed into a social problem. We have to educate our people," Labella said.
He said police visibility will deter crimes at cemeteries.
"That will serve as a deterrent on whoever would want to engage in lawlessness inside the cemeteries," Labella said.
For immediate response in case of an emergency, an ambulance and disaster preparedness groups are on standby at every cemetery.
He asked the public to cooperate in helping ensure safety and security during All Saints' Day and All Souls' Day, and to remember that these days are in the memory of those who have passed away.
"What is important also is to consider solemnity of the occasion kay mahitungod man ni sa mga mitaliwan natong mga minahal sa kinabuhi (What is important is to consider the solemnity of the occasion because this is for our loved ones who have gone before us)," he said. JMO (FREEMAN)