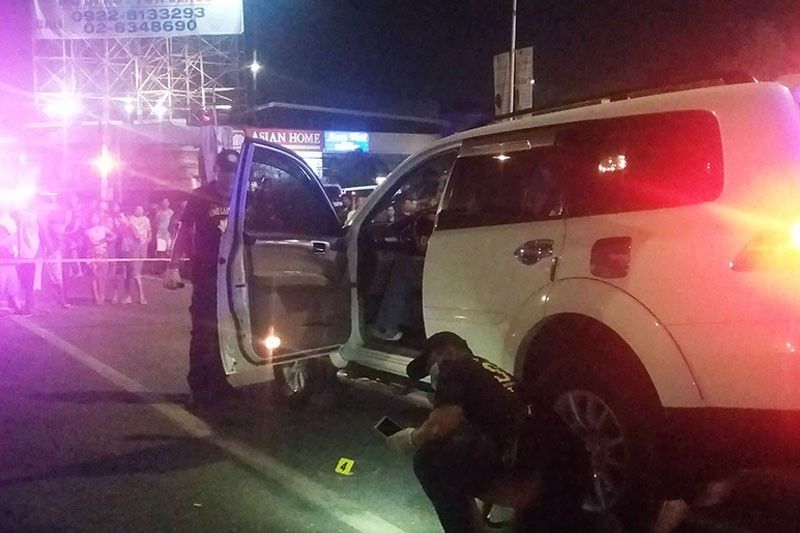 Investigators gather evidence at the crime scene where a local businessman was killed in an ambush Sunday evening in Barangay Mabolo, Cebu City.
Rowena D. Capistrano
Businessman killed in ambush
Dina Atip
(The Freeman) - September 24, 2019 - 12:00am
CEBU, Philippines — Business rivalry is among the motives that police investigators are looking into in the shooting to death of businessman Jeffrey Gomotin, 49, Sunday evening along J. Luna Avenue Extension in Barangay Mabolo, Cebu City.
Gomotin, a resident of Barangay Looc, Mandaue City, had a meeting with his former business partner at a mall in Mandaue City before he was killed in an ambush while stopping on a red light at the junction of Juan Luna Avenue and A. Soriano Street in Barangay Mabolo, Cebu City few meters away from the Mabolo Police Station.
The shooting occurred at the spot where Police Captain Delfin Bontuyan was also killed in an ambush in May this year.
Gomotin was on his way to fetch his family at an uptown mall when it happened.
Police Captain Dexter Basirgo, chief of Mabolo Police Station, said they are looking at the former business partner of the victim as possible person of interest considering that the shooting happened few minutes after their meeting.
Gomotin owned a hauling company that he operated from his home.
Basirgo said they are now conducting background investigation on the victim to look for other possible leads. The police are also evaluating whether a special investigation task group is necessary considering that the victim was a businessman. (FREEMAN)