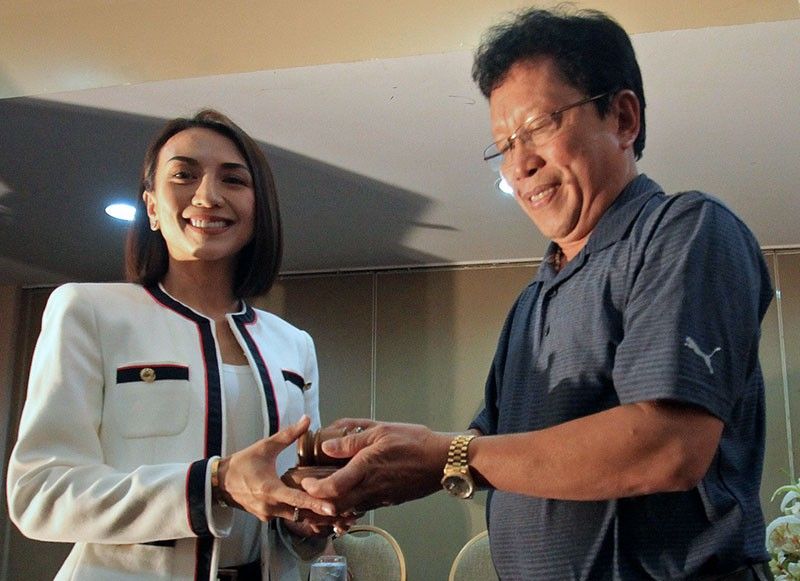 Liloan Mayor Christina Garcia-Frasco receives a gavel as symbol of authority from outgoing League of Municipalities in the Philippines Cebu Chapter president, former Tuburan mayor Democrito "Aljun" Diamante, after being voted unopposed as the new league president.
Aldo Nelbert Banaynal
Frasco is new LMP-Cebu prexy
CEBU, Philippines — Liloan Mayor Christina Frasco yesterday made history after being elected unopposed as the first woman president of the League of Municipalities of the Philippines-Cebu Chapter.
Frasco, daughter of Cebu Governor Gwendolyn Garcia, succeeded former Tuburan mayor Democrito "Aljun" Diamante, who is now the town's vice mayor.
In her acceptance speech, Frasco enjoined all the municipal mayors to be one with her mother's administration in bringing Cebu "back to number one."
"I will personally lobby for all of our mayors to support the administration of Governor Gwen Garcia, knowing her goals pud sa pag-angat sa tanan sa 44 ka munisipyo sa Cebu," Frasco said.
Frasco said her election as LMP-Cebu Chapter president under the administration of her mother makes an "exciting time" for the province.
She said her priority is to strengthen local autonomy and unite all the mayors of the province. This could be achieved through the strict implementation of the salient provisions of the Local Government Code.
Frasco also plans to bring the LMP to the digital age through the creation of a website and an application for the league.
Diamante welcomed the election of Frasco even if she was not a political ally. He said the young mayor had been very supportive of the league during his term and has established good rapport with the other mayors.
"Indikasyon ni siya na supportive siya sa Liga, so isa pud siya ka maayong lider unya," Diamante told The Freeman.
After her election, Frasco appointed Balamban Mayor Alex Binghay as her VP External, Barili Mayor Marlon Garcia as VP Internal and San Fernando Mayor Lakambini Reluya as the league secretary.
She also made sure that all districts of Cebu are represented by appointing one representative per district in the League's Board of Directors.
When asked about future plans, Frasco said her priority of the moment is to make sure her constituents' needs are met and to complete her responsibilities as the new LMP-Cebu Chapter president.
"My sights are not set for yet on any other goals for the future. I'm focused on fulfilling my roles," she said.
However, she said that her doors are not close for the challenge if the people deem it best for them. Frasco is eyed as possible successor of her mother. — FPL (FREEMAN)