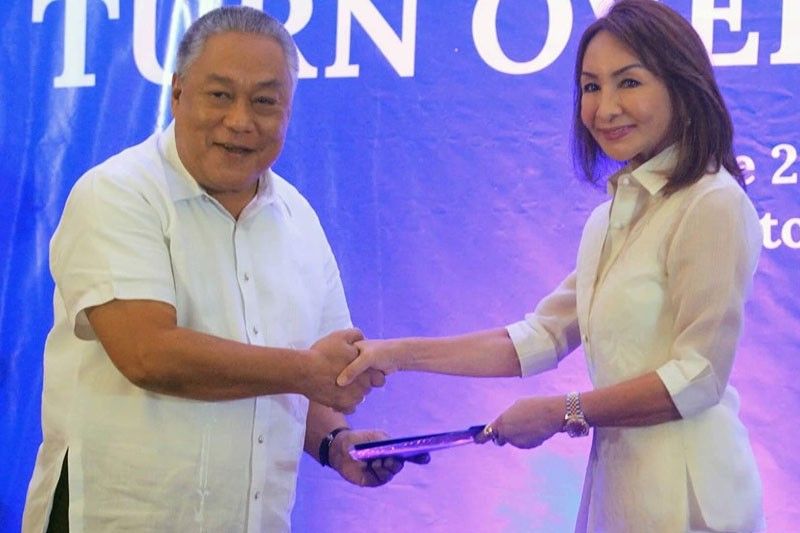 Davide defeated Garcia's running mate, Daphne Salimbangon, for the vice gubernatorial seat. Garcia, meanwhile, defeated Magpale for governor.
Freeman Photo
Garcia slams Davide amidst show of support
CEBU, Philippines — Hoping to build a good relationship with his successor, Vice Governor Hilario Davide said he will pay Governor Gwendolyn Garcia a visit after the flag ceremony at the Capitol today.
"I hope nga maayo ang dagan sa atong provincial government. I hope pud nga maayo ang among relasyon sa bag-ong governor… So ugma (today) puhon, inig human sa flag ceremony, mo-courtesy call ko niya," Davide said yesterday.
Davide took his oath before former vice governor Agnes Magpale, his predecessor as presiding officer of the Provincial Board.
Davide defeated Garcia's running mate, Daphne Salimbangon, for the vice gubernatorial seat. Garcia, meanwhile, defeated Magpale for governor.
Present at Davide's oathtaking were his family led by Davide patriarch, former Chief Justice Hilario Davide, Provincial Board Members, mayors, vice mayors, and Capitol officials.
Davide said he will stand by his pronouncement that he will support Garcia's administration because conflict between and among top officials can hamper the delivery of services and progress.
"I am looking forward to a very exciting and challenging term. I hope mapadayon nato ang atong gisugdan. And I am committed to support the new governor. Ngil-ad pud kaayo kon aduna'y disgustoay. We will not be able to accomplish anything," he said.
Davide said Garcia has agreed to welcome him to her office during their conversation during the turnover ceremony last Friday.
Criticism
During her inauguration last night, however, Garcia slammed Davide for alleged incompetence and for pursuing the controversial 20-story Capitol Resource Center.
"From being totally debt-free, our province is now burdened with a P1.5 billion debt... and how does one reconcile the slogan 'Kalambuan sa Matag Sugbuanon' with the P1.5 billion loan to build a monstrosity that would eclipse and debase this heritage Capitol complex? Why build it in this city that does not contribute a single cent to the province's coffers and yet leave the burden of debt to the taxpayers of the province, all for or a building that has absolutely no relevance to their lives of their livelihood?" Garcia said in her speech.
She also criticized the Davide administration for the "sorry state of disrepair" of provincial roads and the way provincial and district hospitals here are operating.
"Our provincial roads are in such a sorry state of disrepair that Cebu's congressmen have had to allocate national funds to repair some of them - in some areas like Barili and Liloan - even the mayors have had to repair them out of municipal funds," Garcia said.
"We have district and provincial hospitals that are operating as glorified terminals, where patients, upon arrival, are just as quickly dispatched to Vicente Sotto Memorial Medical Center or other private hospitals, for lack of medicines and medical professionals to deal with cases," she added
She also criticized the previous administration for projecting that it was "clean and corruption-free."
"We are for the first time in the history of this Capitol purchasing heavy equipment at more than 200 percent their actual price and selling or attempting to sell provincial property at a floor price of less than 50 percent of their fair market value," Garcia said.
Garcia said Cebu, which used to be at the top among progressive and competitive provinces, plunged into a "precipitous" drop to 45th spot among 81 provinces.
During the oathtaking of officials of Daanbantayan town, Garcia said her work has been cut out for her because many things have reportedly been taken for granted, especially in infrastructure.
"Apan karon, daku-daku ang trabahoon tungod kay ubay-ubay ang napabayaan, ang atong mga provincial roads, ang atong mga inprastraktura (We have a lot of work to do because several things have been taken for granted like our provincial roads and infrastructure)," Garcia said.
Daanbantayan Mayor Sun Shimura shares Garcia's sentiment.
"It's a very challenging for me kay for nine years, gusto ko kausaban sa distrito just like congressman Benhur Salimbangon, but for six years, wa ko kalihok, tungod sa gobernador (It's been very challenging for me for nine years because in as much as I wanted to put changes in place like Congressman Benhur Salimbangon, I could not do so because of the governor)," Shimura said, referring to former governor Hilario Davide III.
Shimura served under Garcia for one term and for two terms under Davide as member of the Provincial Board.
Plans
On Wednesday, Garcia will meet with mayors of the province to discuss activities for the province's anniversary next week.
Garcia said she plans of reviving the Pasigarbo sa Sugbo Festival of Festivals and strengthen the the Suroy-Suroy Sugbo, which she initiated during her previous term as governor.
Garcia also plans for a definitive inter-LGU solution to Cebu's worsening traffic and a workable mass transport system from Carcar City to Danao City.
She also eyes for the development of more bulk water supply and distribution systems to bring Level 3 water systems to every barangay.
She also wants to solve the garbage problem by developing waste to energy facilities
"And I am your governor again. Humbled by the long, difficult road that has brought me here, to this unprecedented and historic fourth term. I would call this a personal vindication were I not mindful of its larger significance for Cebu and the Cebuanos. It is a mandate to work, work, work as we have never before," she said.
Workers
Meanwhile, commenting on the move of Garcia's transition team to cut down to 200 the number of job order workers and casual employees, Davide said to do so is the prerogative of the sitting administration.
He said the job order and contract of service employees were informed beforehand that their contracts would get renewed every six months.
The reduction is huge considering there used to be 2,922 of them during Davide's time.
During Davide's administration, there were a total of 4,057 employees at the provincial government. Of this number, 19 were elected officials; 18 were co-terminus employees; 1,090 were permanent employees; 2,296 were job order workers; 626 were casual employees; and eight were temporary employees.
Atty. Frank Dinsay, a member of Garcia's transition team, said they evaluated the job order workers and contract of service employees based on their performance and the necessity of their jobs.
Among the offices that lost job order workers are the Provincial Disaster Risk Reduction and Management Office (PDRRMO), Provincial Information Office (PIO), Cebu Provincial Anti-Drug Abuse Office (CPADAO), and Administrator's Office. Bonen A. Clarin (FREEMAN)