Reluya ambush: Politics possible motive - Police
January 23, 2019 | 12:00am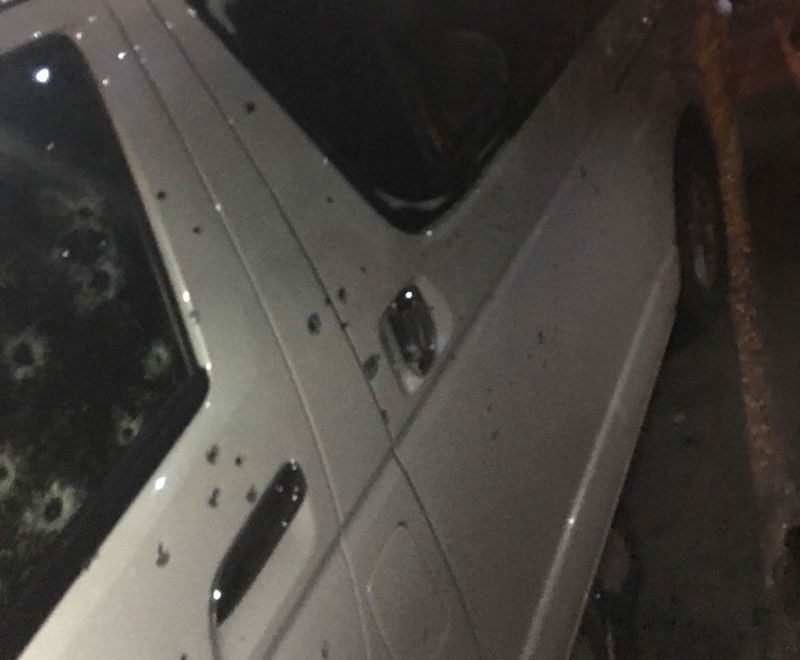 CEBU, Philippines — Police are looking at politics as possible motive in the ambush of San Fernando Mayor Lakambini Reluya in Talisay City on Tuesday, said Philippine National Police Director General Oscar Albayalde.
Albayalde said it was Reluya herself who told police that politics could be behind the attempt on her life.
"The mayor believes this is politically motivated so we are looking into that," Albayalde told reporters during the Kapihan sa Manila Bay news forum in Manila Wednesday.
Reluya was riding a white van together with her husband, Barangay Captain Ricardo Reluya Jr., and four other people when they were ambushed by an undetermined number of armed men in Barangay Linao, Talisay City at around 5:30 p.m.
Reluya's husband and two other people, Allan Bayot and Ricky Monterona, died on the spot. The mayor and two others, Giovani Perez and Tolentin Jefer, survived the attack with injuries.
Albayalde has ordered Cebu Provincial Police Director Manuel Abrugena and Talisay Police chief Marlu Conag to solve the case in two weeks or face administrative relief. He also ordered the Criminal Investigation and Detection Group (CIDG) to take part in the probe.
Yesterday, the Philippine flag was at half-mast at the San Fernando municipal hall.
No Hand
Reluya has not given a name on who could be responsible for her ambush but records show she is seeking reelection against Ruben Feliciano.
Feliciano denied he had a hand on the ambush. He told The Freeman that he and Reluya had a history of disagreement but he will never resort to violence.
"I strongly deny any involvement in the so-called 'kill list' insinuated by my political rivals, more so on any hand in the ambush of Panadtaran Brgy Captain Nonoy Reluya and two other people," he said.
He also denied owning the Facebook account named "Ruben O. Feliciano" that published the supposed kill list.
"Anyone can post it di ba? I strongly deny that," he said.
Among the comments posted by the account named four councilors who are alleged to be linked to illegal drugs, including Alfonso Donaire, Edwin Villaver, Reniboy Dacalos, and Johnny Ariesgado.
Dacalos and Ariesgado were shot to death in two separate incidents this month.
"While it may true that I and the Reluyas had a disagreement over my port project, which resulted in the filing of several charges in court and in the Ombudsman, I choose to bring the matter to court because I believe in the rule of law," Feliciano said.
He said he is willing to be investigated.
Election Status
San Fernando town is categorized as a yellow election watchlist area (EWA) as of December 2018. This is the lowest election hotspot color code, which signifies that there is an intense political rivalry in the area but there is no election-related violence.
The election officer of San Fernando town, Renante Angcos, said he can recommend categorizing the town to a higher level EWA if it can be backed up with evidence. This can only happen if the police can make a strong link that the recent killings are election-related.
He confirmed that three of the slain individuals from San Fernando town are candidates in the May 2019 elections.
Changing the category to orange from yellow, he said, will be beneficial to the town as the current number of policemen can be augmented.
While he can recommend this, Angcos said the final decision will be made by the provincial level committee formed by the Commission on Elections (Comelec).
Comelec-7 Director Raphael Olaño explained that the committee consisting of representatives from the Comelec, Philippine National Police, Armed Forces of the Philippines, and other law enforcement agencies will have to evaluate the situation.
After that, a multi-sector body can recommend the proper course of action to the Regional Joint Security Control Center, which, in turn, will make a recommendation to the Comelec En Banc.
Comelec en banc may place any area under its "immediate and direct control and supervision" if its peace and order situation can affect the conduct of May 13 elections.
"Comelec control" includes: (1) immediate and direct control and supervision over local officials and employees; and (2) full control and supervision over all national and local law enforcement agencies, including military officers.
Provincial Election Supervisor Jerome Brilliantes said three slain electoral candidates may be replaced by their respective parties as the substitute has the same last name.
The PNP is studying whether or not to include San Fernando in its list of election watchlist of areas.
Albayalde said they can also recommend to Comelec to place the San Fernando under the election body's control.
"We will validate and deliberate kung talagang kinakailangan," he said.
The PNP earlier is monitoring 18 areas in their list of possible election "hotspots," but on January 15 placed Daraga, Albay and Cotabato City under its official hotspot list.
The two areas would be under the control of the poll commission until the end of the 2019 midterm election period.
Albayalde appealed to politicians and their supporters not to resort to violence.
"We are appealing to the candidates and our countrymen what we can conduct the elections in a peaceful and civilized way," Albayalde said.
At least 19 local executives have been killed since the start of the administration of President Rodrigo Duterte.
Malacañang condemned the Reluya ambush and stressed that the "unfortunate and standard norm" of political rivalry during election period cannot continue.
Presidential spokesperson Salvador Panelo urged the public to remain vigilant and report any suspected election-related violence to the authorities.
"We urge even as we warn the candidates to cease and desist employment of undemocratic and illegal methods to win for the law on accountability shall be applied to them with full force and effect," Panelo said. — with May B. Miasco, Staff Member, Philippine Star News Service, JMO (FREEMAN)