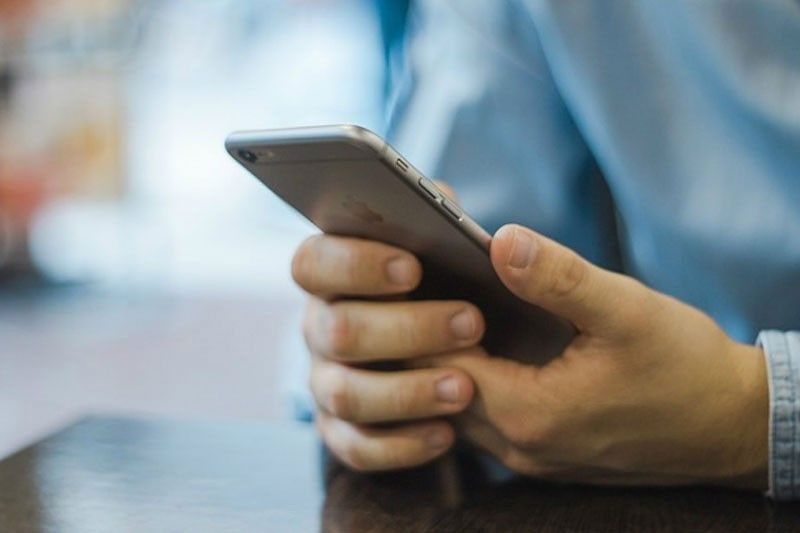 Signal will also be jammed from 12 noon to 8 p.m. in uptown and downtown Cebu City in time for the Holy Procession.
File
Sinulog weekend
CEBU, Philippines — There will be no cellphone signal for 31 hours at certain hours of the day in Cebu City, Mandaue City, and Lapu-Lapu City on January 19 and 20 during major Sinulog activities.
On January 19, cellphone signal in the three cities will be jammed from 3 a.m. to 10 a.m. during the Fluvial Procession.
Signal will also be jammed from 12 noon to 8 p.m. in uptown and downtown Cebu City in time for the Holy Procession.
On January 20, the day of the Sinulog, signal will be cut off from 3 a.m. to 7 p.m. in uptown and downtown Cebu City. - 16
"There shall be no signal, direct and/or reflected coming from any cell site (base stations) in the route areas covered by the above-mentioned activities," reads a January 10, 2018 letter of the National Telecommunications Commission to telecom firms Smart Communication Inc., Globe Telecomm Inc., and Digitel Mobile Philippines Inc.
Cebu City Councilor Jocelyn Pesquera shared the letter on her Facebook page.
Mayor Tomas Osmeña has slammed Pesquera for sharing what the details of the shutdown, which he believes should have been confidential.
"Thank you for leaking internal government communications regarding the security of the Sinulog on Facebook. We appreciate you compromising the safety of the 2 million people who will be on the streets this weekend. Unsa kang klase na abogado?" Osmeña said.
Pesquera said the people have the right to know important information.
Councilor David Tumulak, chairman of the City Council's committee on public order and safety and executive chairman of the Sinulog, has a message to netizens:
"Ato lang awhag sa mga nag-share, nakasabot ta sa inyong bahin kay gusto mo ma-aware sa signal shut off but try to think also on the other side… unsa'y effect ani, in case, simbako lang, atoa ni ang siyudad, kitang tanan tag-iya niini. Atong kaluwasan atong prioridad," Tumulak said.
Engr. Bill Peralta of NTC said radio group volunteers will be deployed in the streets during the times signal is out.
Simulation
At the Basilica Minore del Santo Niño, authorities conducted a bomb explosion simulation as part of the security preparations for Sinulog.
The drill was conducted around 3 p.m. yesterday while a novena mass was being celebrated. The Philippine National Police and Armed Forces of the Philippines participated along with K-9 units.
"There are 13 K-9 units galing from AFP, galing Tarlac yan, pinahiram yan dito sa atin, walo ata yung dumating so walo galing doon, we have three sa PNP, so 11 na, and then meron pa sa AFP dito sa Region 7," said Cebu City Police Director Royina Garma.
Garma gave the simulation of an "extreme case of bombing" a score of six out of 10.
"May mga nakita kaming dapat i-improve naming kaya kanina, we had a debriefing for the lapses we observed at inisa-isa namin," Garma said.
One of the major lapses observed with the simulation, as mentioned by Garma, were their difficulty with the call signs and added they need to further familiarize with it.
"Second is yung coordination in identifying yung mga areas kung saan namin ilalagay yung mga CPs namin, at may mga konting confusion on saan yung area where we will put yung injured," added Garma.
Backpacks
Meanwhile, Garma clarified that small backpacks are allowed at the basilica since these have fewer compartments and are easier to check.
Authorities said earlier that backpacks will not be allowed at the basilica because these take time to check with their many compartments, thus, disrupt the flow of people entering the church premises.
Thousands visit the basilica leading to the Fiesta Señor on January 20.
Garma reminded the public to be alert and vigilant, especially during the Fiesta Señor, which is also the day of the Sinulog Grand Parade, because the police cannot watch over everyone.
She also reminded parents who intend to bring their children to the basilica and to the streets during the Sinulog to make sure the kids have identification details with them in case they get lost.
"Every day, may nawawala, kaya maglagay ng nametag or any identification, and teach your children to approach the police kapag naiwanan," Garma said.
Liquor ban
Garma also reminded the public that liquor will be banned within the 300-meter radius of the Grand Parade route on Sunday, from 6 a.m. of January 19 to 6 a.m. of January 21.
"Kung gusto mong uninom, 'dun ka na lang sa bahay mo," Garma said.
She also said that the police will arrest whoever violates the Anti-Drunk ordinance of the city. Imarie Jane D. Madarieta, John Kendrick P. Ceciban (FREEMAN)