One time big time: 6 dead in drug busts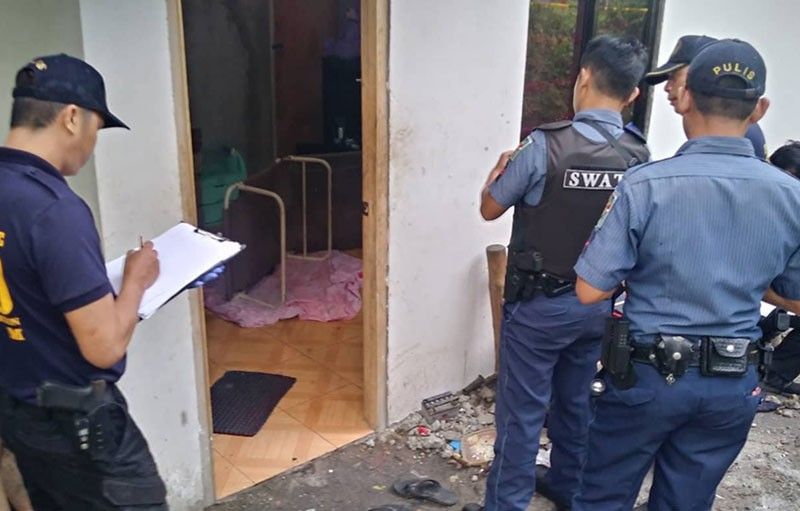 CEBU, Philippines — In a span of six hours, six alleged drug personalities were killed after allegedly resisting arrest during simultaneous anti-illegal drugs operations in the province at past midnight Wednesday.
Three were killed in Talisay City, two in Mandaue City, and one in the Carmen town.
Those killed in Talisay were identified as Rene Fernandez of Barangay Tangke, Rodel Abasa Econas of Barangay Lagtang, and Zebar Canciancio of Barangay Lawaan Dos.
The fatalities in Mandaue were identified as Karl Niño Macachor of Barangay Tabok and Ranchie Castañeda from Barangay Sudlon Guizo.
Killed in Carmen was Raymart Quingco.
According to Police Regional Office - 7 Director, Chief Supt. Debold Sinas, the suspects initiated a shootout.
"It was positive that the suspects initiated the shootout with our cops… if they had not resisted, this wouldn't have happened," Sinas said.
The six men who were killed were allegedly noted pushers or considered as high-value drug personalities. All policemen who participated in the operation were safe.
Econas' live-in partner said they were just sleeping when cops barged into their house and woke them up. She was escorted out of the house and, just moments later, heard three gunshots from inside. She then saw the policemen bring a body outside, however, they were reportedly not allowed to check his condition.
She admitted that Econas used drugs but denied he was selling them.
Sina said the operation dubbed One Time Big Time, which took place from 12 midnight Tuesday until 11 a.m. yesterday, served 22 search warrants and 30 warrants of arrest, and carried out 18 buy bust operations.
Seventy four were arrested and illegal substance worth P8.2 million and 8,520 stalks of marijuana worth P3.4 million were seized.
"There will be more to come in the future. The operation today was a success though unfortunate nang may nanlaban lang talaga. As long as the suspects will not engage police in a shootout, okay lang," Sinas said.
City Ops
Meanwhile, the One Time Big Time operation arrested 32 alleged drug personalities in Cebu City, including an incumbent barangay councilman of Casili, Consolacion.
Authorities also seized drugs worth almost P7,000 and arrested suspects Clint Francis Fernandez, Garry Pepito, Noel Goser, and Aillen Bornales in Barangay Guadalupe.
Fernandez was the subject of search warrant while Gungob and the other suspects were caught in the act of sniffing shabu.
Meanwhile, 27 other suspects were arrested after 12 search warrants were implemented and buy-bust operations were carried out. This led to the arrest of 27 suspects and confiscation of illegal drugs worth P6,851,302.
CCPO acting director, Senior Supt. Royina Garma, said the total amount of drugs confiscated in just span of several hours shows that illegal drugs are still rampant in Cebu City.
"Ang dami. Sobrang dami pa din ng illegal drugs. So, I really need the help of the community. It's either, kung gumagamit ka, by stopping, you stop using illegal drugs – that's one way na makatulong ka. Sa mga parents naman, kung alam niyo na gumagamit ang anak niyo, huwag niyo nang i-deny. As a family, help decide. At sa mga ayaw ng droga ay makialam kayo, i-report niyo," Garma said.
Marijuana
Meanwhile, fully grown marijuana plants worth P5,100,000 were uprooted by operatives of the Regional Mobile Force Company, Philippine Drug Enforcement Agency (PDEA) -7, Balamban Police, and Toledo City police in separate operations yesterday.
In Balamban, they uprooted 8,520 plants in Barangay Matun-og and arrested the cultivator, Fernando Velasco.
In Toledo City, a total of 3,110 fully grown marijuana plants worth P1,700,000 were uprooted in Barangay General Climaco.
Police Supt. Mina Domingo, the chief of the Toledo City police, said they did not find the cultivator during the operation but uprooted and burned the marijuana plants just the same. — JMO (FREEMAN)