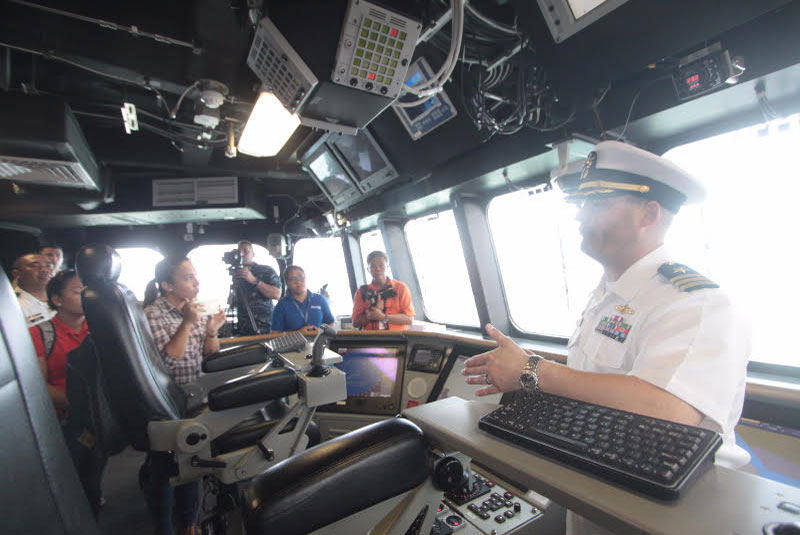 Commander Douglas Meagher of the USS Coronado guides the media on a tour inside the warship docked at the Cebu Ports Authority. The tour was one of the activities that kicked off Maritime Training Activity Sama Sama 2017 yesterday. Joy Torrejos
Philippine and US navy: Joint exercises launched
(The Freeman) - June 19, 2017 - 4:00pm
CEBU, Philippines - The joint military exercises between the Philippine Navy and US Navy officially started yesterday with soft activities including a tour of a warship by members of the media and a showcase of US aircraft at the Mactan Benito Ebuen Airbase.
At least 200 participants from both navies will take part in the exercises called Maritime Training Activity Sama Sama 2017 which will run until June 25.
The exercise is designed to enhance the alliance of both navies when it comes to security concerns including piracy, smuggling, maritime domain awareness, disaster preparedness, and humanitarian assistance.
"There's no significant change in the exercise, we just want to put some emphasis on the exercise that this is a joint exercise between the Philippine Navy and US Navy so we call it 'Sama Sama' to give a strong signal to the people that we're doing this as a joint partnership as strong alliance with the US Navy and Philippine Navy," said Naval Forces Central Commander, Commodore Loumer Bernabe.
The trainings will be done in Bohol Sea, the middle part of northern Mindanao and southern Cebu.
Captain Alexis Walker, Commodore of Destroyer Squadron 7 said that the joint exercise is beneficial to both the US and Philippine navies.
"It's beneficial to both of us because we get to learn from each other the practices that they executed, Philippine and US Navy hand-in-hand together, so each can learn a little bit from each other of our profession of arms. Maritime Training Activity Sama Sama is an ideal framework to strengthen our relationship with our partners in the Philippine Navy and to enhance readiness through training and evolutions ashore and at sea," Walker said.
However, he clarified that the exercise has nothing to do with the war in Marawi.
Bernabe said that the exercise is extra beneficial to the Filipinos specifically in terms of disaster and calamity preparedness and response.
"When we have disasters, calamities and everything the Philippine Navy is prepared for that but we need to get the assistance from our navy counterpart for our disaster preparedness, humanitarian assistance. We got to know their tactics, techniques of procedure, and also their equipment," he said.
During the exercise, the US navy will deploy the combat ship USS Coronado, the transport ship USNS Millinocket, and a P-8 Poseidon aircraft.
Meanwhile, the Philippine Navy units will include the Del Pilar Class Frigate BRP Gregorio Del Pilar, BRP Agta, an AW109 helicopter, and a BN-2 Islander aircraft.
The joint maritime exercise between the US Navy and Philippine Navy has been done annually and this is the first time after eight years that it is being held in the Central Visayas.
Last year, the exercises called "Carat" were held in Subic, Zambales.
"What we come to realize in part of that is that when you have humanitarian crisis, no one navy can respond to that on his own so, we need our allies, we need our partners, we need our friends to be able to conduct comprehensive response to these maritime environment," Walker added. (FREEMAN)