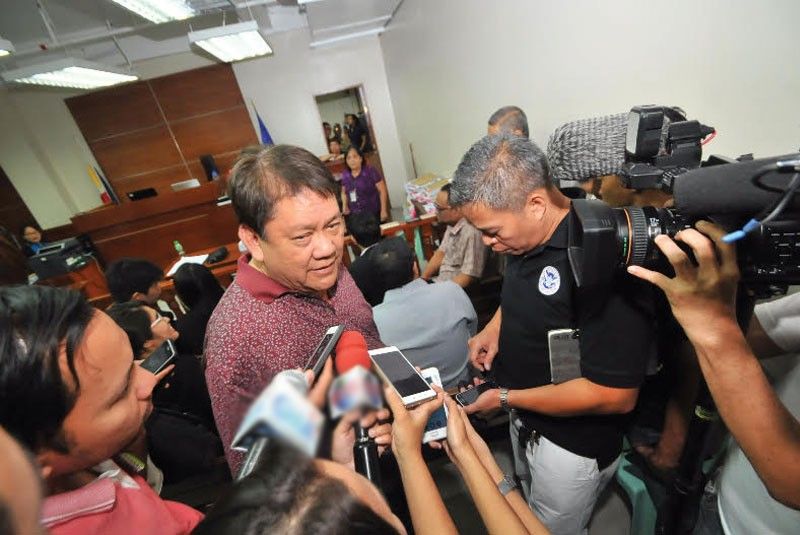 Cebu City Mayor Tomas Osmeña faces reporters following the hearing of the civil case BDO Unibank, Inc. filed against the city government for refusing to act on its application of business permit.
Paul Jun Rosaroso
For at least 17 days: Court extends TRO
CEBU, Philippines - Contrary to what he would have wanted to do, Cebu City Mayor Tomas Osmeña will not be able to close the Magallanes branch or any branch of BDO Unibank Inc. in the city, at least for the next 17 days or until March 6.
BDO Unibank Inc. is the official name of the former Banco De Oro.
Yesterday, the Regional Trial Court extended the 72-hour temporary restraining order it issued earlier in favor of BDO Unibank Inc.
The period will give both the bank and the city government time to submit position papers in the petition BDO Unibank, Inc. filed against Osmeña and City Treasurer Tessie Camarillo in court.
RTC Executive Judge Gilbert Moises also asked the bank and the city government to exhaust all means to settle the matter amicably.
Osmeña has threatened to close the bank's branch along Magallanes Street for allegedly under-declaring its gross sales.
Alvin Go, counsel for BDO Unibank, Inc., said non-payment of correct taxes is not considered as ground to close the establishment or not renewing its business permit application.
Thirty minutes after the hearing yesterday, Moises called the parties in the case to his chambers for a closed-door discussion, which lasted for about an hour.
Osmeña told reporters later that the court ordered him to "temper my statements" to avoid public exchanges between him and the bank's officials.
"I have freedom of speech but they ask me to kalma-kalma lang ba," Osmeña said.
Another hearing is set for February 7 for the issuance of a preliminary injunction, an order that restrains a party from taking any move against another party until the case involving them has been decided.
Civil Case
Last Monday, BDO Unibank Inc. filed a petition for mandamus against the city for allegedly refusing to act on its application to renew its business permit.
In its petition, BDO claimed that Osmeña's failure or refusal to resolve BDO's application for renewal of business permit and the plan of closing all BDO branches in Cebu City "is entirely arbitrary, unjust, oppressive, and contrary to law."
"If Mayor Osmeña's actions are left unchecked, these will surely have grave implications on BDO's stakeholders, and on the entire Philippine banking and financial system," the bank said.
It recounted that when its branch in Magallanes submitted its business permit application for 2017, the same was not acted upon immediately by the city and the branch was referred instead to the city legal office.
The legal office then required the branch to submit additional requirements and documents, such as its income statement for 2015 and 2016 and balance sheet for the same years, among others.
BDO Unibank, Inc. argued that the additional documents are "irrelevant" and not required by law or any regulation.
"Significantly, these documents were not required from BDO- Magallanes when it applied for business permits in the preceding years," it added.
Nevertheless, BDO said it complied with all documentary requirements, including the additional requirements.
Despite this, the mayor still did not act on its application. Other branches of BDO Unibank, Inc. in Cebu City also reportedly suffered the same fate.
"Significantly, no legal reason or justifiable cause was offered by Treasurer Camarillo in (again and again) refusing to accept the payment for the 2017 local taxes and fees tendered by the 27 BDO branches, and act on these applications for 2017 buisness permits, other than it (or the city legal office) will purportedly still review the documents submitted by BDO," BDO said.
BDO noted that local government has only one day to process business permit renewals pursuant to a joint memorandum issued by the Departmetn of Interior and Local Government, Deaprtment of Trade and Information, and Department of Information and COmmunciations Technology.
Due to "unjust inaction" on its permit applications, BDO consigned with the court more than P900, 000 for the payment for taxes, fees and permits of the 27 BDO branches.
BDO Unibank, Inc. said the mayor has a duty under the Anti-Red Tape Act of 2007 to resolve business permit applications in a timely manner.
Osmeña, the bank argued, "grossly abused" his office when he refused to do so.
City stand
City Legal Officer Joseph Bernaldez contended that the mayor's responsibility is discretionary, not just ministerial, in the applications for business permits.
This means that the bank cannot compel the mayor to act on its business permit applications by filing a mandamus petition, he said.
He pointed out that the business permits of all BDO branches in Cebu City expired on December 31, 2016.
In December last year, Osmeña filed before the Cebu City Prosecutor's Office a criminal complaint against BDO Unibank Inc. for alleged "other deceit," "falsification by private individuals," and violation of the City Tax Ordinance.
In his complaint-affidavit, Osmeña said he noticed that BDO-Magallanes branch "deliberately and maliciously under-declared and falsified" its gross sales last year amounting to only P400, 057 allegedly to evade tax liabilities. (FREEMAN)