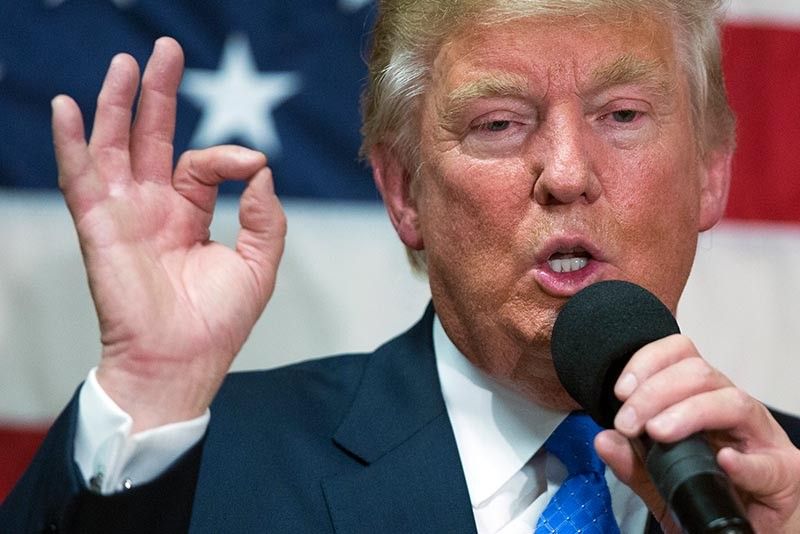 Republican presidential candidate Donald Trump speaks during a town hall, Thursday, Oct. 6, 2016, in Sandown, N.H.
AP/Evan Vucci
The Swiss National Day 2016 Feast
CEBU, Philippines - Switzerland celebrates its National Day on August 1 each year. The celebration commemorates the day when the Swiss Confederation became independent from the House of Hapsburg (Grütli Pact, 1291). Here in Cebu, Marco Polo Cebu Plaza GM Hans Hauri, who is a Swiss national, has made it an annual tradition to celebrate the Swiss Independence Day in the city.
Cebu's Swiss National Day celebration is now on its tenth year. Certain rituals are followed in the festivity, starting with the traditional ringing of the bells, displays of the Swiss flag and, this year in particular, greetings from H.E. Johann Schneider-Ammann, President of the Swiss Confederation and a welcome address from the H.E. Hans Peter Fitze, first secretary and consul at the Swiss Embassy in Manila. There's also the feast of Swiss cuisine.
I was fortunate to have joined nine of the ten celebrations. I did miss it in 2010, because I was on a holiday trip at the time. I was not completely far from the Swiss spirit, though. Aboard a Euro train from Paris to Florence, the train conductor announced that there was to be a 10-minute stop. Looking out I saw the yellow international line and, to my pleasant surprise, we were in Switzerland. I could not resist crossing it and so I was in Switzerland, at least for a minute!
The celebration here in the city had cheeses served: Appenzeller, Emmentaler, Greyerzer Kase & Tilsitter. (There is no Swiss Food Festival if cheese is not served, in one form or the other.) Live Cooking had a Raclette Section with an Electric Table-Top Grill where to melt cheese and drip it over potatoes, and the Fondue Section, where diners dipped bread or potatoes in melted cheese. I did miss the Tête de Moine, which was served on the occasion last year. But I had a new favorite this year, the Greyerzer Kase. Also known as Gruyère, it was a semi-hard cheese, and the Le Gruyère Premier Cru was awarded as one of the top cheeses in the world.
Another staple in Swiss festivals are appetizers and sausages. Bündnerfleisch (air-dried Grisons beef), Fleisch Kaese, Schinken and Lyoner were served while sausages like the Cervelat (Switzerland's National Sausage), Schublig, Wienerli and Veal on Sauerkraut were there too. At one time, I was wondering why there's so much veal (meat from male calves) in Switzerland.
Cows produce only one offspring at a time (from nine months pregnancy) and there's a 50-50 chance for the calf to be either male or female. The dairy industry has no need for excess male calves, hence, it is harvested early.
Salads served were Cervalat und Kasesalat (sausage & cheese), Siedfleischsalat (Beef Salad with Caraway) and Bohnensalat mit Speck (Bean Salad with Bacon). The carving section displayed the huge chunk of the delicious Roast Pork Ham and the Fleish Kaese (Meat Loaf). Main dishes were Blumenkohl (Cauliflower with Polonaise), Alplermangronen (Baked Macaroni with Cheese, Ham and Egg), Osso Bucco Luganese (Braised Pork Shank), Spätzle (Flour Dumpling) and the Rindsgulasch (Beef Stew).
My friend Executive Chef Stefano Verillo and his staff did a wonderful job. There were, however, dishes served in previous years that I truly missed - Gebratener Fisch (Fish in Lemon, Parsley Butter, 2015); Poached Fish in Dill Sauce, 2012; Obwald-Style Cheese Cake, 2007; and the Beef Tongue with Port Wine Sauce, 2008.
Lovely desserts like the Apfelkuchli (Apple Fritters), Cremeschnitte (Vanilla Napoleon), Wahe Apfel, Gebrannte Crème, Rueblitorte (Carrot Cake), and Zuger Kirschtorte (Cherry Torte) were the perfect curtain call to the wonderful dinner. (FREEMAN)