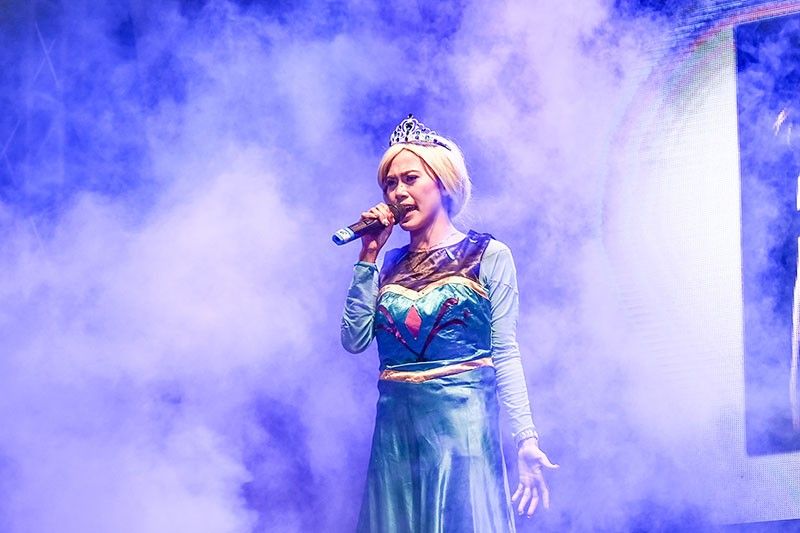 Zane Dugaduga, Star of the Night for Sinulog Idol 10's Showtunes Round
Photo by Clark Panugalinog
Zane Dugaduga makes Sinulog Idol history
Karla Rule
(The Freeman) - January 16, 2019 - 12:00am
Showtunes Round
CEBU, Philippines — The competition has been getting tougher as Sinulog Idol Season 10 stretches the limits of its finalists.
Ten remaining contestants sang their hearts out on the fourth challenge dubbed as Showtunes Night. Guadalupe's Jake Batiancela, Carcar City's James Alfafara, Talisay City's Jessa Abaquita, Mandaue City's Maica Apas, Consolacion's Mikee Allaga, Minglanilla's Rache Parco, Danao City's Shim Dagatan, Talisay City's Vanessa Parame, Mandaue City's Yad Jayme and Talisay City's Zane Dugaduga performed songs from beloved musicals, not only doing their best in singing but also showing off costumes that resembled the characters they portrayed.
In the end, it was Dugaduga's rendition of "Let It Go" from the Disney film "Frozen" that warmed the hearts of the audience. Children flocked to Plaza Independencia to get a glimpse of her performance.
For the first time in Sinulog Idol history, a finalist was chosen Star of the Night two evenings in a row. On round three dubbed Cebuano Night, she became Star of the Night with her version of "Ngano Kaha," an original by Sinulog Idol alum Mariel Minglanilla.
Trailing closely behind Dugaduga is Parco who performed Shirley Bassey's "Goldfinger" and Apas who sang "Memory" from the 1981 musical "Cats."
"Wa gihapon ko nag-expect nga ma Star of the Night. Happy kaayo ko na first kuno ko na straight Star of the Night," said Dugaduga, a band vocalist.
Judge Ryan Mark Borinaga described her take on the ice princess Elsa as refreshing.
"It was not a cold performance," he quipped. "That was hot."
She also wowed the audience with a costume change that resembled the original sequence shown in "Frozen."
With three more nights left, her only wish is to not run out of steam, especially that her voice is starting to give out.
For the fifth elimination round, the hopefuls will be paying tribute to great artists who have passed away. Dugaduga hinted at paying homage to Whitney Houston, saying it will be more challenging since other contestants will be performing hits from the same music icon.
"Maytag makaya kay akong tingog hapit na mu-surrender. Ako ipahuway, matog…Akong gi-control akong tingog," she said.
Despite his theatrical performance of "Circle of Life" from another Disney film, "The Lion King," Batiancela fell to the bottom for Showtunes Night. Judge Apple Abarquez sais she expected a lot from a thespian like him.
"This is your niche, showtunes, Broadway, Disney," Abarquez said. "Nasaag ka. You were running around in circles. It was nice but it wasn't as impressive as what I had in mind."
Despite that, the producers decided to keep the Circle of Ten intact. Event manager Gloria Villarojo said that the judges' decision must be unanimous. Otherwise, the decision is given to the production. She and musical director Gani Villarojo, alongside mainstay resident judges Ryan Mark Borinaga, Apple Abarquez and Jay Unchuan decided to give the idols a new lease at life, so to speak.
Abarquez admitted that the judges had a difficult time since Broadway is "one of the hardest genres to pull off." Indeed, throughout the evening, the judges bemoaned several performances, noting that the round was not their strongest.
"Lisod kaayo siya nga naay taktakon. These kids man gud, most of them have never even seen a proper play. So dili pa sila kahibaw unsa na feel, unsa na hugot, unsa na emotion, " explained Abarquez, giving the remaining finalists a chance to prove themselves. She warned that perhaps on the next rounds, they might have to say goodbye to two or three at a time.
Abarquez added that the common struggle among the contestants for Showtunes Night was not understanding the songs they chose. She said they interpreted the music in a way that was not quite the apt translation, and had not delivered the right depth demanded by the song. The week-long elimination has also started to take a toll.
"They're all tired. You can hear the strain in their voices," she said.
As the Sinulog Idol Season 10 finals night draws closer, Abarquez wished them luck and longevity.
"The best of luck and the best of health because you will really need it. You are only as good as your last performance. Take care of yourself and pray that God gives you the best of luck that night."
Since their first elimination night last Friday, two out of 12 hopefuls have bid the contest goodbye. Broadcasting student and Daanbantayan bet Jonas Elarcosa was the first to be eliminated after being at the bottom of night two following the group performances for "Jam Night." The second round also saw the victory of Rache Parco, Mikee Allaga and Yad Jayme who were hailed Stars of the Night for their rendition of "Heaven" by Bryan Adams and "Hound Dog" by Elvis Presley. On the third night, Brgy. Punta Princesa's contender, Grade 12 ABM student Kyla Dizon was out of the game on the third elimination round which showcased Cebuano or Visayan folk songs.
The competition, which has churned out talents like sensation Jacky Chang, will be giving away a grand prize of P50,000. P30,000 and P20,000 will be awarded to the first and second runners-up, respectively.
But first, they must survive the nightly elimination rounds that will put their skills and stamina to the test. Only six hopefuls will remain to perform at the grand finals on Thursday.