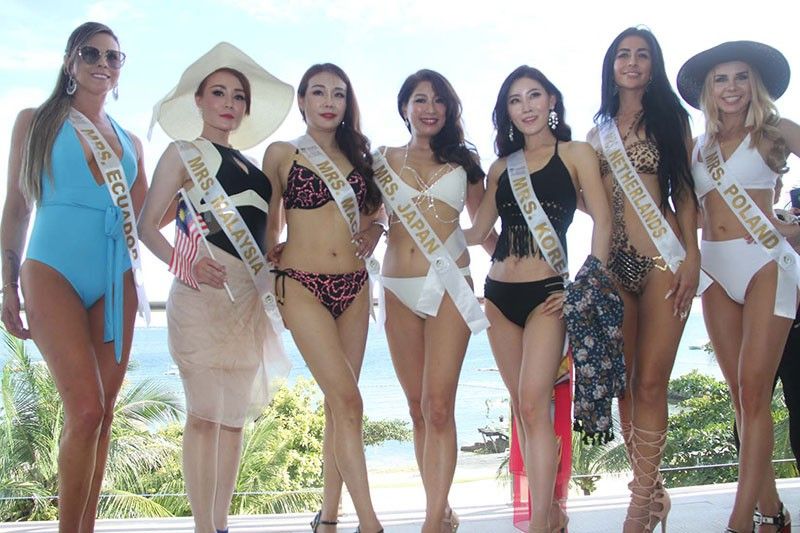 Mrs. Universe 2018 candidates pose in their swimwear during a Press Presentation at Chateau by the Sea in Lapu-Lapu City.
Photos by Joy Torrejos
Cebu hosts 12th edition of Mrs. Universe pageant
Karla Rule
(The Freeman) - December 7, 2018 - 12:00am
CEBU, Philippines — Some might think that once a woman marries, a number of doors close down. But that's not the case for Mrs. Universe, as married women from all over the world take center stage in an attempt to add another feather to their already colorful caps.
Mrs. Universe Ltd. awards the most honorable married woman. Open to married women between 25 to 45 years old, the eventual winner must have a family, their own career and involved in a significant cause in favor of others. It highlights the role of a woman in the family and the community. It looks for a mature and accomplished woman who has grown independent, has built their own families, and who uses their skill and beauty for a much bigger cause.
Apart from kicking ass in their careers, running a household, taking care of their family, and minding the community, the 88 candidates of Mrs. Universe 2018 are proof that marriage doesn't necessarily mean being tied down.
The search for this year's Mrs. Universe search is even made more special for the Philippines, with Cebu taking the honor of hosting the international tilt.
Mrs. Universe Philippines 2017 and franchise holder Marilou Tolico-Villanueva, who hails from Carcar City, promises that the competition is more than just looks – staying true to the Mrs. Universe belief that physical beauty is only one of the many factors that make up the allure of a person.
"We are rebranding pageantry. It's not just about doing a show, doing a strut," Villanueva begins. "We want people to really remember that this is a legacy. This is a platform that functions with four major campaigns: anti-bullying, anti-poverty, anti-domestic violence and for gender equality, as well as anti-human exploitation and trafficking."
In their first public appearance at the Chateau By The Sea in Lapu-Lapu City, the 88 delegates of Mrs. Universe 2018 boasted of the diversity and beauty of women from all over the world. Appointed by Villanueva herself, Beau Singson is this year's Philippines bet (the country's bet for next year's edition is actress Patricia Javier). Each one with stories to tell, these women will compete for the Mrs. Universe crown from Dec. 4 to Dec. 10 in a series of events meant to highlight their purpose, initiative and intent.
After their arrival on Dec. 4, the delegates went on a Heritage Tour around Cebu City the next day, visiting locations like Fort San Pedro, Santo Niño Church and Parian. They will also be taking part in a fashion show at SM Seaside City Cebu today, and the Parade of Nations and Talents Night on the same venue the next day.
Villanueva shares that while the Mrs. Universe charity project has always been to build women's shelters in India, one of the events this year is to visit orphaned children and victims of domestic violence in Cebu.
But the affair with the most bearing will be the Mrs. Universe forum held yesterday at Bai Hotel. The served as a pre-judging event where the delegates each delivered a three-minute presentation about the projects they have in mind and the solutions they could offer about an issue they would like to address.
With the theme "Empowered Queens, Leading Paths to a Better Future," the Mrs. Universe 2018 coronation will be held on Dec. 10 at the Waterfront Cebu City Hotel and Casino. The 88 will be shortlisted into 25, and from there, the top five winners will be chosen.
On their first day on the job the next day, the winners will begin their guestings and exposures as well as party with the whole delegation before everyone departs on Dec. 12.
Asked why they chose Cebu as host city, Villanueva says that they have observed Cebu's growth throughout the years and have seen it as a center for many things not only in the Visayas region, but in the entire Philippines.
"I want Cebu to be the show window of the Philippines. This is an investment hub, we have our tourism, beaches, and tourist spots, as well as education and medical tourism."
In her first year of directorship, Villanueva, founder of Philippine Honorable Queens, says that hosting Mrs. Universe in the country came as unexpected news. She feels happy and is thankful for the support of Cebuanos and the government.