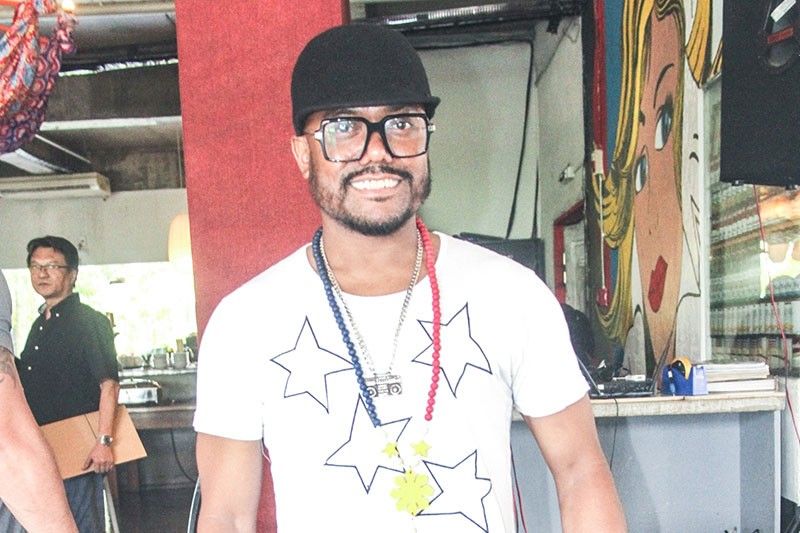 Apl de Ap launces creative scholarship program
Karla Rule
(The Freeman) - June 14, 2018 - 12:00am
CEBU, Philippines — With technology developing at the speed of light, rapper and producer Apl de Ap of the Black Eyed Peas is teaming up with Thames International Business School, the British Council, and the Department of Trade and Industries (DTI), among others to train Filipino artists as they strive to become a catalyst in nurturing the creative industry.
Gone are the days of romanticizing the starving artist. Apl, through the Apl De Ap Foundation along with Thames International Business School president Joel Santos and chancellor John Batten, were in Cebu yesterday to launch their Creative Innovative Programme, spreading the word as they invite Cebuano artists to answer their call.
"I am an advocate for change and progress. I have been a product and a beneficiary of the creative industry. I was able to strive with my friends. I grew up poor but I was one of the lucky ones who had the opportunity to be sponsored," Apl begins in a press conference at the Henry Hotel.
He adds that having benefited from the generosity of the creative industry, he wants to uplift the next crop of budding artists.
"I just want to pay it forward, give back to our country, and help other creatives in the Philippines. There are so many talented Filipinos with very little opportunities. And right now is the time to grab this opportunity," Apl says.
Going way back with Santos when they worked together for philanthropic projects, they now work together to make a pathway for the Philippines to become a first world nation by acknowledging the creative ingenuity among Filipinos.
Apl (real name is Allan Pineda Lindo) was born in Angeles City, Pampanga to a Filipino mom and an African-American father who left shortly after his birth. His mother raised Apl and his six younger siblings who grew up farming sweet potatoes, corn, sugarcane and rice – until Apl was referred to the Pearl S. Buck Foundation which provides for healthier living environments for abandoned, orphaned American kids.
At 14, Apl initially went to America to treat a case of involuntary eye movement. It took three more years for him to get officially adopted.
Abroad, he was introduced to hip-hop, rap, and dance. He met William Adams (professionally known as will.i.am) in middle school and from there, Black Eyed Peas, now a Grammy award-winning hip-hop group, was born.
As someone who has seen the harsh realities of a third world country like the Philippines, Apl and Thames International urges that it's about time we invest on the bounty of talent in the country.
"The rest of the world is already planning for tomorrow. It's the right time to really collaborate, own it, and grab this opportunity," Apl says.
"We're one of the most creative countries in the world but we're not able to maximize and benefit from this. That's why we're here today, to try and grow this creative industry. We don't want to be left behind. Now is the time to collaborate and appreciate each other's art and support each other," Apl continues, stating that by showing how sustainable art is, we can encourage parents to support their children in the creative space.
Apl muses that the most fundamental thing he's ever learned as an artist was to learn the ropes of art as an industry. He encourages artists to get over the whole "sanctity of my art" cloud as he had if they ever want to make a living out of their talents.
"Learn the business side. Network. There are many tremendous artists that never make it. Talent is not enough if no one sees, hears and tastes your work. Because commercial is art, too. The two cannot exist without each other. An artist ultimately needs to sell art. Commercials are still art. What's important is producing commercial art that's aligned with your philosophy and how you view the world. Be authentic about what you produce and there will always be an audience," Apl advises.
As Thames International celebrates its 20th year, the school, alongside Apl de Ap Foundation, is offering 40 scholarship grants namely: 20 scholarships for undergraduate degrees in B.S. Entrepreneurship or B.A. Communication where both three year programs--worth USD 15,000-- focus on creative enterprise, and will train grantees to succeed in their start-up with the twin goal of getting artists and creatives; and 20 more scholarships for professional diplomas in innovation and creative enterprise which entails a nine-month part time program, combining business, innovation, and creative thinking skills.
All one mainly needs is the artistic skill and talent in music, film, photography, graphic design, fashion, gaming, design, as well as a business idea with a social and environmental impact.
Santos also talked about how people, especially parents, should stop thinking that the arts is a dead end on their children's future. The school, which provides degrees in Entrepreneurship, Marketing, Operations Management, and Communication Arts, believes in the marriage of the arts and sciences as a creative industry. Apart from nurturing artists and their craft, they also think that being able to commercialize your talent is important. And they want to equip talented Filipinos with that skill.
"Science and art is creative technology. We sometimes focus on pure science and pure business that we forget art and that's why we're missing out on the possibilities. We want to talk to the artists. They might be scared to commercialize because people might steal their content but we have to teach them. We teach them legal, how to protect intellectual property.There's no such thing as a starving artist. Every artist can learn to be an entrepreneur. It's just a matter of balance," Santos explains.
"We're here to jumpstart [creative economy]. We hope to do it together, because you can't build an industry alone. We are creative, if not the most creative. We just have to know how to communicate and make money from creativity. To use our creativity to bring us out of poverty."
Apl says the country should utilize its resource on talent, and to acknowledge the potential inside every Filipino and their creative ideas to make a sustainable industry that runs on passion and creativity unrivalled by artificial intelligence.
However, in a developing and poverty-stricken country like ours, the majority of the population does not fully embrace art as an industry, often cementing the concept about how art does not put food on the table. But Apl begs to differ.
"It's a rhetoric we need to change if we ever wish to grow as a country. Filipinos are naturally creative and artistic. It makes no sense to continue to suppress that for stability. We cannot evolve if we do not create, but to do so we much support each other's art. It's time that we create the market for ourselves," he offers.
Coming into the music industry believing that his art can compete with those in other countries, Apl says Filipinos should be more confident with their skills. As someone who was able to break into the international music scene, and release beloved tracks primarily using the Filipino language, he sees no reason to be apprehensive about being open to incorporating one's heritage and culture on the global scale.
In order to have things to say, Apl encourages artists to focus on the relevant things. He says that while a number of fellow hip-hop artists put out diss tracks to maintain a sort of righteousness, he doesn't believe in that culture.
"Talk about things that are relevant," Apl says. "There's so much that goes on in the world that it's impossible to run out of things to say and write about if you stay informed. Talk about what's important and you'll always have something worth discussing. I don't believe in diss culture personally. There's enough room for everyone to thrive so I don't see the need to bring someone else down just to make myself feel better."
Career-wise, Apl shares how throughout his journey, he constantly looks for ways to better serve the Philippines.
While he is always open to doing Pinoy shows like his stint in "The Voice Philippines," he also wants to know what the public wants to see him try within the Philippine entertainment scene. Currently, he's taken Jessica Reynoso from the first season of "The Voice Philippines" (where he was a judge and mentor) under his wing, producing for the singer and collaborating with her on the latest BEP track "Ring The Alarm."
"As a group, we're [BEP] into the idea of creating worlds. Our latest project, Masters of the Sun, is much more than an album. It's a comic book, an AR app, a VR experience. We want to challenge the expectation of what an album is and challenge others to also create something new. Right now we're about making music with messages that reflect some of the injustices in the world. We've built a platform and we want to be responsible in using it," he says.
Apl, who is eyeing a world tour with the rest of Black Eyed Peas, promises to keep his advocacy of creative economy in mind as he travels the globe.
"The word that comes in is bayanihan," Apl says. "It's all about lifting the bahay kubo together and place it to the next location. It's coming together, having an appreciation for art and investing in our artists. These are the ideas that I would like to bring along with me in this journey."