Crusade continues for Queen of Cebu winner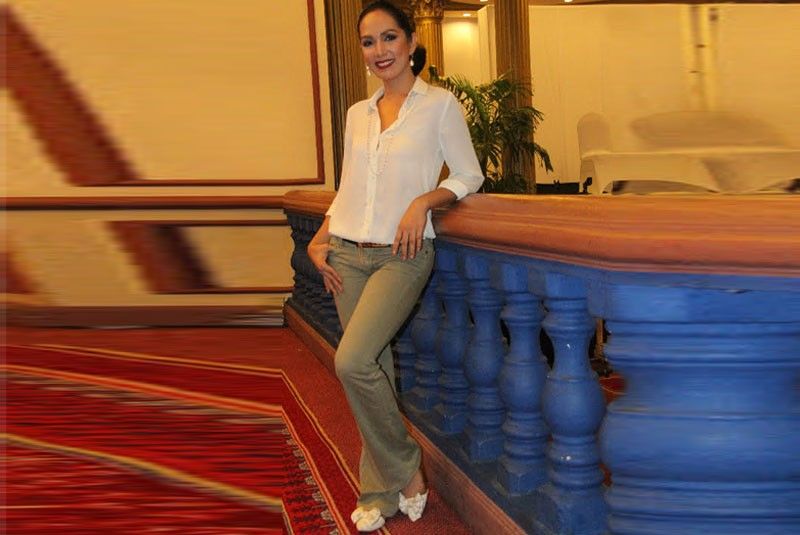 CEBU, Philippines - Sometimes we feel like life goes on way too fast, but in reality, nothing happens overnight. There are battles that take a lifetime to conquer.
But for Cebuana beauty queen Maki Gingoyon, it doesn't matter how long it takes because she's in it for the long run.
The transgender stunner has long since left her inhibitions and has been championing the welfare of the LGBTQ community with all her might in the hopes of a safer, more inclusive and understanding environment – a universal struggle for the members of our LGBTQ friends.
Maki, who was crowned Queen of Cebu Universe in 2010, is no stranger to uphill climbs. She has financially supported herself and her disabled mother, faced the challenges of prejudice and ignorance, as well as fought for equality in the school setting.
Clinching the crown has turned her life around for good.
"Winning Queen of Cebu Universe changed my life a lot," she began in a chat during the recent Queen Philippines 2017 press launch. "I was 21 years old then and there was a lot of responsibility for me. At that time, the cash prize was more than I could dream of."
In her college years, Maki took matters into her own hands and tried to educate those who ran her school. When Maki was studying at the University of San Carlos, a memorandum that banned male students from cross-dressing, wearing earrings, and sporting colored hair had been put to effect. Male students were to wear the assigned male uniform, and female students had to wear what were assigned to them. As an officer of the student body, Maki decided to raise her voice not only for herself, but also for those who felt uncomfortable and marginalized by the new rule.
"I won that fight," Maki said. "But the school, they still had their way."
Since winning the crown, Maki is thankful to be able to influence and inspire a wider, more realistic and tougher audience outside of the walls of the academe.
What got the 28-year-old into pageantry had a lot to do with her experiences in school, and if anything, was led by no less than her sense of responsibility to those who couldn't find their voices.
"When I realized that I knew how to speak, that's when I decided to go into pageantry," Maki revealed. "I knew that I had to fight for acceptance, and fight for the minority because I know that I can."
Despite having a string of pageant titles – namely first runner-up of Queen of the South Davao, Queen of Cebu Universe 2010, and winning Eat Bulaga's Super Sireyna of the Sky during its weekly finals in 2013 – the fight for equality still has a long way to go.
The struggle to be politically correct has hounded our evolving society, because great change needs extensive education. Many of us struggle to cope and relate with the radical and new that sometimes, it hinders us from moving forward.
"I wish people knew more about Sexual Orientation and Gender Identity (SO-GI)," the beauty queen confessed. "Because there are still so many things to learn and this could benefit all parties. Of course, we can't always blame and judge anyone by the way they interact with us in the LGBTQ community because it's not part of the school curriculum. But I wish it was."
Maki, who identifies as a transgender woman and prefers to be addressed by feminine pronouns and identifiers like "Miss," "her" and "she," recalls an incident she had with a fitness center inside a mall. The media got wind of the episode and ran stories about it, addressing Maki as a "he."
"I was disappointed," she says. "But since SO-GI isn't something that everyone knows about, and not everyone is aware what to do, I still understand. I do. You can't blame them. I just wish that we put more weight into sex orientation and gender identities."
Should you find yourself in a pickle, Maki says it's best to just ask. "Personally, I don't mind [if asked what pronoun she prefers], but I can't speak for everyone in the LGBTQ community because not all transgender women or gay people want to be addressed with feminine pronouns."
Maki elaborates that in order not to offend anyone, it's better to politely ask members of the LGBTQ community what they prefer, what they identify as and how they want to be addressed.
SO-GI includes concepts of the different terms that are appropriate and non-offensive towards the LGBTQ community such as pronouns, preferences, and identifiers, but in the end, it all boils down to the most basic of all human traits: Compassion, understanding, and unity, to name a few.
When asked about her opinions on the divisiveness of the LGBTQ community from the inside, Maki admits that there are slights and shortcomings.
"Things aren't perfect but it's really important that we come together," Maki says. "I feel like despite that, the LGBTQ community is still driven to pursue one goal that brings us together, and we will always be united for that."
Right now, Maki is busy guiding the new batch of candidates for the Queen Philippines pageant (previously Queen of Cebu) which is chaired by premiere cotourier and designer Cary Santiago. The beauty queen is also running a dating app for the LGBTQ community with her beau as its online marketing director.
Indeed, the 27 candidates of Queen Philippines 2017 coming from all over the country have big shoes to fill as Maki sets the bar for anyone who aims to win the crown come July 28.
"What I'm looking for in a winner is someone who knows how to speak. Someone who is not afraid to swim against the wave and fight for what she believes in," says Maki. (FREEMAN)