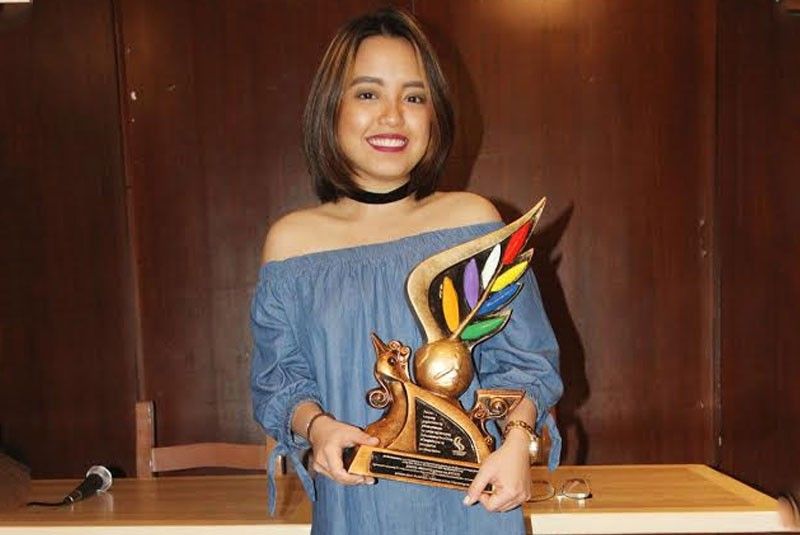 Kirby Asunto
Photo by Joy Torrejos
Kirby Asunto: The Charity Diva
CEBU, Philippines - Winning both local and international awards, Kirby Asunto has proven her worth as a musical genius.
The Inopacan, Leyte-born singer recently received an award as one of the country's best musicians during the 9th Ani ng Dangal given by the National Commission for Culture and the Arts (NCCA). The award is given to individuals who brought pride to the country by winning in international competitions.
Late last year, Kirby won Best Music Video at the 6th International Film Festival Manhattan for her song "Exist."
"Exist" tells the story of a young girl who patiently waits for her dream boyfriend whom she has yet to meet. It tries to convince lovers that there really is "forever" and shares the belief that there really is "you and I."
The song was written by Cebuano composers Jude Gitamondoc and Therese Marie Villarante, with arrangement by Felipe Anjelo Calinawan. Kurt Fick directed the music video, which was entirely shot in Cebu.
Asked if she was the girl in the song, the 19-year-old Cebuana by choice said, "Yes, it's a lot about me. When I was asked what kind of songs I want them to write for me, I told them I want the classical Broadway, like the Taylor Latte Boy type."
Alongside Kirby, Jaclyn Jose (Cannes Film Festival 2016 Best Actress) and Therese Malvar (Moscow International Film Festival 2016 Best Actress) were also awarded as among the Philippines' best artists (movie category) for having won international acting awards.
Inspired by the NCCA award, Kirby is planning to be more active in the concert scene in between school breaks (she is currently pursuing an associate degree in the United States).
"The recognition inspired me to do more, because the government gave it to me. It's like them saying 'You should do it more, because a lot of people appreciate whatever it is you are doing,'" the petite performer said.
Rev. Fr. Jonas Mejares, Kirby's music consultant, said that the distinction is a sort of a reward from the Almighty for her tireless community service. Not known to many, Kirby loves to do charitable shows together with her mother, from whom she inherited the passion, especially shows intended to help rebuild communities destroyed by calamities.
"I know Kirby has been so blessed because she and her mother have a pure heart for charity. She is always willing to do concerts-for-a-cause, which she has started a few years back. The most recent one was when the devastating 7.2-magnitude earthquake hit Bohol last October 2013. It was the first time that we worked together in a fundraising concert to help rebuild Bohol together with Arnel Pineda," shared Fr. Jonas.
Using her vocal prowess, Kirby also did a series of shows in the United States, one of which was for the benefit of Bahay Aruga, a home in Manila that houses cancer-stricken children.
Despite her Papa Liberato's strong opposition, Kirby manages to continue being visible in the music scene lately, with the blessing of her very supportive Mama Shirley. The "small girl with a big voice" clarified though that her father is not playing villain with her – he only wants Kirby to prioritize her studies and set aside her music career until she gets a degree.
"My father really wanted me to go to school first. He never took my singing career seriously, unlike my mother who strongly supports me," said Kirby, who first sang when she was two years old.
Kirby first took the limelight when she sang the Philippine National Anthem during the 2012 fight between Manny Pacquiao (who personally handpicked her) and Timothy Bradley, alongside fellow Fil-Am "American Idol" runner-up Jessica Sanchez who sang the US National Anthem.
Among Kirby's plans are a concert together with Fr. Jonas sometime in May, a Visayan song for her album, and possibly joining "The Voice of USA" at the right time. (FREEMAN)