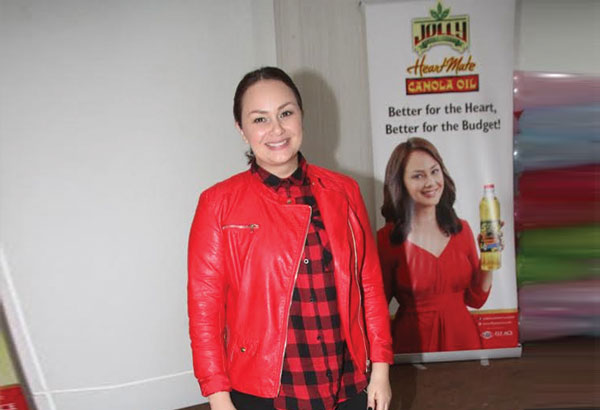 Donita Rose Photo by Joy Torrejos
Donita Rose dishes on her culinary goals
CEBU, Philippines - After taking on a role in the GMA-7 series "That's My Amboy," don't count on Donita Rose acting again anytime soon.
"For now, my heart's not into acting. If I had a really good role, probably I would," one of the industry's loveliest faces says.
"But the whole showbiz thing, parang my heart is telling me to focus on culinary. I can't be in a location shoot na sobrang init kasi mina-migraine ako lagi. Okay lang if it's done in the studio."
Donita, who made headlines last year after splitting up with her husband of 12 years, also won't allow any acting stint to get in the way of her mommy duties.
"Hindi ako masyadong maka-focus because of my son. Kasi dapat pag-alis niya sa bahay at pag-uwi niya from school, nasa bahay na ako. Wala na nga 'yung tatay diba? So ayaw ko pag-uwi niya, wala ding nanay na maabutan ang anak ko," she explains.
A certified chef, Donita is now all about fulfilling her newfound advocacy of educating Filipinos how to prepare healthy meals, more so in this age of an ever-growing fast food, instant culture. And since the world has become inescapably digital, what better medium to spread her message than through online shows that won't oblige her to shoot for long hours and on far-off locations?
"My heart has been telling me to focus on something that I can work from home. My dream is to focus on online media, like blogging and a Youtube channel," she shares.
Donita will use her culinary expertise to make healthy yet affordable recipes, similar to what she shared at SM City Cebu over the recent Sinulog weekend in a cooking show organized by Jolly Heart Mate Canola Oil, one of the products she endorses. In that event, she treated Cebuanos with her own version of Popiah, a lumpia or vegetable spring roll dish, using fresh ingredients from a Cebu public market.
This year, Donita plans to focus on her food blog and online cooking show. "I want to have a beautiful kitchen na kompleto ang mga gamit. Kaya nag-iipon ako para mapa-renovate ko siya to make it more spacious. Ang gusto ko open kitchen concept na meron akong mga video camera sa taas."
"'Magla-live ako. Ako lang, no makeup, naka-pajamas lang. Tapos every day iba-iba 'yung io-offer ko na dish. Like, today I have a new pancake recipe na gluten-free para sa mga may allergy.' Tapos every Saturday with my son, 'O, anak, tulungan mo ako. Anong gusto mo?,' tapos sasabihin ng son ko, 'I want chocolate chips in my pancake.' 'O sige, maglagay ka!,'" shares the celebrity chef.
Donita cites the Pinoy's penchant for unhealthy meals – a major cause of many illnesses. "As Filipinos, we all love food because our culture is practically centered on food. Food strengthens our family ties. So we must make sure we prepare healthy food. Use only natural ingredients that keep our health stable," she shares.
While Donita had to let go of a few restaurants she put up with a best friend, she isn't wanting in offers to be a resident chef in other establishments, such as one company that specializes in pricey furniture.
"They'd want to feature me monthly. Ako daw 'yung magchi-change ng menu nila. So para akong food scientist," she adds. "It's a Filipino fusion. Maganda kasi kabisado ko na ang Filipino food and I have so many great ideas. Sabi nila, they would have monthly events. Their furniture and fixtures are very expensive talaga. So they'll invite guests for a sit-down dinner, fine dining, tapos free sila if they buy something."
"Sabi ko, tapusin ko muna itong Cebu, then I'll go back to the States for two weeks because my dad is not feeling well. Hopefully, I can do my first one with them this March," says Donita.
Donita is also interested in starting a pop-up restaurant, a dining space that temporarily exists in a home, garage, plaza or wherever there is an event.
Popular in other countries, pop-ups are advisable for those still starting a career in the food business since they will only need minimal kitchen facilities and are able to experiment on dishes without the risk of bankruptcy.
Year-end of 2016, Donita had a cooking show over GMA News TV where she invented 24 simple yet great-tasting recipes. Because of the excellent feedback, it is most likely that a follow-up show is in the offing.
"I am very much confident that each recipe in my menu ay masarap and that these are breakthrough recipes. I'm super perfectionist when it comes to food," she assures.
Each time she wields her magic with her knife and ladle, Donita strives to not only provide people with dishes to satisfy their taste buds, but with meals that will nourish their soul as well.
"Food kasi is not only a physical instrument for good health. They must also provide spiritual benefits. We are all spiritual beings because we came from God. Kaya our food should also glorify our Creator," she shares.
Likewise in her bucket list is establishing her own culinary school that will prioritize household helpers. She was inspired by her own nanny, who she enrolled with her in culinary arts.
"I just wanted my yaya to learn something para mas gumanda 'yung buhay niya. Kaya pinag-enroll ko din siya kasabay ko. Bilib ako kay Ate kasi ang galing-galing na niya in choosing ingredients. I'm happy because she can prepare quality food already," she beams.
"I know ang mga amo want their house help to learn the art of cooking good food. So ito ang naisip ko to provide culinary education sa libu-libong mga yaya and domestic helpers," says Donita. "That is one of my visions." (FREEMAN)