Lady Spikers keep emotions in check after big win over Lady Bulldogs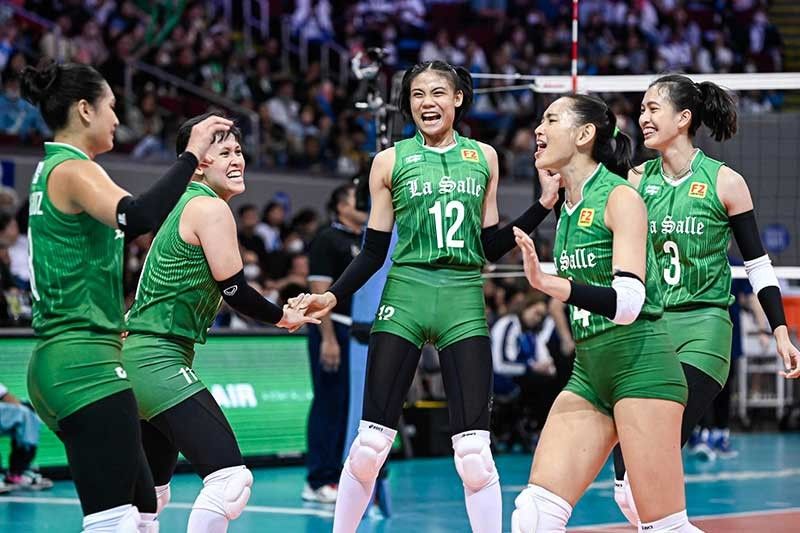 MANILA, Philippines — The DLSU Lady Spikers are not letting their emotions get the better of themselves as they swept the first round of the UAAP Season 85 women's volleyball tournament elims, punctuated by a three-set drubbing of rivals NU Lady Bulldogs on Wednesday.
Their first win over NU since UAAP Season 81, DLSU took the victory in emphatic fashion, lording over the defending champions after failing to get a single set off of them in Season 84.
Only midway through the season, veteran skipper Mars Alba isn't keen on celebrating too much as they remain miles away from their goal of taking the crown.
"Hindi kami pwedeng magpakampante sabi ni coach lagi focus lang kami sa mga games, one game at a time," said Alba.
"Hindi naman kailangan presurin ang sarili. Basta sumunod lang sa sistema," she added.
Alba took charge of the offense against the Lady Bulldogs as she helped three Lady Spikers finish in twin-digit scoring. One of the scorers was Fifi Sharma who tallied 12 markers for the league-leading Lady Spikers.
Even as she relished every point against their rivals on the floor, Sharma wants to take the impact of the win down a notch as it's only the beginning.
Despite their immaculate 7-0 record, Sharma is simply keeping her feet on the ground.
"We still have to focus on out singular goal which is to get the championship this season so 'wag masyadong i-sensationalize 'yung mga wins like this because there are many other games that we have to go through in order to get to what we need to achieve so ano lang, one game at a time," said Sharma.
"Everybody knows, all of my teammates know that. So I'm confident how we're going to handle the pressure, I don't even feel like other people are feel pressured at all. We're confident," she added.
And La Salle will indeed need to be confident as they face NU anew in their first assignment of the second round due to their rankings midway through the tournament.
The Lady Spikers and the Lady Bulldogs clash in the main game of a Saturday women's volleyball quadruple header at the PhilSports Arena in Pasig City at 5 p.m.