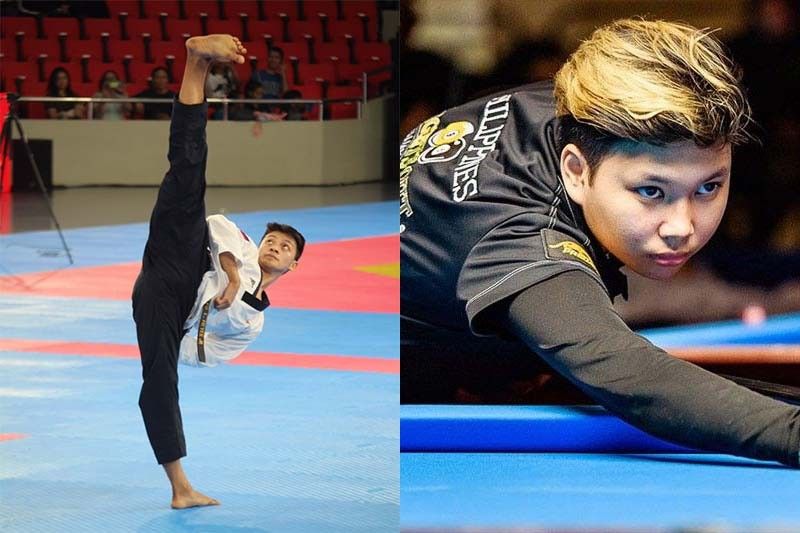 Philippine bets in Taekwondo and Billiards added to Team Philippines SEA Games' medal haul on Saturday
FILE/Michelle Lojo
Billiards, taekwondo bets add to Philippines' SEA Games medal haul
MANILA, Philippines — It rained gold and silver for Team Philippines as billiards and taekwondo bets added to the country's 30th Southeast Asian Games medal tally on Saturday.
Taekwondo events started Saturday morning at the Rizal Memorial Coliseum, kicking off with Recognized and Freestyle Poomsae.
The Filipino jins did not disappoint as Rodolfo Reyes Jr. and Jocel Lyn Ninobla won the first two events consecutively, earning gold medals in the Individual Recognized Poomsae Men's and Women's category, respectively.
Meanwhile, Rinna Babanto and Dustin Jacob Mella earned silver in the Recognized Poomsae Mixed Pair event.
For the Team events in the Recognized Poomsae in Men's and Women's categories, the men's team composed of Dustin Jacob Mella, Raphael Enrico Mella and Rodolfo Reyes Jr. won gold while their Women Counterparts, composed of Rinna Babanto, Aidaine Krishia Laxa and Jocel Lyn Ninobla won silver.
The Filipino jins also ruled Freestyle Poomsae, bagging podium finished in all events.
Jeordan Dominguez bagged gold for the Men's Individual Freestyle Poomsae while Janna Dominique Oliva, clinched silver in the women's category.
Likewise, the Mixed Team Freestyle Poomsae composed of Juvenile Faye Crisostomo, Marvin Mori, Patrick King Perez, Darius Venerable and Janna Dominique Oliva took home silver.
At Manila Hotel, Filipina cue artists Chezka Centeno and Rubilen Amit battled it out in the Women's 10-Ball Pool Singles Finals with Centeno taking the gold, 7-3.
Amit for her part, earned the Philippines another silver.
Centeno and Amit will once again face each other for the Women's 9-Ball Pool Singles final on Sunday, ensuring another 1-2 finish for the Philippines.
Francisco Dela Cruz fell to his Vietnamese foe in Cushion Carom and settled for a bronze medal, sharing the honor with Efren "Bata" Reyes.
Additionally, Centeno and Amit, who teamed up to defeat Vietnam in the Women's 9-Ball Pool Doubles, advanced to the quarterfinals.
Dennis Orcollo, meanwhile, finished off his Indonesian foe quickly with a 9-0 straight-rack victory in the Last 16. He also advanced the quarterfinals.
In Snookers Men's Singles Last 16, Jefrey Roda beat his Vietnamese opponent, 4-3.