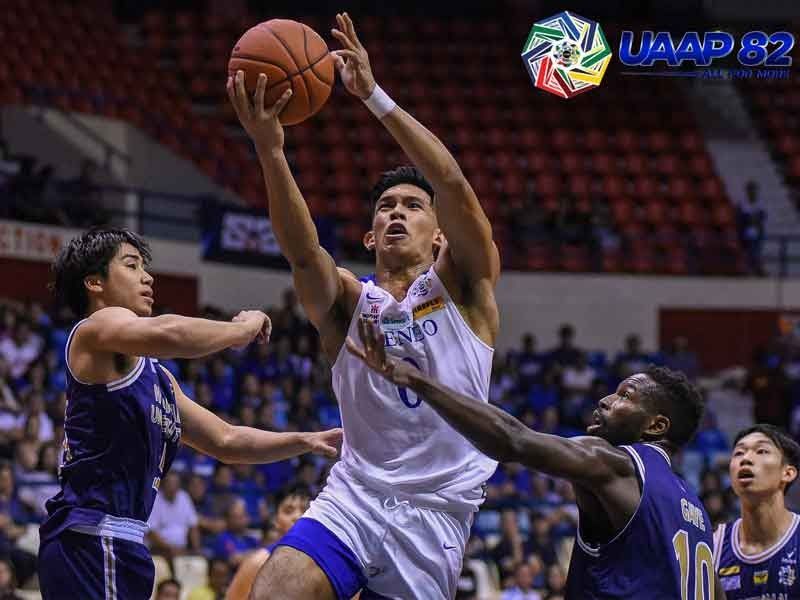 Thirdy Ravena in action for Ateneo against NU.
UAAP
Ateneo deflates NU; UST gets stronger
MANILA, Philippines – Ateneo remained unbeaten at 5-0 after running roughshod over National University, 71-50, last Sunday at the Ynares Center in Antipolo.
Ateneo has started to pick up the pace after a slow start with relatively easy wins over FEU and NU in succession. Yet, what makes this even more frightening is their regular stars — Matt Nieto, Thirdy Ravena and Isaac Go, haven't really hit their stride. Those three, along with Mike Nieto and most likely Adrian Wong, will hang up their college careers after this season.
Yet increasingly, the Blue Eagles have turned to two of their young stars in Angelo Kouame, Gian Mamuyac and SJ Belangel for the big stops and the big points.
That is good with two games remaining on their first round schedule in UE and UP.
Ateneo was a beat on the defensive end. NU scored only six times inside! You can bet those nine rejections (seven by Kouame and one each by Belangel and Go) had plenty to do with that. They shut down Miguel Oczon, John Lloyd Clemente and pretty much everyone else.
For the Bulldogs, after four close matches, they hit the wall big time with this rout from Ateneo. It was an ugly loss. With the Bulldogs now at 0-5, their campaign for a Final Four slot is in serious jeopardy. They got their points from former Blue Eagles Shaun Ildefonso and younger brother Dave.
Looking at their first four matches, they Bulldogs looked to have solved some of their chemistry woes with players like Oczon finding their role within the team. Maybe it is a combination between the close losses and Ateneo hitting their stride, but this is a game where NU couldn't get it going. Even if they did outscore Ateneo by four points in the third quarter, they could not sustain their effort as Ateneo ratcheted up their defensive intensity to put away NU. In the first, second, and fourth period, Ateneo scored over 20 points.
The Bulldogs shot 28% this game; the first time they shot bad all season. They have hovered around 40% shooting.
If the dam burst for NU, it was the opposite for UST.
Following their loss to FEU in their last outing, the Growling Tigers stepped up their game and repulsed every Tamaraws charge in the final canto for a comfortable, 82-74 win. UST moved up to 4-2 while FEU fell to 2-3.
Just when it looked like FEU would reprise its previous win (a 66-55 win over DLSU), when they led 26-14 at the eight-minute mark of the second period, UST came roaring back. And reminiscent of their 2012-13 teams, they came back with three triples with one each from Brent Paraiso, and two from Mark Nonoy.
FEU got some timely buckets from LJ Gonzales, but it was like stopping the wind with colander. UST stayed abreast and seized the lead and control in the third period.
After some close shaves, this will only help UST as they go forward. Had they lost to NU, it might have been a different story. But this makes them strong and even more dangerous.
FEU clearly struggled with the clamps put on Patrick Tchuente. That is something they have to find a way to fix. Other teams will shut him down so they need to get him untracked. Ditto with Hubbert Cani and Alec Stockton. I believe that if those two do not play well, then the Tams do not go anywhere. Their kids will get them points here and there, but it is the veterans who will pull this team through.