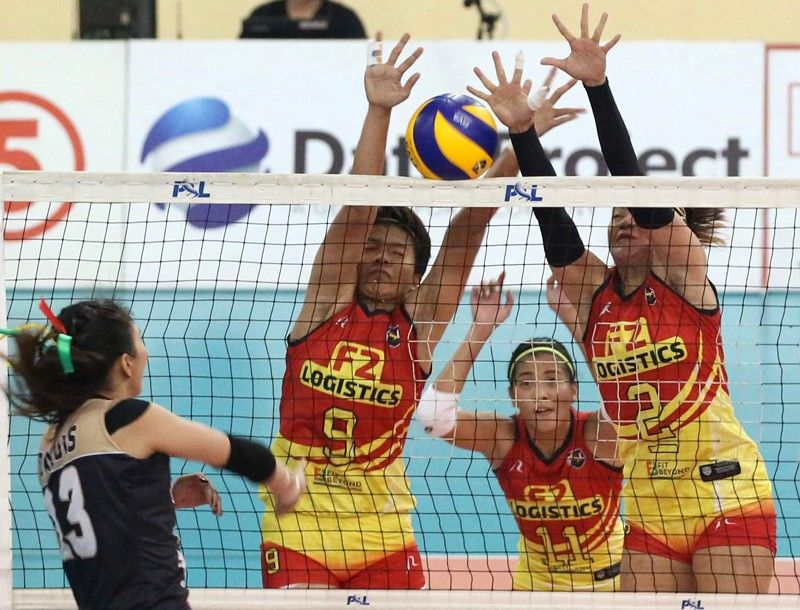 Cignal HD Spiker Rachell Ann Daquis attacks the defense of F2 Logistics' Kim Fajardo (No. 9), Abigail Maran?o (No. 2) and Kim Kiana Dy (No. 11) in their match at the close of the elims at Malolos Sports Center Tuesday. The Cargo Movers prevailed, 25-18, 25-14, 25-22.
Ernie Pen?aredondo
Petron, Foton fancied to roll to semis
MANILA, Philippines — Action in the Philippine Superliga All-Filipino Conference heats up today as Petron tangles with Marinerang Pilipina and Foton slugs it out with PLDT Home Fibr in the quarterfinal round at the Filoil Flying V Centre in San Juan.
The top seeded Blaze Spikers, who finished the double-round elims with a 13-1 card, are heavily favored over the winless Lady Skippers in their 7 p.m. showdown with the winner facing the victor in the Generika Ayala-Cignal quarterfinal clash.
The Tornadoes, who downed the Lady Skippers, 25-15, 29-27, 25-14, late Tuesday to clinch the third seeding, are also tipped to get past the sixth-ranked Power Hitters in their 4:15 p.m. face-off at the start of the knockout phase of the club tourney backed by ESPN5 and Kapatid TV5 as broadcast partners.
The winner in the Foton-PLDT duel will tangle with the victor in the F2 Logistics-Sta. Lucia QF match.
After dropping a four-set loss to No. 2 F2 Logistics in the early going of the tournament supported by Team Rebel Sports, SOGO, Eurotel, PCSO, Cocolife, UCPB Gen, Mueller, Senoh, Asics, Bizooku and One Sport as sponsors, the Blaze Spikers swept their next 11 matches to seize control of the field.
In their previous game in Cagayan de Oro City, the high-flying duo of Sisi Rondina and Bernadeth Pons stepped up to help anchor their come-from-behind five-set win.
Rondina, the reigning UAAP MVP, delivered 32 points while Pons provided the stability at both ends, including the match-grabbing kill that secured their victory.
But Petron coach Shaq delos Santos cautions his wards not to fall into false sense of security.
"We can't afford to be complacent because we're already in the knockout stage. We have to prepare well against Marinerang Pilipina," said Delos Santos. "Being on top is a huge opportunity. So we have to take care of it by keeping our focus and not letting any distraction get in the way."